Find out where to learn sea kayaking, windsurfing and paddle boarding. Here's our guide to water sports in Hong Kong.
At Honeycombers, we like conquering different hiking trails, as well as exploring the beautiful island around Hong Kong. But if you're an adventurous soul and want to do more than just hitting the best beaches in the city, we've put together a list of the most exciting water sports in Hong Kong. If you've always wanted to go sailing, surfing or paddle boarding, well, here's where to start!
Here's where to learn water sports in Hong Kong
Sailing: Royal Hong Kong Yacht Club
Always dreamed of sailing around the world (or at least the Hong Kong harbour) but don't know your port from your starboard? Learn the ins-and-outs of sailing by taking a course at Royal Hong Kong Yacht Club. The water sports centre offers adult and youth sail training courses where experienced sailors will teach you the safe practices of sailing. Learn the ropes via private or group classes, and take note that you must be an experienced swimmer before you can enrol.
Royal Hong Kong Yacht Club, Kellett Island, Causeway Bay, Hong Kong, p. 2832 2817, 銅鑼灣吉列島香港遊艇會
Windsurfing: Cheung Chau Windsurfing Centre
Take a day trip to Cheung Chau island to learn the joys of windsurfing. The Cheung Chau Windsurfing Centre is located within a laid back cove with gentle waves that make it excellent for beginners. The centre is founded by Mr. Lai Gun, known as the "Godfather of Windsurfing" in Hong Kong, who coached his niece to become an Olympic Gold Medalist. Never touched a windsurf board in your life? Not to worry – courses are run by certified instructors who take you through a full-day of coaching, providing land and theory simulation before hitting the water in the afternoon.
Cheung Chau Windsurfing Centre, No. 1 Hak Pai Road, Cheung Chau, Hong Kong, p. 2981 8316, 長洲黑排路1號長洲滑浪風帆中心
Paddle boarding: Hong Kong Surf & Stand Up Paddle Board Association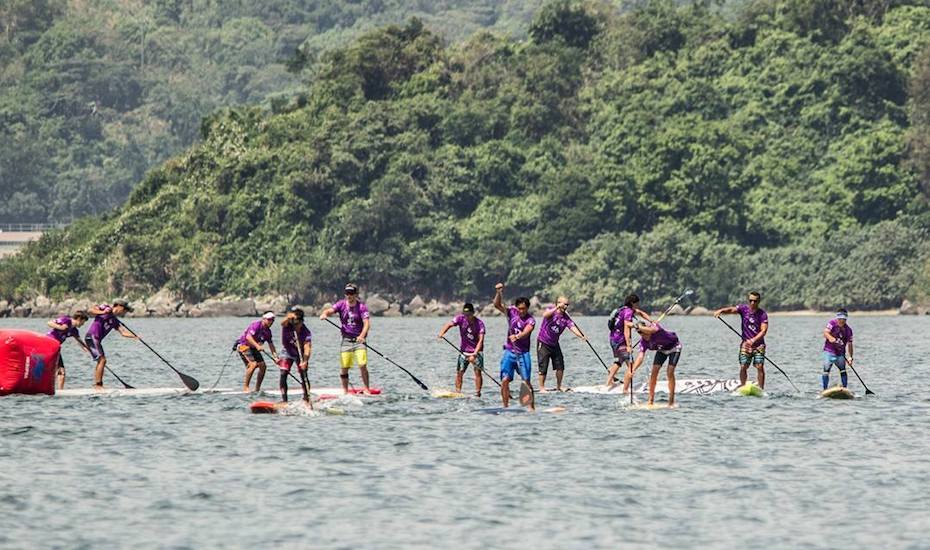 Test your balancing skills and give your core a good workout on a stand up paddle board. Yes, this might be one of the hardest water sports in Hong Kong, but like any activity all it takes is a little bit of practice. Hong Kong Surf & Stand Up Paddle Board Association has beginner classes that are two-hours long, and those who complete the course and have fallen in love with the sport can advance into Intermediate and Advanced programs. You'll get the hang of it quickly.
Hong Kong Surf & Stand Up Paddle Board Association, G/F 26C, Monterey Place, 23 Tong Chun Street, Tseung Kwan O, Hong Kong, p. 3502 1823
Surfing: Surfing Hong Kong
Always wanted to learn how to catch a wave but felt too intimidated? Don't be – Antony Dickson, who has surfed some of the best swells in the world since the 1970s, will teach you all the basics in a one-hour class at Surfing Hong Kong at Big Wave Bay Beach. On-shore, you'll learn how to paddle safely, prop yourself up, and keep your balance all before you head out into the ocean. Definitely one of the coolest water sports in Hong Kong to master.
Surfing Hong Kong, Big Wave Bay Beach, Shek O, Hong Kong, p. 6485 1673
Kayaking: Sea Kayak Hong Kong
First timers will be in good hands at Sea Kayak Hong Kong, which offers a range of different courses that cover everything sea kayaking. From safety to expedition rules and paddle control, the instructors are dedicated to making sure that their students are well-prepared. Besides classes, you can also join sea kayak tours around Lamma, Hong Kong and Lantau island. Seasoned kayakers are also able to paddle through extended expeditions that take up to seven days to Hong Kong's UNESCO Global Geoparj.
Sea Kayak Hong Kong, 54 Lo So Shing Tseun, Lamma Island, Hong Kong, p. 9313 9165, 南丫島蘆鬚城村54號
Kiteboarding: Kiteboarding Club
Conquered windsurfing, wakeboarding, surfing and waterskiing? For an extra adrenaline rush, try kiteboarding for a change. These extreme water sport takes some time to master, but Kiteboarding Club will have you gliding through the waves in no time. A beginner's course, which you can take by yourself or with a buddy, takes two days. Once you've got the hang of it, you can learn jumping techniques in the advanced Level 3 courses.
Hong Kong Kiteboarding Club, p. 9470 2916
Diving: Splash Hong Kong
Hong Kong may not be the first place that comes to mind when you think of diving the deep blue sea, but if you want to get PADI Certified before your next trip to Indonesia or Thailand, Splash Hong Kong will get you fully licensed in 30 hours. Training first takes place in a confined swimming pool, where divers learn all about diving safety, followed by open water dives around Sai Kung and a basic-diving theory test that you can take at home.
Splash Hong Kong, Ko Fu House, 58-72 Fuk Man Road, Sai Kung, New Territories, Hong Kong, p. 2792 4495, 西貢福民路58-72號高富樓