Make your way to Tai Mei Tuk and see the stunning Hong Kong landscape (Photography: Fashila Kanakka)
Miss the open road? Looking for an outdoor adventure? Escape the city and take on the refreshing Tai Wai to Tai Mei Tuk bike trail in New Territories
Looking for some inspiration this weekend? The hectic Hong Kong lifestyle can get a bit much, try mixing it up and relax with a nice change of scenery. We've found amazing hiking trails, the best beaches in Hong Kong and peaceful swimming pools in Hong Kong that deserve your attention. Or keep it simple, Discover stunning nature and cultural spots by grabbing a bike and cycling the Tai Wai to Tai Mei Tuk bike trail. Happy pedalling!
Tai Wai to Tai Mei Tuk bike trail: Starting point
Take the MTR and arrive at Tai Wai station and head to Exit A. For those who do not own a bike in Hong Kong, walk to the other side of the road and to your right, find a bicycle renting shop which provides you with the option of a single ride to Tai Mei Tuk, or a return trip back to Tai Wai. You won't be able to miss the bright yellow sign with red Chinese characters.
Enjoy the scenic views along the way
There are plenty of cultural hotspots along the way that you will be able to see and hit, with the first being the Hong Kong Heritage Museum that features the iconic Bruce Lee statue. Cycle through Sha Tin alongside the Shing Mun River and take in the beautiful scenery throughout the ride. The river is a training ground for many dragon boat racers and boating clubs, so you can see them hard at work as you pass by.
Find the giant gold UFO when you make your way pass the Hong Kong Science Park and stop for lunch at one of the many restaurants on the Pak Shek Kok Promenade. The promenade is a great location to take a rest as you will be able to see the stunning view of Ma On Shan on the other side of the sea.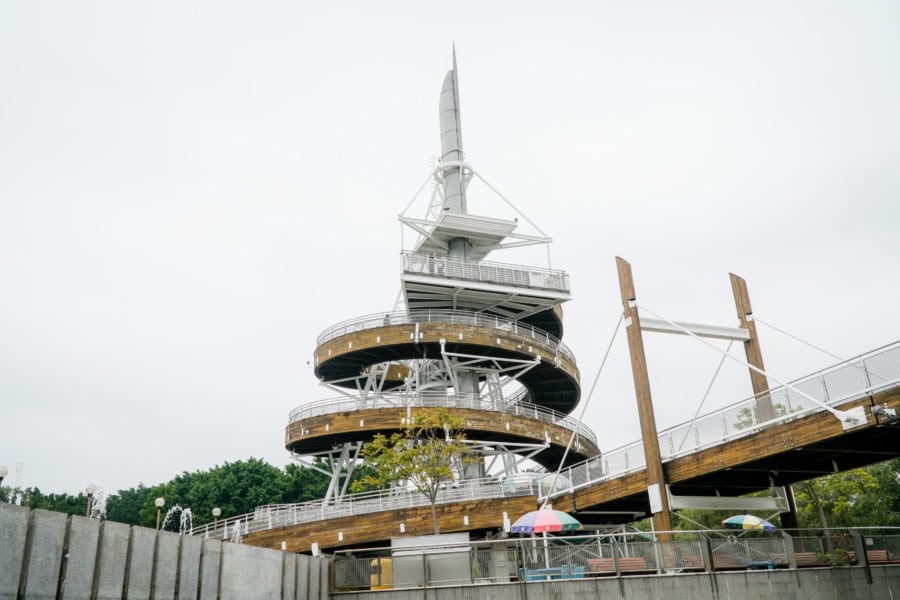 Follow the bike trail and take a little detour to Tai Po Waterfront Park where there is plenty of green grass and space. The park is the perfect destination for families to enjoy afternoon picnics and run around. Climb up the well-renowned Spiral Lookout Tower for a view of the entire park.
Cycle your way to Tai Mei Tuk
Ride for another hour from Tai Po Waterfront Park to Tai Mei Tuk. The view of Tai Mei Tuk is a hidden gem in Hong Kong that provides an absolutely stunning view of the Plover Cove Reservoir. The reservoir is the ultimate destination for windsurfers, kite flyers, and families with young children to ride along the dam on four person bicycles. Stay for the sunset, and see the sunlight as it sets on the range of mountains and open sea.