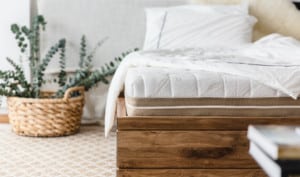 Having trouble catching those zzz's? Heveya® explains why investing in a latex mattress makes great sense for your body and mind.
When it comes to getting a good night's sleep, you can't discount the benefits of a quality mattress from Heveya®. This local brand has teamed up with Singapore-based sleep specialist European Bedding to focus on producing top-of-the-line mattresses and bed frames that are both eco-friendly and sustainable such as the Heveya Natural Organic Latex Mattress.
Still on the fence about its efficacy and price tag? Heveya® fills us in on why latex mattresses are worth every penny.
1. Latex moulds to the contours of your body
The elasticity of latex allows the mattress to follow the lines of your form and provide quality support for your spine – and this also helps cushion the body's pressure point such as the shoulders and back.
2. Latex mattresses are also naturally allergen-free
The last thing you need are your allergies acting up when you're trying to get some shut-eye. Natural or organic latex mattresses are resistant to dust mites, mould and bacteria, and organic mattresses are produced without the use of harmful chemicals or glues. Win!
3. They are built to last…
Unlike some coil mattresses, latex is extremely durable. There are, of course, benefits to purchasing an innerspring mattress but as coils tend to compress with wear and tear, it leads to sagging quite quickly. What's more, the products retailed at Heveya® have undergone various tests, so you can be sure they are certified according to international standards.
4. … And are perfect for the summer
Wilting from the summer heat in Hong Kong? You don't have to turn down the AC with a latex mattress, as the pinhole design and the open cell structure of the material mean you get great air circulation and breathability while you snooze – keeping temperatures at a manageable level.
5. Comfort is guaranteed
With Heveya®, comfort is a top priority. All mattresses sold are customisable to your preferred size and to help you find the perfect mattress, the store offers a free in-home trial for up to 100 nights, which allows you to trade for a softer or firmer one if you're not satisfied with yours.
Want to find out more? Check out Heveya®'s website for the full lowdown.
Shop Heveya® online, or visit its showroom inside TREE's flagship store at 28/F, Horizon Plaza, Ap Lei Chau, Hong Kong, p. 2870 1582 / 6286 1132 (WhatsApp).
This article is sponsored by Heveya®.