Madelon de Grave, founder of Bamboo Scenes
Recently opened in Sai Ying Pun, Bamboo Scenes is a photography art gallery with loads of cosy corners
While we're living in an increasingly digital world, there are still a great number of art galleries in Hong Kong, featuring different international and local artists, such as Zlism, Tricia Darling and Michael Kistler. And if you're into photography art, we recently chatted with Madelon de Grave – founder of Bamboo Scenes – about her interesting curatorial process and the thriving scene of contemporary art in Hong Kong.
An interview with Madelon de Grave from Bamboo Scenes
Opened with a mission to celebrate the artistic power in Hong Kong and make local artists' creative work more accessible, Madelon de Grave from Holland opened her first photography art gallery Bamboo Scenes on Fuk Sau Lane, Sai Ying Pun. Find out what inspired her to start Bamboo Scenes. 
Hi, Madelon. Thanks for chatting with us. What did you work as before opening Bamboo Scenes? What led you to open you own gallery?
My background is supply chain management and I worked for Nike as a buyer. I felt like there was something missing, so I packed up my bags and moved to Buenos Aires by myself. I got into charity work while living in South America and started working on the field with malnourished kids in Guatemala for nearly two years.
After coming back to Europe, I wanted to make sure there is a social angle to my own business. Very randomly I ended up in Hong Kong three years ago, I got to meet all these amazing photographers while working at The Hive. Everything just kind of added up to the point where I decided to start Bamboo Scenes.
Tell us what you like most about photography?
It's something that everyone can understand. It doesn't matter if you've been to museums or galleries, you'll hardly feel awkward looking at beautiful photos as it's what people see on a daily basis. People from completely different ways of lives can appreciate and understand it.
How would you characterise the main goals of Bamboo Scenes?
There are so many talented photographers in Hong Kong, but many times it's difficult to get access to their work. Our goal is to open up the local artist scene and make sure that artists have platforms to showcase their lovely artwork. It's also for people like you and me who simply want to have meaningful artwork on our walls. We try to make the pricing here a bit more accessible, it's not normal gallery prices but still each piece is exclusive and unique.
What's currently happening at Bamboo Scenes?
Our first ongoing exhibition is called Hong Kong Perspectives, featuring street photographers who are based in Hong Kong but from very different backgrounds. They're showcasing Hong Kong through their own eyes, and everyone is focusing on something else whether they do film or digital. With the first ten photographers, it's challenging but also very fun. I was like okay guys, I'm going to set up this gallery, believe in it and let's work together! (laughs)
I know that you guys donate 10% of profits of every art sale, can you tell us more about it?
We call it photography with a purpose. I feel that everyone can give back, whether it's making a major difference or something small. I try to find a different charity for different exhibition themes, so to explain the idea from a different angle. With Hong Kong Perspectives, we hope to give back to people who have a different reality on the streets with ImpactHK.
What are you thoughts on the growth of independent and contemporary art in Hong Kong?
Photography is definitely being more and more accepted in Hong Kong as an art form. Social media is great because it allows artists to present their work to a way broader audience. However, it almost becomes competitive when there are so many. So we're trying to find artists that are really unique and not following what everyone else is doing.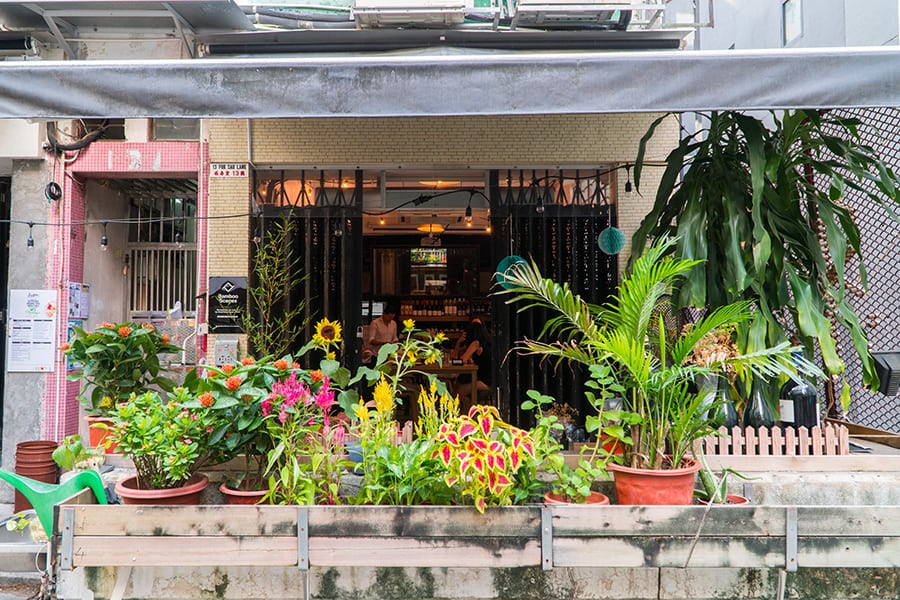 Do you think you'll ever get bored?
Of this? No! (laughs) At the beginning I thought it was going to be an online gallery, but the issue with that or pop-up exhibitions is that they can't last very long, plus not everyone can come. Now artists can come whenever they want, we can organise events and street photography workshops, even teach photography with some of the artists. Getting bored is going to be difficult, it's just never going to be the same.
What would be the main takeaway for visitors at Bamboo Scenes?
Come to the space, go through the "vinyl crates" and get inspired. The moment something is printed, it's just such a different experience. You can look at it for a long time and see when it inspires you; whereas with digital, you consume so much that it won't get that kind of appreciation as it should've been. 
Keep up-to-date with Bamboo Scenes here
Bamboo Scenes, 13 Fuk Sau Lane, Sai Ying Pun, Hong Kong, p. 5243 8939, 西營盤福壽里13號
Do you like Madelon de Grave's idea for Bamboo Scenes? Check out more art exhibitions in Hong Kong, learn more about mural artist Alana Tsui or understand surrealist photography with Tommy Fung.