Light a luxurious Diptyque candle (Photography: Diptyque via Facebook)
Tucking in your blanket, sipping from a cup of hot chocolate, watching a movie, and lighting up a candle is the ultimate way to unwind and recharge. And we've found the best candle shops in Hong Kong.
Setting aside some time for self care is crucial and it can look different for everyone. Some may treat themselves to a mani-pedi, indulge in good food, or grab a glass of wine and queue up guilty-pleasure movies. And for some of us, it's watching a flame dance on a wick whilst filling the room with sweet aroma. If this sounds like you, then you need to check out our favourite candle shops in Hong Kong!
Best candle shops in Hong Kong
1. Diptyque
Amongst the top of the fragrance experts, Diptyque's candles are strong and come in a variety of scents and sizes. The packaging cannot get any classier and we highly recommend reusing their holders (as you should with any others!) to hold flowers, pens, or anything you please. You can go for a small size (70g) to test out how the fragrance from the scented candles fill your room, but we think it's worth investing in the standard size (190g) or larger coloured candles (220g). Either way, your space is going to smell luxuriously expensive!
Diptyque has multiple boutiques in Hong Kong.
2. Rituals
Luxe yet affordable, we religiously believe in Rituals' candles for a cosy night-in, finding happiness in the little things. Their Luxury collection is worth every buck – grab a 360g jar, in either more floral tones or musky and woodsy scents (or both for different moods). For those who simply can't get enough, their XL Savage Garden Scented Candle is here for a good time and a long time (that's 1000g), with three wicks for an extra boost of fragrance!
Rituals has locations across Hong Kong.
3. Jo Malone
Can you go wrong with Jo Malone? All of their candles are crafted by hand in a converted dairy, in England's rolling South Downs. Their iconic black and cream design adds more style to your space whilst looking sophisticated and elegant. Their scented candles may be on the pricier side, but their fragrance is strong and you won't have to lean in close to smell it! The sizes range between 200g and 300g; the smaller sizes are compact so that they easily find a home on your bedside table.
Jo Malone has multiple boutiques in Hong Kong.
4. BeCandle
Proudly produced and made in Hong Kong, BeCandle is a local brand that you need to add to your list of "must-buy candles". Xavier Tsang, a Sai Kung resident, founded BeCandle in 2012 and the brand has grown and gained a reputable name in the industry since. Each candle is hand-poured using a blend of vegetal and soy wax, fine fragrances, and essential oils from Europe.
You can opt for either a 200g or 500g jar, or if you tend to move around often, the travel size (80g) will be your travel companion (even if it's just from your room to the living room!). Their craft candles – in the shape of dim sum – make a thoughtful HK-themed souvenir for those leaving Hong Kong, or for those who proudly want to show off that they're from Home Kong!
BeCandle, 18b Sai Kung Tai Street, Sai Kung, New Territories, Hong Kong, p. 8481 7684
5. The Candeholic HK
Want your house to smell like a cafe? The Candleholic has a separate collection for cafe hoppers – the Black Tobacco candle is a sophisticated spice scent with notes of tobacco leaf, plum, clove, patchouli, and amber. You can easily find a scent to suit different seasons – be it fresh and floral, or spicy and warm. We've tried and tested the Almond one and Wood & Spice, so you can have our word that the scent fills the entire house – it even lingers after you blow out the candle!
Shop The Candleholic HK online.
6. Woodco
A homegrown business founded by a mother-daughter duo, Woodco offers affordable, non-toxic candles made of coconut and soy wax. If you're looking for scent recommendations, we always go for Night Light, Fresh Sheets, and Waves but candles are a personal preference (that we take very seriously!). Another thoughtful touch is that you can bring your empty jars to have them refilled with a different scent – and they can be any candle jars you have! Find out more information about refills here.
You can find Woodco's products in different lifestyle stores or shop online.
7. Carroll & Chan
Handmade beeswax candles to support local businesses? Yes to that! Each jar beautifully presents the desired scent – be it a field full of lavender, calm yet chaotic waves, or a tropical forest. If you have a rather large space you'd like to fill, we suggest getting their large jars, with a generous four wicks that'll burn for up to 55 hours. Carroll & Chan's tin candles burn for up to 20 hours and come in a chic, portable size with two wicks for an even burn (because the last thing we want is our wax to be slanted in one direction).
Shop Carroll & Chan online.
8. Yankee Candle
You remember back when we watched American Youtube beauty gurus and longed for candles from Bath and Body Works but happily satisfied ourselves with a few from Yankee Candle? Because we can actually purchase them in Hong Kong and they're equally good! You can't make a purchase at Yankee Candle and not buy yourself the iconic tall jar! We've reused them to store cookies after thoroughly getting rid of any remaining wax (you know, to remind ourselves of the sweet fragrances from Yankee Candle). Most candles come with at least two wicks to ensure a brighter luminance and even burn.
Yankee Candle has multiple locations in Hong Kong.
9. Thorn and Burrow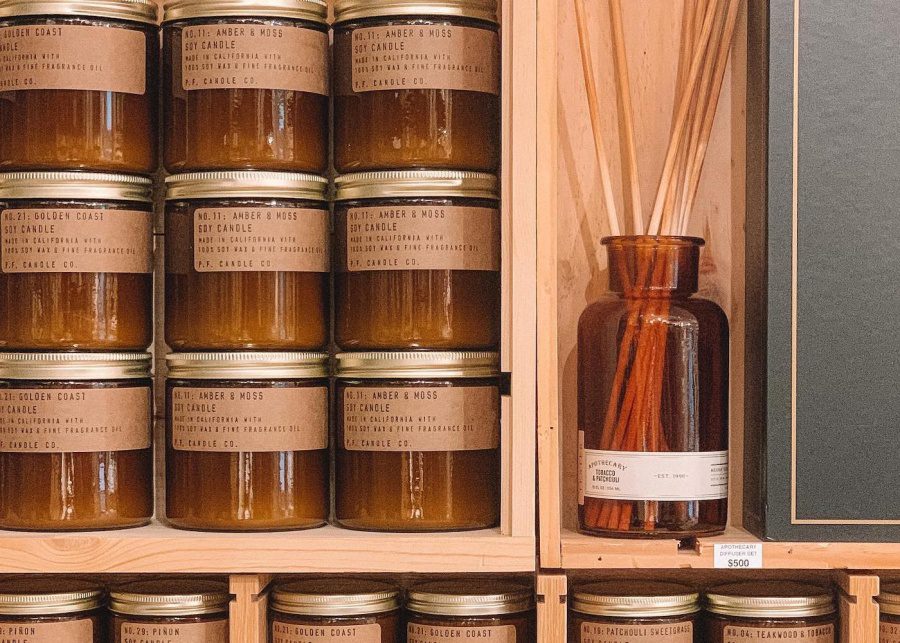 If you're looking for a unique jar, look no further than Thorn and Burrow. Their best sellers include the 200g soy candles in apothecary inspired amber jars that burn for up to 50 hours. All candles are cruelty-free, toxic-free, and some containers are biodegradable. What more could you ask for?
Thorn and Burrow, 1/F, 30 High Street, Sai Ying Pun, Hong Kong, p. 9840 3886
10. Malin+Goetz
Ready to discover your new favourite candle? Malin+Goetz is on the case with its creative yet classic scents. Hand-poured in Brooklyn, each candle is made with a natural wax blend in a reusable glass. Light up one of the 255g or 260g candles and get a nice slow burn that lasts 60 hours – all with a scent carefully crafted with different top, middle, and bottom notes. Have a big space you want to envelop in a quality scent? Grab the limited-edition, three-wick Dark Rum Supercandle that burns for 180 hours, with notes of bergamot, leather, and patchouli.
Malin+Goetz has multiple locations in Hong Kong.