Add a touch of Hong Kong to your space (Photography: @alicemourou via Unsplash)
The red taxis, the timeless Star Ferry, the neon lights – Hong Kong has many beloved icons. Whether it's a painting of market vendors or a photograph of our towering skyscrapers, check out some affordable Hong Kong-themed art to add character to any space.
Hong Kong may have teeny flats, but there are strategies and tips that can transform your living space. Incorporating some affordable Hong Kong-themed art pieces can also add character without taking up too much space (in your home and your wallet)! Plus, they make lovely gifts for those departing the city.
Affordable Hong Kong-themed art you'll love
1. Alvin C.K. Lam
Drawing and painting since childhood, Alvin captures Hong Kong's daily (and disappearing) scenes using watercolour paint. In his words, he paints the "true, unsung heroes of the home we call Hong Kong", such as Hong Kong's only remaining birdcage maker, ladies hand-roasting chestnuts, or local fruits and vegetable stalls. His attention to detail and careful choice of locations bring us waves of nostalgia! Shop his prints, postcards, and greeting cards to keep your memories of Hong Kong alive!
Price range: $30 for postcards; from $1,080 for prints.
Follow Alvin C.K. Lam on Instagram at @alvinckl and shop his prints online.
2. Eleanor McColl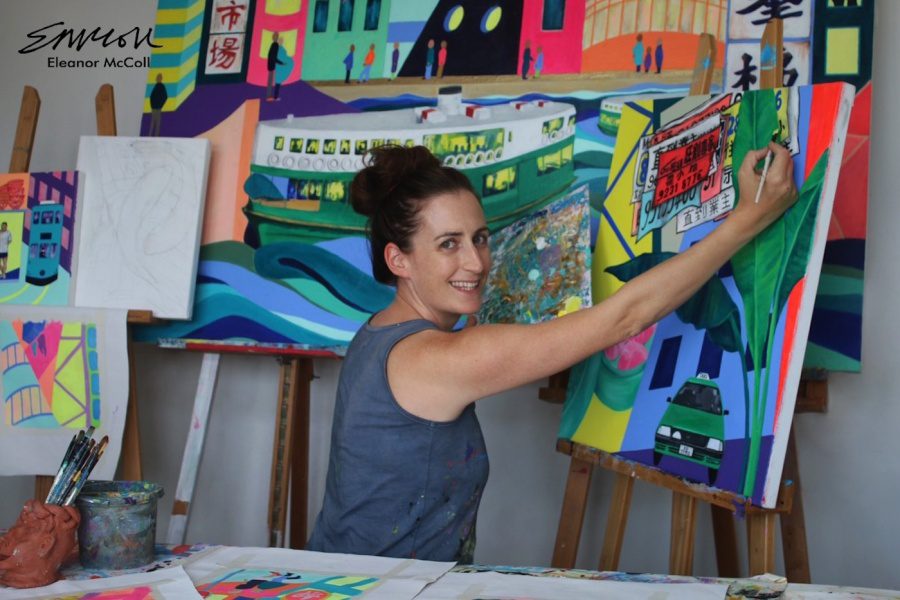 A jack of many trades, Eleanor captures Hong Kong's vibrant cityscapes through paintings (oil and acrylic), photomontages (merging two images), collages of multiple photographs, and digital print. We love her signature style of merging contrasting scenes and colours. She's often drawn to the unnoticed details of the concrete jungle, and that serves as an inspiration for her work. If you want a unique painting of the beloved ding ding, or Mong Kok streets, you've got it (we mean, she's got it)! Aside from prints, you can also shop Hong Kong-themed souvenirs like bottles, bags, umbrellas, and notebooks.
Price range: from $880 for prints; from $2,400 for fine art.
Shop Eleanor McColl's art online.
3. Louise Hill Design
Ever felt like there's so much of Hong Kong you want to capture but you can't choose just one? Louise Hill's prints feature an eclectic mix of iconic Hong Kong vignettes in a vintage style evocative of Hong Kong's mid-century era. Louise photographs buildings, objects, textiles – anything that draws her attention – and then digitally combines them to create highly detailed scenescapes. Aside from prints, you can also shop for luxury greeting cards and fans.
Price range: from $1,100 for prints; $295 for greeting cards.
Shop Louise Hill's art online.
4. Red T Multiples
Ever come across a street art so beautiful that you wanted to own a piece of it? With Red T Multiples, you can literally do just that (instead of merely taking a photo to keep on your phone)! With their collaboration with HK Walls, you can customise your digital print of your favourite street art and pick the size you want (such a blessing given our limited space) and choose to have it framed or not.
Price range: from $1,519 (without frame)
Find out more on Red T Multiples.
5. Tiny Island
For a more minimalist aesthetic, Tiny Island has some seriously stylish, locally made prints that will steal all the attention in your space. Shop the floating icons: the sampan, star ferry, and the iconic Aqua Luna. We also love their map prints of different districts – you'll be amazed seeing how certain areas mimic the shape of animals (tsk tsk TST)! Art pieces are made using silk screen and printed using recycled paper, with fade resistant paint (all wins!). Aside from prints, you can also shop scented candles, umbrellas, and towels.
Price range: from $250 for prints; additional charges for framing.
Tiny Island, G/F, 15 Square Street, Sheung Wan, Hong Kong, or shop online.
6. Ciaolink
There's always extra character when it comes to embossed art. Ciaolink uses Pachika paper – which becomes transparent when heated – to skilfully craft pieces that illustrate Hong Kong's most iconic scenes. While most of the art remains white, a splash of colour draws your focus to a few subjects of the art. We love how elegantly simple Ciaolink's works are, and how they effortlessly add more personality to our space.
Price range: from $720 for prints (framed), $350 for just frame.
Shop Ciaolink online.
7. Vermillion
Who said affordable art in Hong Kong can't also be highly curated? Vermillion seeks to do just that, with its one-of-a-kind online platform showcasing emerging and award-winning Asian designers and their work. While they sell everything from plates to furniture, on the art front they have prints, photographs, sculptures, and wall art. If you're also a design professional, you're in luck as Vermillion specialises as a business-to-business platform, too, that offers perks and trade prices when you sign up with them.
Price range: from $280 for prints; trade price for photography; from $2,200 for sculptures; from $160 for wall art
Shop on Vermillion.
8. Felix Ip
As a graduate of Hong Kong Polytechnic University School of Design, Felix Ip was the creative director of Imagi Animation before turning his attention to his own work. Taking distinctly Hong Kong objects like taxis, trams, and the Star Ferry, Ip adds a sci-fi twist and turns them into incredible machines and robots. With affordable Hong Kong-themed art like prints, shirts, and even plushies, you can add a touch of the fantastical into your life.
Price range: enquire via Facebook
Follow Felix Ip on Instagram at @hongkongmachines and @felixipart.