An all-time Seminyak fave, The Bistrot is loved for its romantic vibes, delish food, creative cocktails & breathtaking design...
Spilling with world-class restaurants and buzzing bars, it's no wonder that the bustling "eat street" of Seminyak is right up there with the island's most popular, must-visit destinations. And while many venues have come and gone on this hip and happening strip, The Bistrot has stood the test of time, remaining a Seminyak favourite thanks to its totally unique dining experience that stands out from the rest. 
Established by the always-impressive A'iesha Group (the same brains behind Jimbaran's Balquisse Heritage Hotel and restaurant) The Bistrot is home to a delicious mix of cuisine and creative cocktails – plus its vintage-chic interiors that makes this restaurant so iconic. A work of art in itself, The Bistrot transports you to a bygone era, where you can fall in love with French glamour and lose yourself in the pure romance of this unique Bali destination…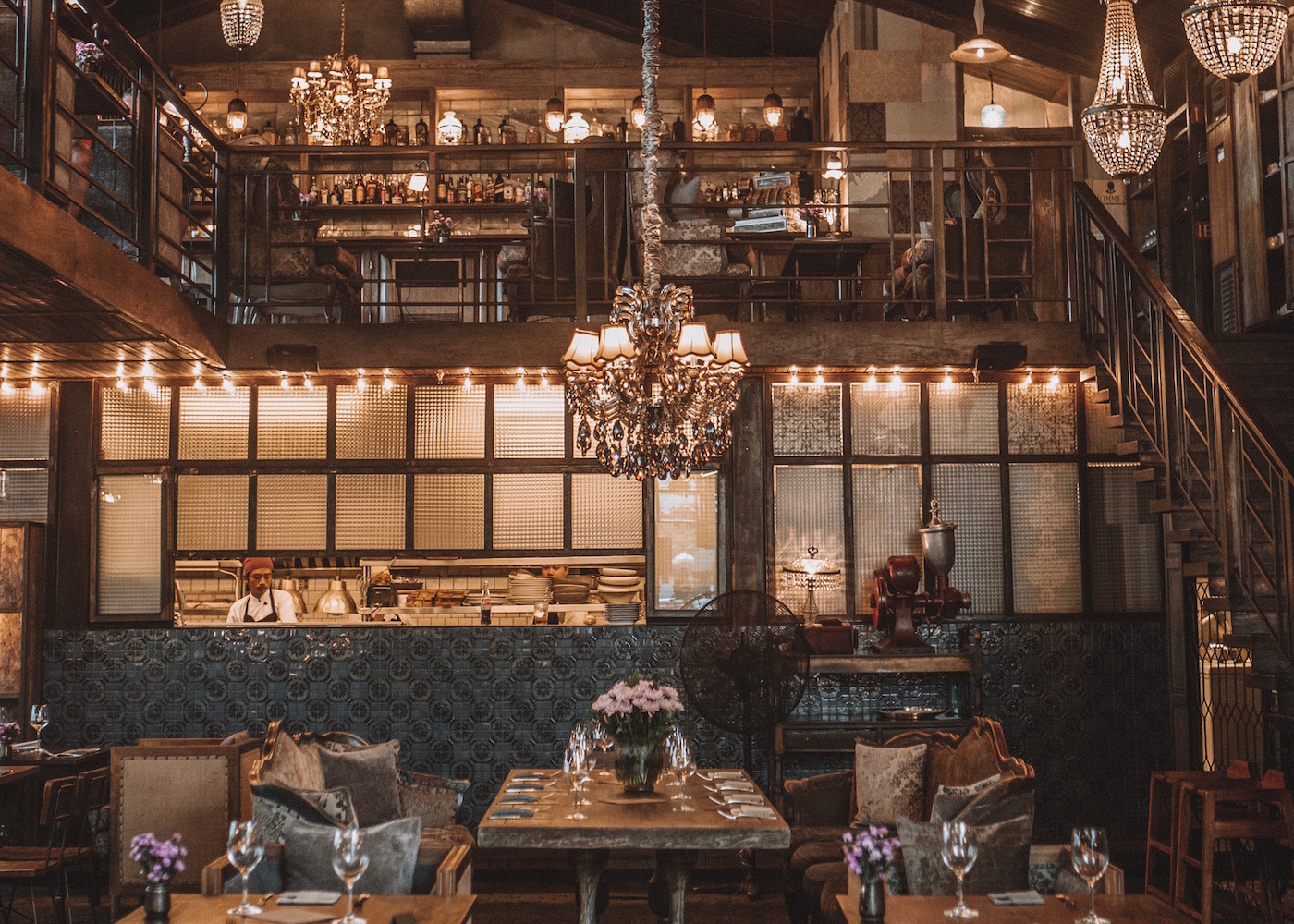 Vintage and romantic vibes
Wooden furniture, high ceilings, a natural stone floor and elegant chandeliers – need we say more? Just one step inside The Bistrot's enchanting vintage interiors, and it's impossible not to become mesmerised by this artistic yet sophisticated space – no matter how many times you've been. It's like stepping inside the dining carriage of the Orient Express, combined with the vibe of an industrial-style New York loft – at once chic, retro and quirky, yet so homely and charming you'll want to stay for hours…
The secret to this gorgeous decor? The designers: none other than the formidable Moroccan and Belgian team of Zohra and Blaise, AKA, husband and wife owners-slash-designers. Adding their trademark style into every detail of the design, you'll notice the artistic touch of Zohra and Blaise in each trinket and frame that decorates the decadent walls. Like an exhibition of a real-life romantic adventure, the restaurant is decked out with Blaise's photo collection and the couple's hand-picked treasures from their worldly travels. Unsurprisingly so, The Bistrot is often used for pre-wedding photographs and even weddings. After all, what better venue to celebrate love, than one that tells a true story?
A feast from France & beyond
Famous for its mix of international, Asian-fusion cuisine, The Bistrot's semi-open kitchen is headed by Chef Lionel who brings his experience as Chef de Partie in a three-star Michelin restaurant. Using traditional techniques and recipes from France and beyond, you'll find all of your bistro classics here, from Filet Mignon and beef tartare, to slipper lobster with a cognac and orange sauce, and even a foie gras burger, best enjoyed with a side of gratin dauphinois. But that's not all.
The Bistrot indeed feels fabulously French, but the menu isn't limited to 'cuisine française'. There are salads, ravioli and an entire burger menu, including the Famous Bistrot Burger that's loaded with aged cheddar, roast onion and tomato confit. Try also the signature Pork Ribs that are sticky, succulent and served with a BBQ coulis, or even dabble in the "Asian Corner", featuring Nasi Goreng, Mie Goreng with crispy duck, and Pad Thai with lobster. Just don't forget to leave some space for The Bistrot's heavenly desserts – our favourites are the Warm Chocolate Fondant, the French Creme Brûlée, and the Family Chocolate Mousse…
Creative cocktails
Dining at The Bistrot wouldn't be complete without enjoying a drink or three from the upstairs bar. Using locally sourced, organic, and fresh ingredients from the farms of Bali's central Bedugul highlands, the cocktails here are some of the best in Seminyak, featuring more than 20 unique creations to sip through.
Taking you on a tipsy tour to the City of Lights, the "La France" cocktail collection features signature creations like the Mademoiselle in Disguise using gin, Rose, rosemary and pomelo, and the Brut-based Spritz à la Française. Or for something a little different, try The Bistrot's Balinese-inspired concoctions, like the Markisa Bloom with vodka, passionfruit and Sumbawa honey, or the Rhum Babula with coconut rum, mango, mint and coconut water … Santé!
Christmas at The Bistrot
With Christmas just around the corner, The Bistrot is joining in on the island's festivities by setting the mood in this beautiful venue. The restaurant is already decked out with dazzling decorations for the entire month of December, and along with the original menu, there'll also be special Christmas dishes with all the trimmings to graze on, available from 17th December through to the end of the month.
The Bistrot, Jl Kayu Aya No.117, Seminyak, p.+62 361 738308, e. [email protected]. Open daily 8.30am – midnight.
This story is in partnership with The Bistrot.