For five full days this April, you can wine, dine and adventure across the island on Our Bali Your Bali's community-driven, food-focused book tour…
If you've always wanted to explore Bali like a local, and you're also passionate about supporting underprivileged communities and great causes, then you'll want to mark your diaries for the Our Bali Your Bali book tour. Taking place for the fourth time this April, this "tour-of-a-lifetime" will take you on some of Bali's best and most traditional dining adventures, while introducing you to the Balinese people, traditions and culture, and the great causes working to support them.
The Our Bali Your Bali book tour is the work of Dean Keddell – the Executive Chef and Owner of two of Bali's most beloved restaurants, Ginger Moon Canteen and Jackson Lily's. Dean first started working on his Our Bali Your Bali cookbook to raise money for desperate families, villages and charities during the Covid pandemic. And though the pandemic is now becoming a distant memory, extreme poverty has always punished Bali's communities – long before Covid hit – and is even worse today.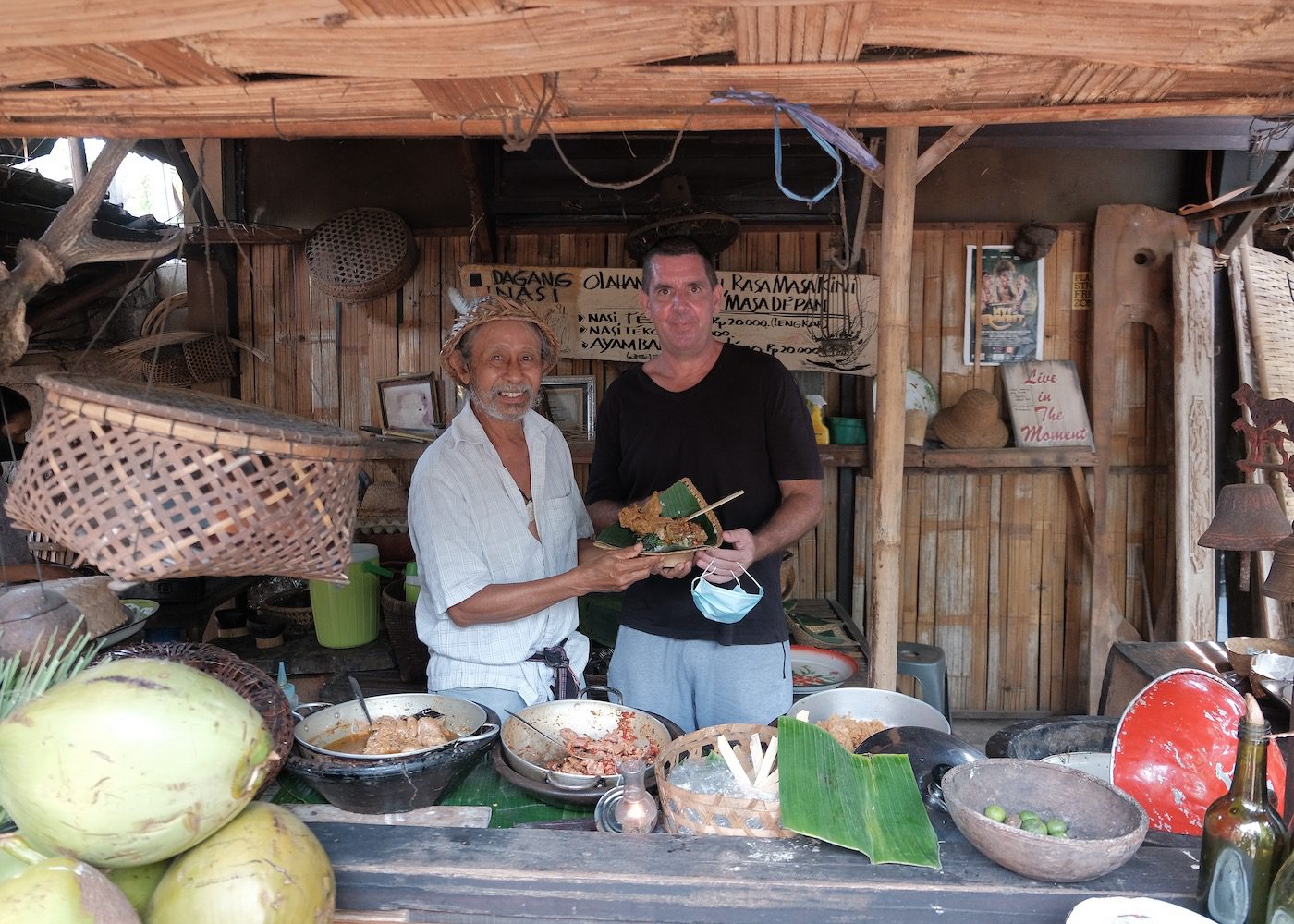 So now, the goals of Our Bali Your Bali have shifted. The post-pandemic aim is to provide long-term funds to Bali's most worthwhile charities so that they can eradicate poverty from Bali for good. Not only selling cookbooks, Dean has also created a series of YouTube documentaries, and most recently, he has launched the Our Bali Your Bali book tour… And you're invited to join the adventure.
These are tours of a lifetime, made up of new discoveries and the best the island has to offer. This will be an exhilarating trip filled with stories and experiences from my book.
The action-packed book tour itinerary
The April book tour will take place right here in Bali, featuring five days and six nights of wining, dining and exploring. You'll be staying in Seminyak at The Trans Resort Bali, and you'll be treated to daily breakfasts, lunches and dinners at some of Bali's very best and most traditional restaurants.
You'll get to try the Bucket List Banquet at Ginger Moon Canteen, the Balinese Banquet at Kaum within Desa Potato Head, the rainforest lunch at Mads Lange at Capella Ubud, the traditional Rijsttafel lunch at Art Café Bumbu Bali in Nusa Dua, the Royal Celebration at Hotel Tugu in Canggu, and a very special dinner at Jackson Lily's with Margaret Barry from Bali Children's Foundation.
You'll also get to join a cooking class with Dean and his team, you'll visit Denpasar's markets, you'll go on the Talasi Estate tour in Batukaru, you'll day trip to the Besikalung Wildlife Sanctuary, you'll visit Jenggala Keramik to learn the art of ceramics, and you'll join an Eco Tour with Bali Wise. And to top it all off, you'll be treated to a 60-minute facial or massage and foot reflexology, because all of that food, wine and adventuring is hard work!
For more information, visit Our Bali Your Bali's website or send them a WhatsApp.
The causes you'll be supporting
Over 400 pages and three (soon to be four!) book tours later, the Our Bali Your Bali cookbook has helped raise more than 640,000 AUD to help support five key organisations that work tirelessly on the ground here in Bali. These organisations are:
Bali Children's Foundation – a foundation that has helped thousands of children to complete school and to find employment.
Bali Wise by R.O.L.E Foundation – a foundation dedicated to developing sustainable communities by empowering marginalised women through skills and education.
East Bali Poverty Project – an organisation helping people to help themselves whilst building communities from the ground up.
Friends of the National Parks Foundation – a team of heroes working to protect wildlife and their habitats, at the same time supporting local communities.
Scholars of Sustenance – a food rescue operation that provides proper nutrition to those in greatest need, by rescuing unwanted food and donating it to those who need it most.
By joining the tour, you'll not only be embarking on a trip of a lifetime, but you'll also be saving the lives of Balinese people, helping local communities who desperately need our support.
About the cookbook
The cookbook is a stunning tribute to the entire Bali community – a hardcover coffee table book and a quintessential list of unique Bali recipes from Dean's staff, their families, local warungs and his restaurants. Unsurprisingly, the cookbook has won the prestigious award of "The Best of the Best Cookbook in the World" (2nd place) in the International Gourmand Awards held in Sweden. It was also awarded the Best Fundraising Book Asia.
Inside, you'll get to learn how to make your own bumbu (the base paste of many Indonesian dishes), a variety of sambals (spicy side dishes), and your own dumpling wrappers with beautiful fillings and traditional satays. If you've ever visited Ginger Moon or Jackson Lily's, you'll be excited to discover the tips and tricks of some signature dishes, alongside heartwarming stories, photos and time-honoured recipes.
You can buy the Our Bali Your Bali cookbook in Jackson Lily's and Ginger Moon Canteen (signed by Dean himself!). They are also available from select hotels and resorts including The Trans Resort Bali, The Oberoi, W Bali – Seminyak, Courtyard by Marriott, The Samaya Seminyak, Sheraton Bali Kuta Resort, Westin Nusa Dua Bali, Westin Ubud, Mandapa, A Ritz-Carlton Reserve and Villa Inda Bali.
All books ordered from Chuffed will be sent from Sydney, delivered around the globe.