With Mother's Day just around the corner, check out these family-friendly spas in Bali that let you pamper with your Prince or Princess.
There really is no greater way to declare yourself in true holiday mode than by hitting the spa – we're talking daily massages, mani-pedis, blow waves and allll the reflexology. But what if you can't slope off and leave the kids in daddy daycare? Or if the hotel kids club just ain't cutting the mustard for another afternoon? Well, look no further than this list of kids spas in Bali, complete with Mummy and Me (or Daddy and Me) spa packages for the whole fam-bam.
These pamperlicious and family-friendly spa packages take care of you and the kiddos, where your little one can immerse in a special spa experience, as relaxing as your own. Parents, this is your time to truly immerse and revive yourselves, side-by-side with your munchkins so that everyone can indulge in some much-needed spa-going. And psst – it's the perfect treat for Mother's Day!
THE BEST SPAS FOR KIDS IN CANGGU
Spring Spa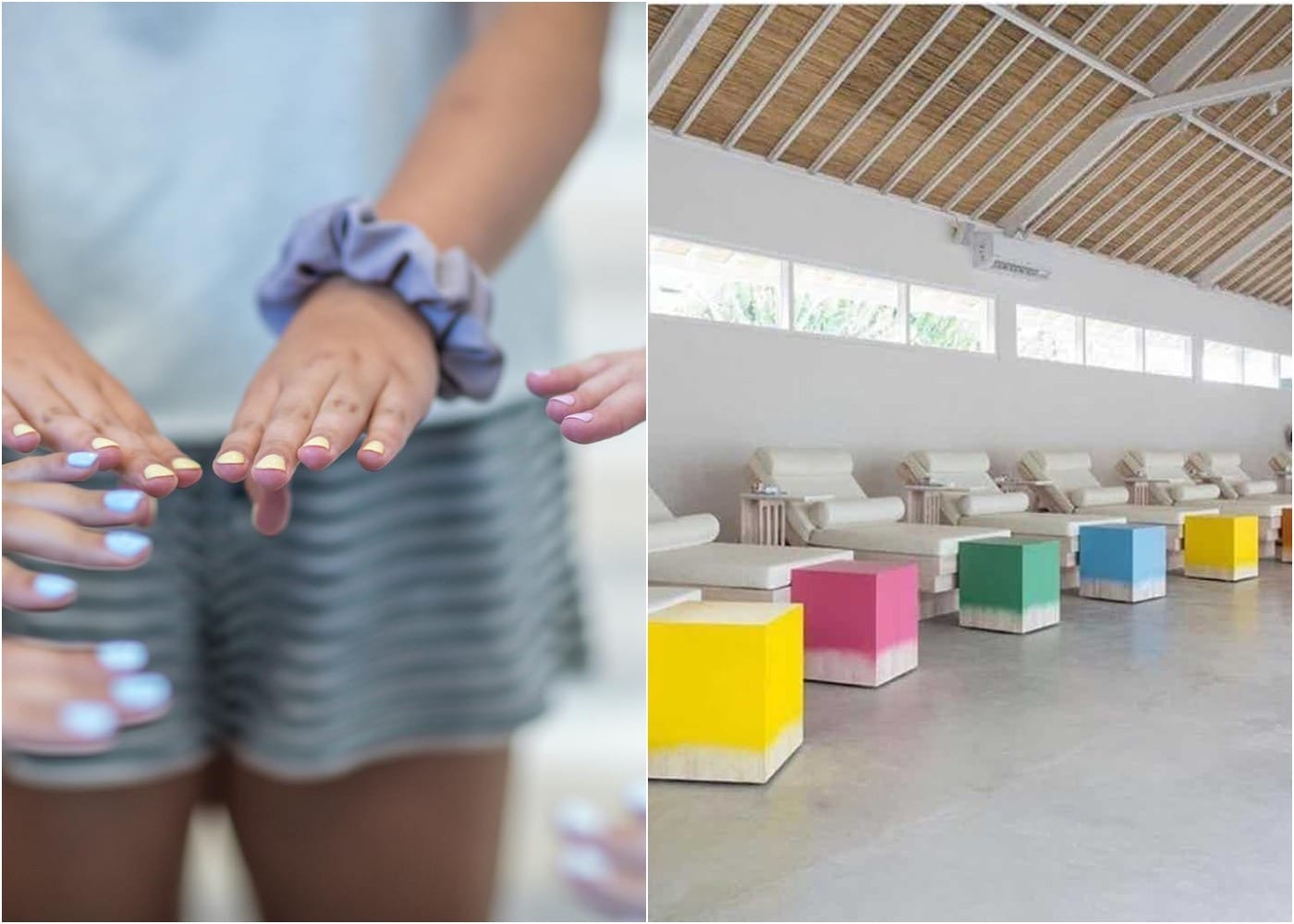 This is as cool as spa-going gets. Think designer white open spaces, piping tunes, original Irene Hoff artwork lining the walls, and a great one to know about for a slick selection of speedy kiddie treatments when time is of the essence. For kids under seven years old, Spring Spa has engineered super-duper pamper offerings that includes a 30 minute back massage, 15 minute seated-shoulder massage or foot massage, 15 minute file and paint nail job or even 30 minutes of supersonic hair braiding. Because let's face it, we all know how difficult it can be to keep kids still for any length of time, and you won't be disappointed with what's on offer for Mums and Dads here either.
Spring Spa, Jl Raya Batu Bolong No. 83C, p. +62 853 3844 7500, e. [email protected]; Open daily 9am – 9pm.
Goldust Beauty Lounge
Goldust by name, golden by nature. You can't go wrong with this affordable Golden Child package (up to 10 years old) by treating your precious mini-me to a selection of treatments, including mani-pedis, a hair spa and a shoulder and / or foot massage. Rest assured, they'll be well and truly spoiled while you enjoy your treatments alongside one another in the golden room. Might we suggest that Mum take this time to relax with the golden signature eye masks made of vitamin C, vitamin A, Phyto collagen, Vitamin E, Plum Extract and hyaluronic acid, ensuring that any dark circles and puffy eyes be considered a thing of the past. Make sure you also wash away any signs of dry, damaged, salty sea hair with the Goldust signature hair-mask comprising luxury argan, coconut and jasmine warm oil candle to repair damaged hair cuticles. The oil is then also used to massage the shoulders, divinely nourishing for the skin as it's combined with the gentle massaging pressure of warm rose quartz crystal stones for a truly relaxing finale. Absolute bliss.
Goldust Beauty Lounge, Jl Batu Bolong No. 66, Canggu, p. +62 811 383 721, e. [email protected]; Open daily.
AMO Spa
While you and your other half delight in any number of treats and treatments at the uber-cool AMO Spa, rest assured knowing your Princess or Wizard (aged under 12) will be well taken care of for a whole 90 minutes with a selection of kiddie spa offerings including a manicure and pedicure (with funky nail art) and a half hour relaxing foot or shoulder massage. There's no better way to refresh, polish and bliss out with the whole fam-bam.
AMO Spa, Jl Pantai Batu Bolong No. 69, Canggu, p. +62 361 907 1146; Open daily 9am – 10pm.
K by Karima
Did someone say natural yoghurt cleanser and papaya face masks? It really doesn't get any more a'la naturelle than at K by Karima for you and your Prince or Princess. Your soothing double treatment room and matching robes are the perfect backdrop to while away the stresses and strains of life as you drift off into la-la-land while calming pipe music fills the air around you. This is pure unadulterated bliss, finished off with a refreshing tea in the parlour after your treatment.
K by Karima, Jl Subak Sari No.4, Canggu, p. +62 819 277 66602, e. [email protected]; Open daily 9am – 9pm.
Body Temple Spa
After an active day of holiday fun at Finns Rec Club, why not escape to Body Temple Spa for some much needed kiddie and mummy pampering? Have the kids indulge in a range of treatments, including the Mini Me full body massage (using yummy grape and vanilla-scented massage oils), the Mini Me facial which uses only the freshest and natural kid friendly products (honey and chocolate – YUM!) or the Sweet Foot Spa that includes a foot soak, foot scrub and mask with a choice of vanilla, strawberry, or chocolate fragrance, finalised by a gentle massage. Happy Kids Face and Body Treatment is the ultimate in kids spa package including a full body massage with yummy, grape and vanilla scented massage oil, followed by facial with fresh natural products. Get ready to be pampered! And while you're at it, Mum and Dad can indulge in any number of similar signature offerings alongside their little spa-goers…
Body Temple Spa at Finns Recreation Club, Jl Raya Pantai Berawa, Canggu, p. +62 857 3884 3239, e. [email protected]; Open daily 10am – 7pm.
THE BEST SPAS FOR KIDS IN SEMINYAK
Spa Alila at Alila Seminyak
For a fantastic opportunity to spoil yourselves in the oh-so minimalist Spa Alila, look no further than the Pamperlicious package, where 90 minutes of pure unadulterated relaxation is waiting for you. You'll share the peaceful zentopia surroundings of your dual massage room, where side-by-side you'll indulge in relaxing massages to ease the stresses away using only the best natural Spa Alila ingredients. Mum can choose from either a full mani or pedi while your littlie can have the express version, as you both sit in the nail salon area. Enjoy a cool drink, grab a coffee or just sit and lay back and take it all in as you're treated like Balinese royalty.
Spa Alila at Alila Seminyak, Jl Taman Ganesha No.9 Petitenget, Seminyak, p. +62 361 3021 888 or e. [email protected]; Open daily 9am – 10pm.
Prana Spa
As soon as you enter the unique Moroccan-esque spa room at Prana Spa, you know you're in for a truly special time. The family package starts with a foot ritual followed by an hour of relaxing massage side-by-side with your mini-me, followed by a refreshing turmeric /lulur body scrub and a drenching shower. Finally, you'll get to indulge your inner Queen by luxuriating in the exquisite floral bath. Trust us, you'll feel like royalty, as you feast on ginger tea and cookies while taking your time getting ready for the outside world again. This is one to savour. Take plenty of colourful photos as the insta- options are endless; think plumped-up circular-cushioned beds, and soaking tubs surrounded by hundreds of sweet smelling flowers. Indulge, you'll never want to leave.
Prana Spa, next to Impiana Private Villas Seminyak, Jl Kunti I No.118 x, Seminyak, p. +62 361 734757, e. [email protected]; Open daily 9am – 10pm.
Jari Menari
Jari Menari has received numerous nominations for Spa Awards, so be sure to put it on your spa itinerary for an affordable spa day. The 45-minute kids massage is uber popular. Parents are welcome to join in the spacious and light family massage room (make sure you request when booking) to make it the best possible spa experience for everyone. This is a family massage experience that won't break the bank while encouraging your youngsters to step into the wonderful world of wellness with you.
Jari Menari, Jl Raya Basangkasa No.47, Seminyak, p.+ 62 361 736740; Open daily 9am – 10pm.
Glo Day Spa
For littlies up to 12 years of age, look no further than the tried-and-tested Glo Day Spa for a range of super affordable treatments including cream baths, hair washes and trims, massage for shoulders and nail art for hands and toes. Lay back side-by-side on the massage table before an Oreo snack and milkshake after your treatment for rumbly tummies.
Glo Day Spa, Kunti Plaza, Jl Kunti I No.119, Seminyak, p. +62 361 738689; Open daily 11am – 7pm.
Montigo Spa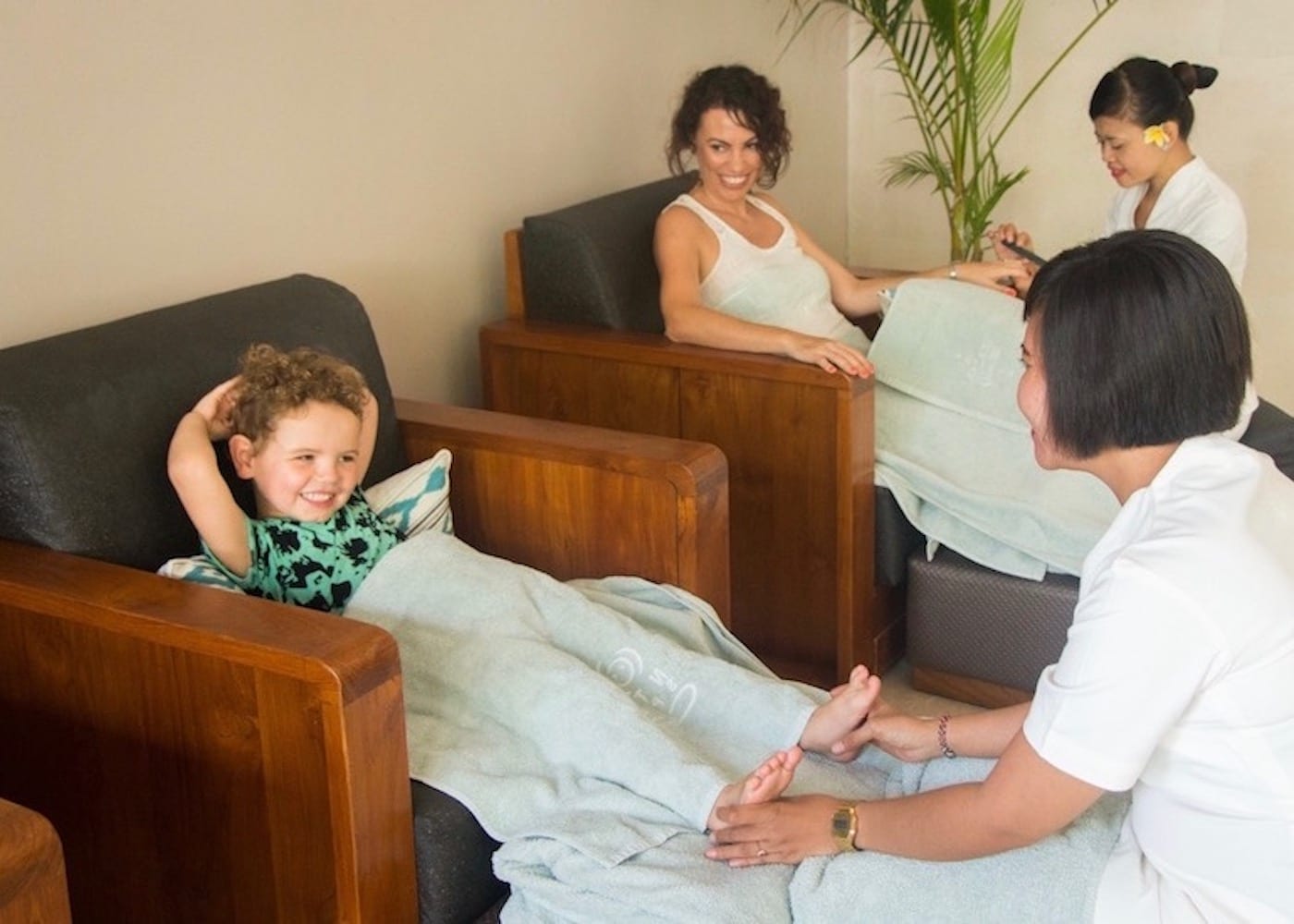 Indulge with the kiddie winks at Montigo Spa and choose from the dual 90 minute 'Mum & I' or 'Dad & I' package. Mum can expect a relaxing massage closely followed by the lulur body scrub – used by the princess of Java, no less, while your little one can enjoy a relaxing massage and facial using only natural ingredients and a manicure to finalise this wonderful experience. Dad can kick back with a herbal back scrub to relieve stiff and tired muscles, while his mini-me can expect a massage, facial and pedicure.
Montigo Spa at Montigo Resorts Seminyak, Jl Petitenget, Seminyak, p. +62 361 3019 888 e. [email protected]; Open daily 9am – 11pm.
Think Pink Nails
Nails, nails, nails. No spa trip is complete without a set of new sparkly nails, and we think Think Pink Nails is the perfect outing for mums and their lucky little girls to indulge in a spot of cutting-edge nail art. This OPI-certified spa brings the glamour and atmosphere of New York's chic beauty parlours to Bali. Have your nails done the Big Apple way while spending time with your little princess. Your little angel will sit snugly in her own little pink Carrosse chair while having her treatment. She'll even get the chance to select her very own nail polish from an exciting choice of colors, and while she has her mini mani-pedi, she'll even get to use an iPad loaded with fun games rather than run Mummies phone battery down to zero. Sometimes it's the small things that count!
Think Pink Nails, Jl Batu Belig No.108, p. +62 361 918 8116, e. [email protected]; Open daily 10am – 8pm.
Anantara Seminyak Bali Resort
Anantara Seminyak's spa invites the whole family (including kids aged 2 – 12 years) to experience the wonders of massage. Let your littlie indulge in a chocolate massage where the spa therapist uses a chocolate-scented eucalyptus leaf and olive oil blend for this calming therapy. Sign us up! They can also enjoy Princess or Prince Nails to buff up those grubby little hands and toes. Girls can choose a relaxing hand or foot massage with fresh strawberries, whilst boys can have theirs with chocolate butter. Mums and Dads will not be disappointed with the signature treatments on offer and as the Anantara saying goes, the greatest journeys are felt, not told. Yes please!
Anantara Seminyak Bali Resort, Jl Abimanyu (Dhyana Pura), Seminyak, p. +62 361 737 773; Open daily 10am – 10pm.
Kaiana Spa
For that super special day out with your princess or to primp and preen for a special occasion, Kaiana Spa should be top of your list for a selection of spa treatments or a mani-pedi party. Take your princess and her friends for a day at the spa in this clean, pristine and tranquil haven right in the middle of bustling Seminyak. Spanning two floors, it has separate facilities for different spa treatments – including a manicure and pedicure room, private reflexology room and three treatment rooms containing the latest in spa technology. Kaiana only uses premium products, so sit back and relax, and accompany your little princess in having their little fingers and toes get taken care of while you just made mother-of-the-year!
Kaiana Spa, Warung Made, 2nd floor, Jl Raya Seminyak, e. [email protected] p. +62 361 730562; Open daily 10am – 10pm.
THE BEST SPAS FOR KIDS IN NUSA DUA & JIMBARAN
SoSpa Sofitel
SoSpa is such a delicious experience for both you and your precious son or daughter, with the family package including all the goodies you could ever wish for. Both mummy and mini can indulge in a foot bath ritual, choice of massage or facial, and a mani or pedi. All the ingredients are 100% natural and only the most nourishing for young skin. Think local Balinese honey, yoghurt, and cucumber toners. Our top tip is to give yourself plenty of time to indulge in this luxury package, as it allows you the entire morning or afternoon to immerse in the fabulously luxurious space at SoSpa – and why not stick around for a family-friendly lunch or dinner at Cucina restaurant afterwards?
SoSpa at Sofitel Bali Nusa Dua Beach Resort, Kawasan Pariwisata ITDC Lot N5, Nusa Dua, p. +62 +62 361 849 2888, e. [email protected]; Open daily 9am – 10pm.
The Westin Kids Spa
Westin Kids Spa is one of Bali's only spa facilities wholly dedicated to kids. Treat your frazzled sun-kissed munchkin to a massage, mini facial or mani-pedi in pure luxe style and get Bali beach-style ready with hair braiding and nail art. Rest easy knowing that all treatments use child-friendly products while you can indulge in any number of signature offerings to while away the quiet and blissful hours, alongside your little ones.
The Westin Kids Spa, Kawasan Pariwisata Nusa Dua, BTDC Lot N-3, Nusa Dua, p, +62 361 771906; Open daily 10am – 10pm.
AYANA Resort & Spa
Ayana Resort & Spa offers up their super-cute Mommy & Me Spa Date package. Soft rose petals and local sea salt are used to gently wash and relax your feet, setting the tone for a soothing spa journey. Choose from decadent chocolate or delectable strawberry for an unforgettable body scrub or mask to lightly exfoliate from head to toe. A rejuvenating rain shower, followed by warm rose petal bath and body massage, are topped off with a fresh juice and delicious slice of cake.
AYANA Resort & Spa, Jl Karang Mas, Jimbaran, p. +62 361 702 222, e. [email protected];. Open daily 11am – 10pm.
THE BEST SPAS FOR KIDS IN KUTA & LEGIAN
Acqua Perla Spa
Step into this futuristic extravaganza of a spa offering. Acqua Perla Spa is a sensory trip and every child's dream of what riding in a spacecraft from a cinematic universe would be like. Not only are there chakra-balancing booths, a sensory water maze, hammam and an oh-so dreamy relaxing recliner room, there are also wellness treatments and rituals to die for all within uber-futuristic surrounds. The kiddies can choose from a one hour Snow White or Prince Charming package, which includes a relaxing foot, hand or shoulder massage ritual followed closely by a mani-pedi that will leave your kids chilled and calm. Mums or Dads can indulge in any number of amazing massage treatments to relax and reclaim their inner zen deep in the knowledge that their kids are in the best hands, either in the same treatment room, if requested, or close-by. Don't forget there's also a choice of ice-cream to top it all off…
Acqua Perla Spa at Double-Six Luxury Hotel, Double-Six Beach, Legian, p. +62 361 8499189, e. [email protected]; Open daily 8am – 8pm.
Shine Spa
Get pampered with your little one at the ever contemporary Shine Spa with the help of the 'Mum and Little Princess' package or the 'Dad and Little Prince' package, designed to re-energise bodies from head to toe. Both packages include a relaxing yet invigorating body scrub followed by traditional massages. Dad and son can look forward to a foot massage finale while Mum and Princess can enjoy an express mani or pedi so you can leave with sandal-ready tootsies!
Shine Spa at Sheraton Bali Kuta Resort, Jl Pantai Kuta, Kuta, p. +62 361 846 5555, e. [email protected]; Open daily 9am – 11pm.
Sakanti Spa
Sakanti Spa is set within the serene surrounds of The Anvaya Beach Resort Bali – an oasis of serenity and rejuvenation. Treatments at the spa are inspired by Balinese traditions and complemented by Elemis products, while the expertly trained therapists are on hand to personalise your pampering sesh with your little one. Available for mothers and daughters, fathers and sons, the 90-minute treatment for Mum includes a Sakanti Foot Ritual, a Tranquil Foot Massage, and a mini mani-pedi, while kiddie-winks will receive the Sakanti Foot Ritual, a special kids massage and for little ladies, a "Fancy Finger and Twinkly Toes". For boys, they'll be pampered with a foot ritual, a massage and a Tranquil Foot Massage.
Sakanti Spa at The Anvaya Beach Resort Bali, Jl Kartika Plaza, Kuta, p. +62 361 759 991, e. [email protected]; Open daily 9am – 9pm.
Jiwa Spa
Rejuvenate you and your mini-me at Jiwa Spa with ancient Balinese techniques coupled with Western treatments. Find peace among lush tropical surroundings and choose from a selection of family-friendly packages. The Jiwa Princess is a 90 minute extravaganza featuring a foot ritual, massage, sparkly manicure and organic facial – the only way to travel for fairytale ready princesses. Meanwhile, the Jiwa Warrior offers your little prince 60 minutes of foot bathing, soft body massaging and wait for it, a chocolate mud bath. YES PLEASE! There's also the signature 'Mum and Me' (90 mins) and 'Dad & Me' (60 mins) treatment offering that encompasses the feet, body, face and nails – all the attention they could possibly need.
Jiwa Spa at Conrad Bali, Jl Pratama 168, Tanjung Benoa, p. +62 361 778788, e. [email protected]; Open daily from 8am – 10pm.