Gail Elliott and Joe Coffey have made the move we all fantasise about: moving to Bali!
Yes, we all dream of moving our life to a tropical island like Bali, but what does it take to make it happen and live - and run a business - remotely in paradise? We ask an all-in-one supermodel, fashion designer and entrepreneur
London, New York, the Hamptons, Sydney, and now Bali. Yes, please. Former supermodel turned fashion designer and entrepreneur Gail Elliott and husband Joe Coffey have blissfully swapped international jet-setting and Bondi sunrises for Bali's island-living and tropical sunsets.   Here, they share their passion, inspiration and stories behind moving their life and fashion business to island of the Gods – as a permanent and professional sea change.
"Bali is a very special place; this tiny island, brimming with creativity,
it's a hotspot for stylish travellers from around the world,
with interesting designers, and a genuine artisan culture."
Jetting around the world looking incredibly glam, designing exquisite dresses and resort wear for the lifestyle-rich and famous, or even just living it large in their previous home of Bondi Beach's glamarama postcode already seems like a dream most of us would be happy with just one teeny part of!
But the high profile couple behind Little Joe Woman by Gail Elliott – the fashion label known for its rock-chic 'model off duty' look we'd all love to carelessly throw together ourselves – have moved their home, life and business to Bali in a sea-change trend that the whole world is jumping into.
Gail and Joe believe that changing things up keeps life interesting, and they absolutely adore living in Bali. "Absorbing a new culture, meeting new people, discovering new places, is what keeps us feeling alive," she says.
Gail and Joe have just opened for their first Little Joe Woman boutique in Asia, right here in Seminyak.  With Gail's responsibility for the creative, design of the brand and collections (think: colour palettes, textiles, prints, designing and organising shoots, social media, and press), and Joe's business acumen and management across sales, digital, operations (including shooting the creative campaigns), Little Joe Woman is the ultimate life and business partnership.  Now, it's just based in paradise! Sigh.
Tell us about the Little Joe Woman brand?
The Little Joe Woman aesthetic has always been that rock-chic 'model off duty' look. Nothing too contrived. Confident. A little boho rock n roll. It can be a leopard print dress or a cashmere sweater, it's an attitude and how you put it all together.
My very first designs were silk slip dresses and camisoles – simple, chic things I wanted for myself and couldn't seem to find in stores at the time. Layering pieces worked with my hectic travel schedule, were easy to pack and always versatile.
Silk slip dresses and camisoles are still one of our biggest selling styles and have become one of our signature pieces. Even though fashion moves through many different moods and trends, we're still very true to the original ethos of designing pieces that are modern but remain timeless.
Tell us about your early decision to start a new career chapter professionally, swapping international runways for fashion design?
It was actually far more involved and challenging than people think! It's easy to say 'model turned fashion designer' as a quick sound bite, but changing careers – going from being established, respected and experienced in one field, to beginning again in design – isn't as easy or instant as it sounds.
The truth is, runways and photo shoots are one thing, and spec sheets, production schedules and sales strategies for a fashion brand is something else altogether.   I was fortunate enough to have an incredibly successful, full-time career as a model for twenty-four years. In New York in the '80s and '90s, I had the privilege of working with the absolute best in the business, and everything was larger than life. There were only a few girls consistently working at that level – the very top end of the industry – so I was very established and known for my work.
It's a very humbling thing to do, to begin again. There was a lot of trial and error. I felt out of my depth a lot of the time, but you just have to start and learn as you go. It's never too late to change careers, or where you live, what you're doing with your life, if you feel a calling to go in a new direction. Therein lies the adventure!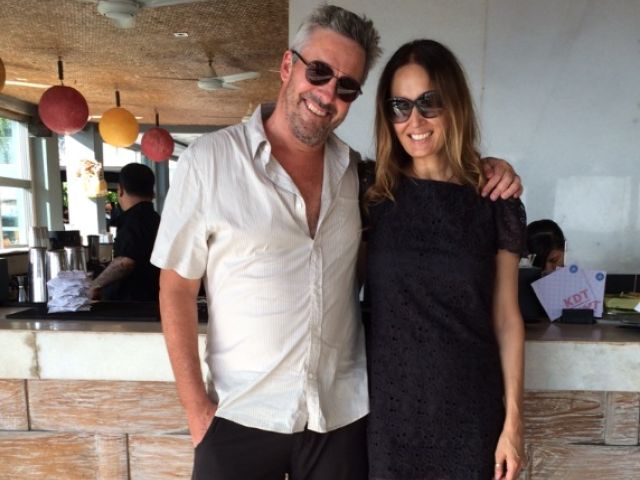 What first attracted you and Joe to Bali?
Joe has been coming here for 30 years, and every time I visited I also really loved it. Like many people, we have always found the very relaxed, happy spirit of the island like a balm to our busy city-souls. The natural beauty here is really extraordinary, but beyond that, there's something special about this island which is hard to put into words.
Why did you and Joe now decide to move to Bali, what inspired the move?
We've both lived around the world – England, New York, the Hamptons, Sydney – and travelling is something we've always done a lot of.  Because of that, moving somewhere new wasn't too intimidating or such a crazy idea.
We've had some wonderful years in every place we've lived, including Sydney, but at some stage we crave a new experience. Some of our friends have had wonderful experiences living here in Bali over the years, and we also saw the potential for bringing Little Joe Woman to a new market. It felt like a very natural – albeit exciting and totally different – thing to do.
What are the challenges and advantages of running a business from Bali?
There are the obvious challenges with running a business from a small island. Everything from the most mundane little hiccups, such as regular power failures, through to the more ongoing aspects, just the nuts-and-bolts of learning the ropes of doing business in a new country. The language barrier was a little tricky at first, but Joe in particular is super diligent about his Bahasa lessons, so we're getting on top of that quickly!
The advantages are also fairly obvious. Bali is a thriving and rapidly growing market. The clientele here are truly international; discerning, well travelled, interested in seeking out brands that they may not have encountered before. It feels like a hub, filled with life and energy, which makes for an inspiring place to base a business.
What inspires you in Bali for your collections?
There is a deeply established culture of artisans, makers and craftsmen in Bali. It's impossible not to be inspired by that. The leather workers here are just spectacular. I am particularly proud of the beautiful hand-tooled, fringed leather bags that I've designed and created – the attention to detail in the quality and finish.
What does your average day in Bali look like?
As early risers, we often start the day with a walk along the beach near where we live in Canggu. It's invigorating to be in nature before the busyness of the day begins.
One of my favourite things about both life in Bali and my job is that no two work days are alike.  I might spend the morning in a design meeting or a pre-production fitting session with our team, or be in a meet-and-greet with a visiting fashion blogger. One thing that doesn't change is always having buckets of emails to wade through and media requests to follow up on!  My afternoon might entail sales showings organisations in Australia or looking at model comp cards for an upcoming shoot. There's never a dull moment!
What role does Bali play in the development of Little Joe Woman's future?
Bali is a very special place; this tiny island, brimming with creativity, a hotspot for stylish travellers from around the world, interesting designers, a genuine artisan culture.  We have a very strong business in Australia so Bali is our main focus right now, especially as now we're living here.
Launching our first boutique in Bali made total sense – with now living and doing as much as possible here, from photo shoots to seeking out talented new suppliers to work with us in the business.
What advice would you give other women, either entrenched in their careers or lives, yearning to change things and go in a completely new direction?
Just start doing it! It doesn't really matter how established you are somewhere – whether it's the place you live in, the job you do or the career that you've carved out. You can always choose something else, and go in the direction of what calls to you. Sometimes it's just baby steps – starting simply with something you're passionate about, it gets things rolling. And before you know it, that's where you're heading.
I won't lie. It's not always easy. There have been a lot of setbacks along the way and it's not just a smooth, effortless arc of growth and progress.  We've had to readjust our goals, adapt to changing markets, to not be afraid to look at things that aren't working and try something new.
There's nothing wrong with learning as you go. I think the key is just to have confidence, and trust in your own vision. That will propel you forward.
What are your plans for the brand/business in the future?
We're really happy that we've launched Little Joe Woman here in Indonesia and are excited about the possibilities of expanding more into Asia. It's a very different market opportunity, so right now all of our focus is investigating new opportunities in the Asian region. The Singaporean market is interesting to us and we've had some interesting meetings there already.
GAIL & JOE'S BALI
How has your and Joe's lifestyle changed since moving to Bali?
The pace of life in Bali is very different to Sydney. Business-wise, we spend more time on Skype now!  As we're still running the business, whether in Sydney or Bali, there's always that thread of continuity. The digital age of being constantly connected, and how effortless it feels, means how we work on a daily basis hasn't actually changed as much as you'd think.
Lifestyle-wise, it's all still new so we're in that phase of enjoying discovering new hidden pockets of the island, and our own neighborhood. Favorite restaurants, the best place for sundowner cocktails with friends, where to find things. The atmosphere is more casual than Sydney – and that's saying something, because in comparison to London or NYC, Sydney is already super casual! We both enjoy that 'island style', so it's just perfect for us right now.
Which part of Bali do you and Joe live, and why did you choose this location?
We live in Berawa, Canggu. The location was great for us – centrally located between the beach and our boutique in Seminyak. We both love living by the beach [isn't that one of the reasons you move to an island?], but didn't want to be too much in the thick of things either, so finding a home that felt tranquil was what we wanted.
Describe Bali to you and Joe, in five words?
A new adventure, somewhere blissful!
Where is your and Joe's Bali happy place?
Right now, it's exactly where we are: at home, poolside, in Bali!
Coming up:  Gail and Joe reveal their insider-address book of restaurants, cafes, spas and things to do in Bali.
Little Joe Woman by Gail Elliott, Jalan Petitenget, Seminyak, Bali 80361.  Images by Little Joe Woman, Gail Elliott and Myles Pritchard.  La Lucciola image: AmandaTJ, Pinterest.