Who can say no to the perfect mani pedi? Give your nails some TLC with our pick of the best nail salons in Singapore
Need to keep your digits looking divine, as part of your never-ending beauty regime? We know we do! That's why we're bringing you our pick of the best nails salons in Singapore, which have – you know it – nailed it when it comes to mani, pedis, gelish, nail art, acrylics and more. Now, if you'll excuse us, that perfect pedi is waiting for us.
Best home service: The Big Blow
You may know them better as the masters of blowouts but lucky for us folks, The Big Blow does makeup and manicures too! Looking for a quick polish and buff for both your pinkies and tootsies before heading out? Give these fairy godmothers a call and they'll transform you in the comfort of your home in a snap – from nails to your hair and makeup!
The Big Blow, #02-21 Cluny Court, 501 Bukit Timah Road, Singapore 259760, p. 6465 4836. Open daily 9am-7pm.
Best one-stop shop: manicurious
Curious critters, you'll find yourself right at home here. One-third nail spa, one-third luxury retail therapy (the brick-and-mortar store of Bag Bistro, to be precise), and one-third café, the folks at manicurious have got everything you want. While your hands and feed are being tended to, ensconce yourselves in comfy seats and have a shot of black gold by Papa Palheta, on them.
manicurious, 41 Beach Road, Singapore 189680, p. 6333 9096. Open Mon-Sat 11am-9pm.

Best nail technique: Home Nails
Centrally-located and beautifully appointed to boot, Home Nails prides itself in providing premium services at affordable prices. Amen to that! Its team of nail technicians boast at least four years of experience under their belts so rest assured that you'll definitely be in good hands. The best part? The sky's the limit – whether it's gel extension, 3D nail art, gelish or bridal – trust that these guys can make your dream designs happen!
Home Nails, #01-01 The Nomu (beside The Cathay), 20 Handy Road, Singapore 229236, p. 6333 4985. Open Mon-Fri 11am-9pm, Sat-Sun 1030am-730pm.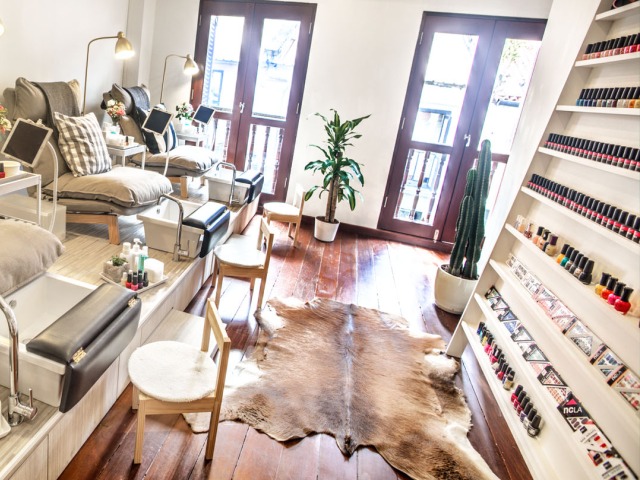 Best feel-good manicure: The Nail Social 
Where else can you get a pretty mani-pedi for a good cause? At The Nail Social, that's where! Besides offering a full range of nail services and foot massages that use only organic, fair-trade, and cruelty-free products, this lifestyle concept salon on Haji Lane is also committed to giving back to the local community. It offers vocational training and employment opportunities to underprivileged women in Singapore and also houses a retail corner where customers can shop for fair-trade accessories.
The Nail Social, 42A Haji Lane, Singapore 189235, p. 6717 3221. Open Tue-Fri 11am-9pm, Sat-Sun 10am-8pm.
Best hygiene standards: Auum – The Honest Nail Spa
We were impressed enough with Auum to include it on our list. Aside from top-notch hygiene SOPs (tools are disinfected and cured under UV light), they only carry 3 and 5-free polishes, and other vegan-friendly products. This place isn't called the honest nail spa for nothing. The therapists here are skilled and accredited, and they recommend solely the services that your nails need.
Auum – The Honest Nail Spa, PasarBella @ The Grandstand Bukit Timah Singapore, 200 Turf Club Road, Singapore 287994, p. 6464 7878. Open 10am-7pm daily.
Best for foot reflexology: Hands + Feet Studio
The Easties have got something good – among all the other goodies – lurking in their neighbourhood. Ladies, spare a thought for your man (for once) by heading to Hands + Feet. While you say hello to your expert manicurist in The Paint Room for a relaxing chill-out session, the guys can enjoy an intense session of foot reflexology in The Gallery Space, which features artworks from The Bowerbirds.
Hands + Feet Studio, 44 Siglap Drive, Singapore 456169, p. 6448 7187. Open 11am-11pm daily.
Best for Mum-and-Princesses: Nail's D'vine
Popular with mamas who need some well-deserved pampering, Nail's D'vine is also the place to go if you need a spot of primping right before that big date at one of Dempsey's many restaurants. On weekends though, expect to see mums and daughters having side-by-side mani-pedis, while the (probably reluctant) little boys are kept quietly occupied by a play corner.
Nail's D'vine, Blk 26 Dempsey Road
, #01-03A, 
Singapore 249686, p. 6875 0161. Open Tue-Thu 11am-8pm, Fri-Sat 10am-9pm, Sun 10am-7pm.
Best ambience: The Kuching Nail Spa
Designed with timeless beauty and elegance in mind, The Kuching Nail Spa exudes colonial charm with its black-and-white tiles, plush leather chairs and dark wood panels a la British colonial Singapore. Animal lovers will definitely like this boutique nail salon, which has pledged to donate 5% of their profits to Animal Lovers League this year.
The Kuching Nail Spa, Clementi, Holland Village, and Joo Chiat. See here for more details.
Best post-shopping treat: Juup Nails
After a hard day of shopping at the Marina Bay area or the Orchard strip, primp and pamper yourself at Juup, and watch some TV (a luxury these days) while you're at it. They have a great membership programme where you get unlimited use of Chanel colours, among other perks. We love their buy-6-get-2-free packages too – you get 8 manis for $168, which works out to $21 per session.
Juup Nails, Somerset and Marina Bay Link Mall. See here for more details.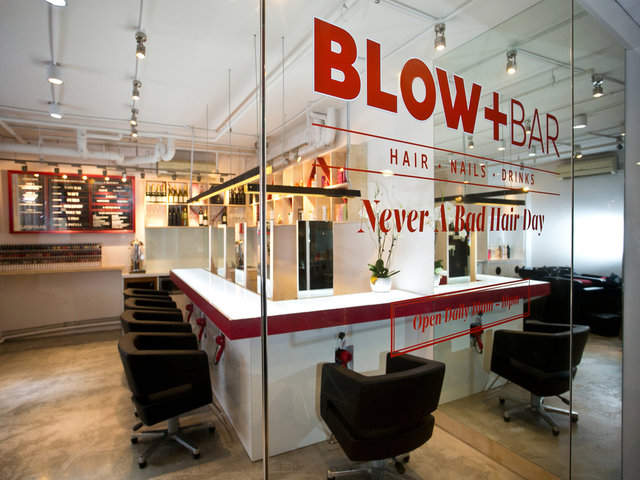 Best Girls' Night Out: Blow+Bar
Are you ladies tussling over what you're gonna do – relaxing treats or getting all boozed up – on that very-rare girls night out? Well, why not both? At Blow+Bar, you'll get fantastic blowouts, massages, fab nail services, and catch up with pals over drinks – life doesn't get any better than this.
Blow+Bar, #01-32 The Watermark, 7 Rodyk St, Singapore 238215, p. 6238 7338. Open Mon-Thu 1030am-930pm, Fri-Sat 10am-930pm, Sun 10am-830pm.
Best lunchtime treat: Summer Haven
Two outlets in and around the CBD make this the go-to place for yuppies when they need a little pick-me-up (and see something pretty!) during lunch break. And guys, if you're tired of the male discrimination that happens practically everywhere in the beauty industry, you'll be enormously glad to hear that there's no surcharge for you at Summer Haven.
Summer Haven, China Square Central, Citylink Mall, and I12 Katong. See here for more details.
Best organic experience: Ladyfinger the Nail Spa
This award-winning Eco Spa Manicure features vegan-friendly nail elixirs and lacquers that are free of toluene, formaldehye, and DBP from SpaRitual. Expect an aromatherapeutic journey that transports you to the world of Slow Beauty, where the body's full Chakra system is balanced. Spiritual state aside, this treatment does wonders to your hands and nails too.
Ladyfinger the Nail Spa, Ang Mo Kio Hub, Bedok Point, Jurong Point, Tampines 1, and Tiong Bahru Plaza. See here for more details.
Best nail art: The Nail Artelier
Nestled among indie designers and eateries in the eclectic Haji Lane, we're not surprised that art takes centre stage in the nail services here. Unlike other nail salons, there are no fixed designs, so the nail artists work to make your nail design a dream come true. Do book ahead 'cause this place is always packed with bright, young things – another testament to gorgeous nail art.
The Nail Artelier, 48 Haji Lane, Singapore 189241, p. 62988028. Open Mon-Fri 12pm-8pm, Sat 11am-8pm, Sun 12pm-6pm.