Photography: Rachel Claire via Pexels
If you swoon every time someone says retro or second-hand, these cool vintage furniture stores in Singapore will get you all excited!
Bargain hunters and vintage junkies, listen up. If you're looking for unique pieces with a story, you've come to the right place. Whether you love mid-century designer furniture (swoon) and cool retro decor, or you're obsessed with treasure hunting for second-hand pieces, these pre-loved vintage shops and junk stores in Singapore are gold mines of fantastic finds (with loads of character guaranteed). Happy hunting!
Best vintage and second-hand furniture stores in Singapore
1. Hidden Treasures
If you're looking for top-quality, unique Chinese antique furniture and Asian art pieces, Hidden Treasures is your best bet. Think carved panels, antique storage boxes, brass accessories, and more. The store also buys antique pieces, so if you want to offload your vintage goods, you can reach out to them.
Hidden Treasures, #07-07B, Hillview Building, 48 Hillview Terrace, Singapore 669269
2. Just Anthony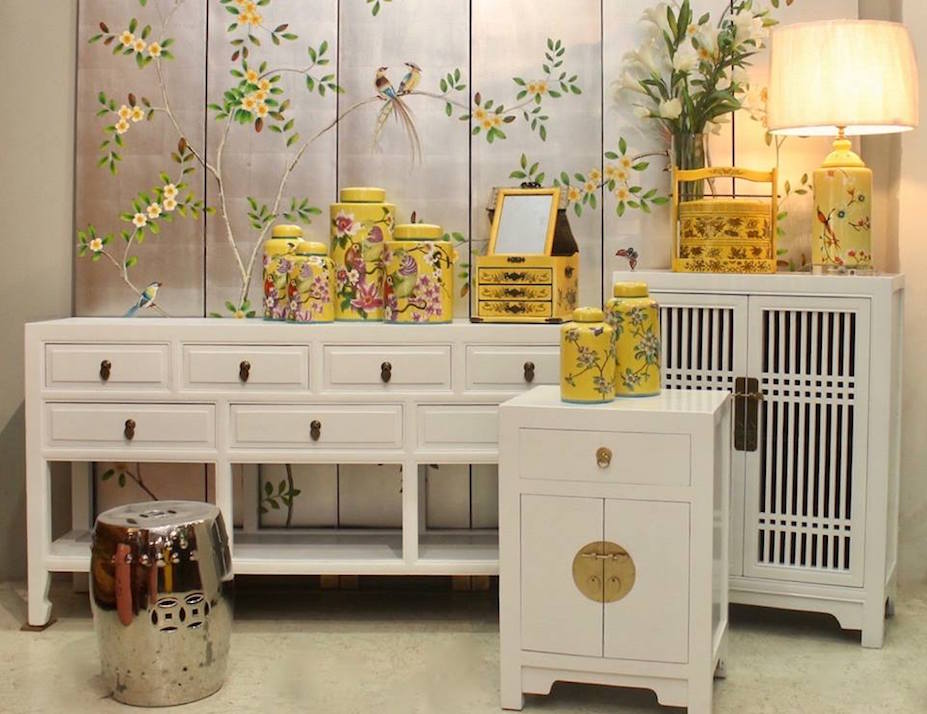 This is the vintage furniture and accessories store in Singapore for refurbished Chinese antiques. Think wedding cabinets, bedside cupboards and long console tables in assorted brilliant hues. But you'll also find your fair share of lightly treated antiques, including old doors, canopy lattice panels and barber stools.
Just Anthony, 379 Upper Paya Lebar Road, Singapore 534972
3. Journey East
Focusing on reclaimed teak wood originals and eco-friendly, sustainable vintage pieces from around the world, this is guilt-free furniture shopping at its best! The store also offers outdoor furniture, so pop by the showroom if you've got a garden or patio to revamp. We love that Journey East's collection stretches far back into a bygone era – its "youngest" furniture dates back to the 1960s!
Journey East, #03-02, Tan Boon Liat Building, 315 Outram Road, Singapore 169704
4. Lorgan's The Retro Store
With a spacious showroom, Lorgan's The Retro Store houses an eclectic range of designs. Modern pieces aside, expect pop art, retro, and vintage styles as well. Plus, its collection of chairs, tables, sofas and other furniture is well-designed and affordable. Pop by to pick out a unique piece for your home!
Lorgan's The Retro Store, #02-07, Orion@Paya Lebar, 160 Paya Lebar Road, Singapore 409022
5. Be My Old School
As its name suggests, this store offers an aesthetically-pleasing collection of old school designs that'll transport you back to nostalgic days of the past. Here, you'll find vintage typewriters, kitchenware, gadgets, nautical items, luggage, and knick-knacks to add to a themed home. You can rent items for events, too.
Be My Old School, #03-24, 115A Commonwealth Drive, Singapore 149596
6. Tong Mern Sern
Once you're greeted with a bright, loud banner over the storefront (you can't miss it), prepare to get lost in a world of treasures. Clocks, plates, vases, chairs, and even old Japanese "banana money"… you've got lots to go through across three floors. So spend a lazy afternoon or a free day rummaging through second-hand furniture gems at this store in Singapore. Oh, and don't be afraid to approach the friendly old uncles with questions.
Tong Mern Sern, 51 Craig Road, Singapore 089689
7. Junkie's Corner
This one's a little bit out of the way unless you live near the old Turf City, but you'll be transported to a different side of Singapore. The vintage store is packed to the rafters with all kinds of cool stuff. Find stone lions, typewriters, old signs, terracotta pots, Peranakan chamber pots, Sony Walkman sets, coffee tables and more. Be ready to get your hands dirty! Oh, and it helps if you have some bargaining skills as well…
Junkie's Corner, 2 Turf Club Road, Singapore 287988
8. Noden
Love the clean, minimalistic aesthetic of Scandinavian furnishings? You'll adore Noden, a treasure trove of authentic Scandi classics from the 40s to the 70s, all carefully sourced by the owners on their European travels. The range includes designer offerings and handpicked rare items, so don't be surprised to find that pieces come and go quickly.
Noden, #02-02, 211 Henderson Road, Singapore 159552

9. Yasashii Trading
Alexandra's home to more than just Ikea – it's also the neighbourhood of vintage furniture store Yasashii Trading. While you'll find many Chinese antiques here, there are plenty of teak cabinets, old dining sets, desks and knick knacks, too. Take the afternoon off to really work through the shelves.
Yasahii Trading, #01-114, 123 Bukit Merah Lane 1, Singapore 150123
10. Viewpoint Trading and Collectibles
Catch a glimpse of Singapore's past at a browsing session at Viewpoint Trading and Collectibles in Chinatown. You'll find old F&N drink crates, vintage beer bottles and glasses, granny teacup sets and other collectables here. But if you're a vintage toy enthusiast, this place holds quite a collection.
Viewpoint Trading and Collectibles, #01-07, Fook Hai Building, 150 South Bridge Road, Singapore 058727
11. Odds 'N' Collectables
Odds 'N' Collectables is a standout from the usual cafes and nice eateries in the precinct. If you're hunting down a conversation piece for your home – think vintage enamel trays, old school posters or mini peacock chairs – this is the place to search. Looking for something in particular? Just ask the owner, Juzer, who seems to know where everything is in this unmissable place. Happy digging for treasure!
Odds 'N' Collectables, available online
12. Carpenter and Cook
This charming artisan bakery located near Beauty World MRT station is our fave hideout from the city's crowds. Creamy tarts and warm cuppas aside, the cafe also doubles up as a vintage furniture and decor store in Singapore. Almost everything you see is for sale, including antique armoires, eclectic dining tables, vintage typewriters, sewing machines, collectable teapots and cutlery.
Carpenter and Cook, #01-06, 19 Lorong Kilat, Singapore 598120
13. Past Image Art & Craft
You might hear it before you see it! This quaint store in Excelsior Shopping Centre regularly blasts 60s and 70s music during business hours. If anything, the vibrant display window will definitely lure you in. Have fun perusing retro knick-knacks, old school toys, classic film posters, and vinyl from local artists in the past.
Past Image Art & Craft, #03-08, Excelsior Shopping Centre, 5 Coleman Street, Singapore 179805
14. The Heritage Shop
Searching for a shop version of Singapore's history? This store has everything. That includes documents on the redevelopment of Haw Par Villa, Malayan annals from way back, women's magazines from the days of Malaya, and vintage newspaper broadsheets still in mint condition. Besides printed documents, you'll also find pretty tiffin carriers, old Milo cans, clocks, hand-painted plates, Peranakan dividers (and more chamber pots), oil lamps and other antiques.
The Heritage Shop, 93 Jalan Sultan, Singapore 198997
15. Hock Siong & Co.
Furniture aficionados will be more than familiar with this name. Always wanted to live in a hotel? Now you can. Find pre-loved five-star hotel furniture here – from down-filled pillows to Shanghainese rosewood furniture and refurbished teak desks. There are also plenty of home accessories to rifle through – hell, you can even go home with your own bellhop trolley! Swing by prepared to hunt down your bargain.
Hock Siong & Co., #01-03, Junjie Industrial Building, 153 Kampong Ampat, Singapore 368326
16. East Inspirations
Trust us, you won't be able to resist entering this store in Singapore if you're into vintage furniture. Step inside this time machine and let the space transport you to the past. From vibrant Chinese trinkets and ceramics to bold furnishings, relics and artefacts, this place is a true treasure trove.
East Inspirations, 256 South Bridge Road, Singapore 058805
17. Mobler Singapore
If you're a hardcore Scandi furniture lover, Mobler is your own personal heaven. The store is stocked with handpicked, rare vintage pieces from the 30s to the 70s, as well as older antiques. All the handmade Scandinavian furniture pieces are sourced from Sweden, where the founders are from.
Mobler Singapore, Isetan Scotts, 350 Orchard Road, Singapore 238868
18. The GoDown
This may not be strictly a second-hand furniture store in Singapore, but it sure is home to some of the finest refurbished wares from around the world. The selection includes everything from antique lamps and typewriters to old stools and tables.
The GoDown, #02-08, The Meissa, 100D Pasir Panjang Road, Singapore 118520

19. Jennifer's Vintage & Antique
Some things are lovely when they're new; others become lovelier as they age. There's a lot to dig through at this store, but they aren't refurbished or restored. What you see is what you get, and what you get are pre-loved, vintage pieces you may have to restore yourself. But hey, sometimes there's nothing more satisfying than giving that rickety old chair a new lease on life.
Jennifer's Vintage & Antique, 229 Toa Payoh Lorong 8, Singapore 320027
20. Singapore Trading Post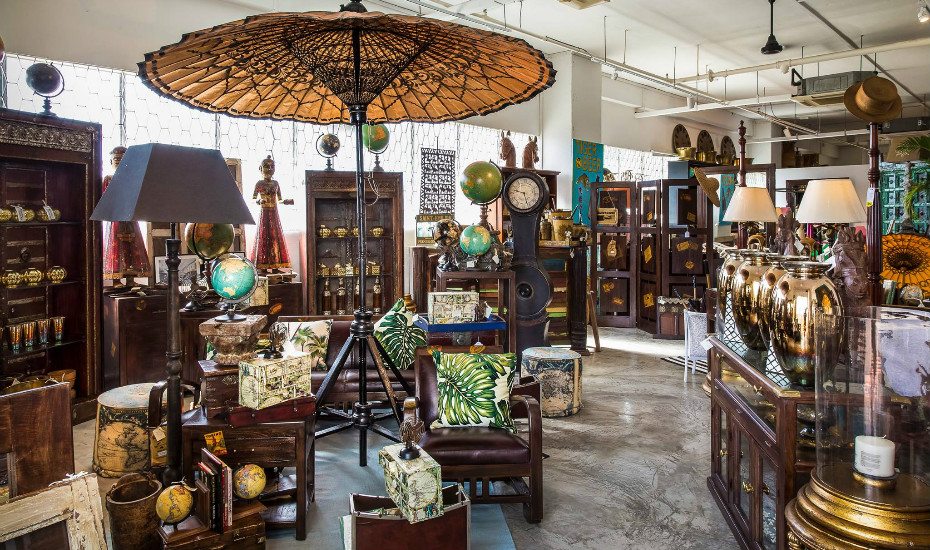 From the team behind Expat Auctions comes this lovely establishment that carefully selects pieces from India, Indonesia, Vietnam, and Myanmar. From lamps and linens to side tables and cabinets, the selection is definitely worth a visit if you're looking for furnishings with a side of Asian charm.
Singapore Trading Post, multiple locations including Tan Boon Liat and Joo Chiat
21. Long-longtime Store
Pop by for restored furniture hailing back to the olden days, like old school industrial metal chairs, teakwood drawers and writing tables. Pieces come in limited numbers, so be sure to snap them up quickly before they're gone. Keep in mind that the store only accepts cash payments, but online purchases via bank transfer can be made too.
Long-longtime Store, available online or by appointment only
For your next second-hand hunt in Singapore, head to these vintage furniture stores!