Photography: Journey East
If you swoon everytime someone says mid-century modern, these cool vintage furniture stores will make you very very happy!
Bargain hunters and vintage junkies, if you're looking for unique pieces with a story, you've come to the right place. Whether your thing is mid-century designer furniture (swoon), cool retro decor or you just love treasure hunting for one-off pieces, these pre-loved furniture stores in Singapore are goldmines of fantastic finds (with loads of character guaranteed). Happy hunting!
Journey East
Focusing on reclaimed teak wood originals and eco-friendly, sustainable vintage pieces from around the world, this is guilt-free furniture shopping at its best! The store also offers outdoor furniture, so pop by the showroom if you've got a garden or patio to revamp. We also love that Journey East's vintage furniture collection stretches faarrrr back into a bygone era – their "youngest" furniture dates back to the 1960s!
Journey East, #03-02 Tan Boon Liat Building, 315 Outram Road, Singapore 169704, p. 6473 1693
Noden
Love the clean, minimalistic aesthetic of Scandinavian furnishings? Then you'll love Noden, a treasure trove of authentic Scandi classics from the '40s to the '70s, carefully sourced by the owners on their European travels. The range includes designer offerings and gorgeous, handpicked rare items, so don't be surprised to find that pieces come and go quickly.
Noden, 39 Ubi Road 1, #04-03 Singapore 408695
Yasashii Trading
Alexandra's home to more than just IKEA – it's also the neighbourhood of vintage furniture store Yasashii Trading. While you'll find many Chinese antiques here, there's plenty of teak cabinets, old dining sets, desks and knick-knacks to be found. Take the afternoon off to really work through the shelves.
Yasahii Trading, 123 Bukit Merah Lane 1, Singapore 150123
Carpenter and Cook
This charming artisan bakery located near Beauty World MRT station is our fave hideout from the city's crowds. Creamy tarts and warm cuppas aside, the cafe also doubles up as a vintage furniture store. Almost everything you see in the store is for sale, from the antique armoires, eclectic dining tables, vintage typewriters and sewing machines to the collectable teapots and cutlery.
Carpenter and Cook, 19 Lorong Kilat, #01-06, Singapore 598120, p. 6463 3648
Junkie's Corner
True to its name, this is one store where you can find anything and everything. It's packed to the rafters with all sorts of cool stuff, which means you'll find furniture from all eras, some beautifully refurbished pieces too and some weird knick-knacks you never you needed. Some bargaining with the owner, Uncle Charlie, can be done, but be sure to bring wads of cash and a sharp eye! This one's a little out of the way, so think of it as a real treasure hunt. Just make sure to clear your boot space beforehand.
Junkie's Corner, 2 Turf Club Road, Singapore 287988, p. 9791 2607
The GoDown
The GoDown may not be strictly just a second-hand furniture store, but it sure is home to some of the finest refurbished wares from around the world. The selection includes everything from antique lamps and typewriters to old stools and tables.
The GoDown, 44 Zion Road, Singapore 247776
Singapore Trading Post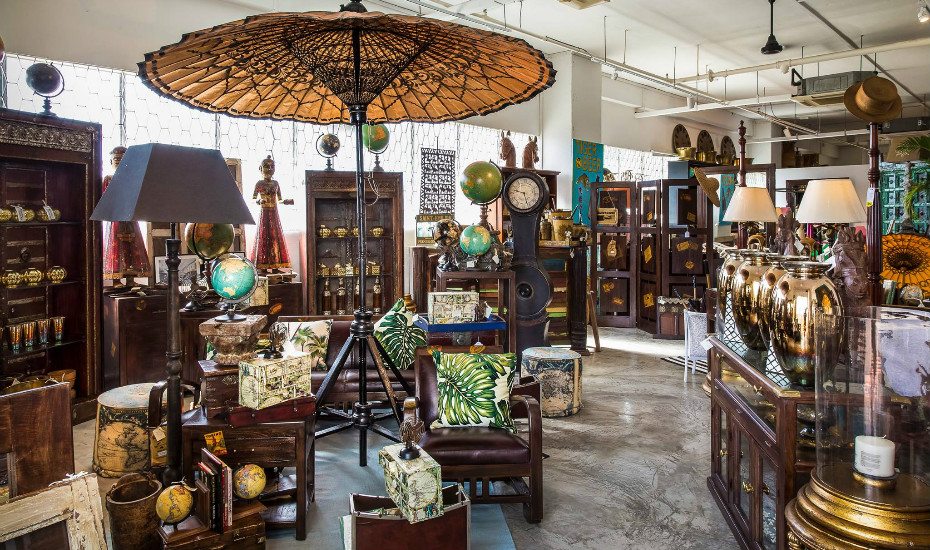 From the team behind Expat Auctions comes this lovely establishment that carefully selects pieces from India, Indonesia, Vietnam, and Myanmar. With lamps and linens to side tables and cabinets, the selection here is definitely worthy of a visit if you're looking for furnishings with a side of Asian charm.
Singapore Trading Post, various locations like Tan Boon Liat Building, Jelita Shopping Centre and Designer Collective Tanglin Mall, p. 6274 0511
Long-longtime Store
Here, you'll find restored furniture hailing back to the olden days, like old-school industrial metal chairs, teakwood drawers and old '70s writing table. Pieces come in limited numbers so be sure to snap them up quick before they're gone. Keep in mind that the store only accepts cash payments, but online purchases via bank transfer can be made too.
Long-longtime Store, p. 98325378, call to make a viewing appointment/purchase.
Mobler Singapore
If you're a hardcore Scandi furniture lover, Mobler is your own personal heaven. Their Upper Thomson store is stocked with handpicked, rare vintage pieces from the 30s – 70s as well as older antiques. All the handmade Scandinavia furniture is sourced from Sweden where the founders are from.
Mobler Singapore, 81 Tagore Lane 02-11 Singapore 787502, p. 9882 5320
KB Living
Even after being in the home interior scene for 15 years now, this store is still a well-kept secret amongst furniture aficionados. We understand the secrecy; it's chock-a-block with handpicked vintage finds and curios, architectural décor pieces and collectibles – even novelty items like old-school posters and alarm clocks. Most pieces are also one-offs and imported, so if you see something you like, snap it up quick!
KB Living, Midview Building, #05-28, 50 Bukit Batok Street 23, Singapore 659578, p. 6316 5574
Hock Siong & Co.
Furniture aficionados would be more than familiar with this name. Always wanted to live in a hotel? Now you can. Find used 5-star hotel quality furniture here – from $10 down-filled pillows to Shanghainese rosewood furniture and refurbished teak desks. There are also plenty of home accessories to rifle through – hell, you can even go home with your own bellhop trolley! Go prepared to hunt down your bargain.
Hock Siong & Co., Junjie Industrial Building, 153 Kampong Ampat, #01-03, Singapore 368326, p. 6281 8338
Second Charm
Like its name suggests, the store is stuffed to the gills with charming bric-a-brac! Since starting over a decade ago, the people behind the brand remain passionate about the hunt for unique vintage finds. Coo over French armchairs, iconic midcentury furniture, reupholstered sofas, wingbacks, and desks made from recycled teak.
Second Charm, Mapletree Industrial Building, Block 19, #04-157, Kallang Avenue, Singapore 339410, p. 6294 2919
Jennifer's Vintage & Antique
Some things are lovely only when they're new; others become lovelier as they age. There's a lot to dig through here, but they aren't refurbished or restored. What you see is what you get, and what you'll get is pre-loved, vintage pieces you may have to restore yourself – but hey, sometimes there's nothing more satisfying than giving that rickety old chair a new lease of life.
Jennifer's Vintage & Antique, Blk 27 #01-306 Jalan Bahagia Singapore 320027, p. 9633 7309
Just Anthony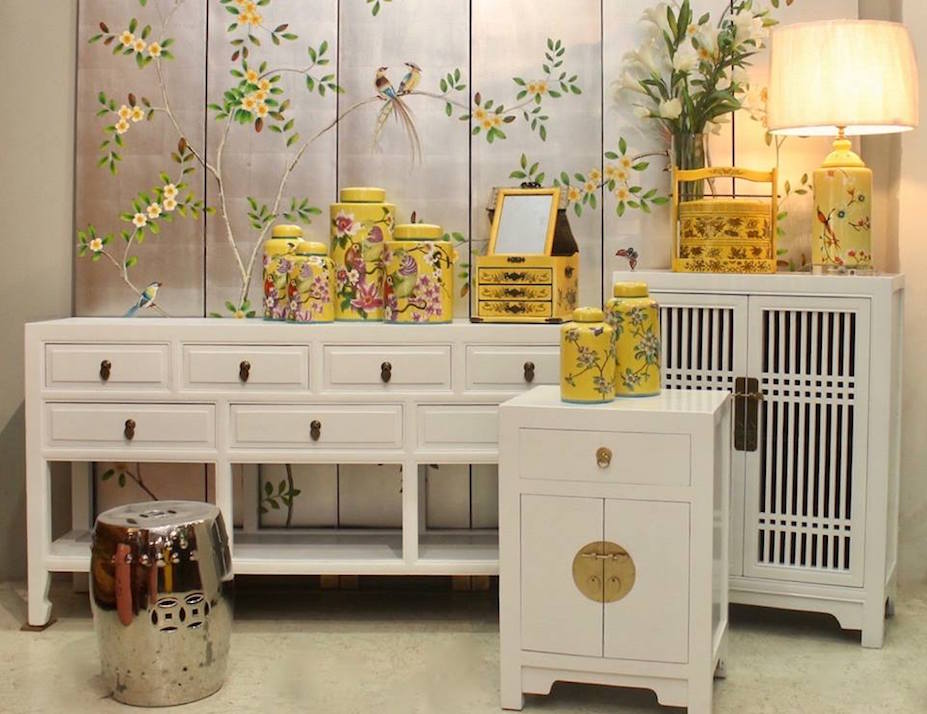 This is the spot to be for refurbished Chinese antiques – think wedding cabinets, bedside cupboards and long console tables in assorted brilliant hues. But you'll also find your fair share of lightly treated antiques, including old doors, canopy lattice panels and barber stools.
Just Anthony, 379 Upper Paya Lebar Road, Singapore 534972