Photography: Shaun Chew
"I thought writing music about my life would be fun, and maybe a little glamorous. Now that I'm doing it, I'm a little apprehensive but I can only make art that comes from the heart."
With her hearty laugh and sharp wit, you'd never expect Sope (real name Sophia Petra Lee) to be an introvert at first glance. Conversations with her are fluid; she finds pockets of opportunity to segue into new topics of interest. However, tucked away under her charismatic front is a passionate personality, with emotions that run intensely within her core. As part of our Honey Unplugged series, we get intimate with local musicians and discover more about their journey. This time, we have Singapore singer-songwriter Sope sharing her deeply personal writing process and journey with us.
The Covid-19 driven pursuit
Becoming a musician was an aspiration that always sat in the back of her mind. However, 15-year-old Sope's attempts at songwriting often led to many unfinished projects. She jokingly chalks it up to a lack of life experiences and trauma, laughing it off. With real-life priorities taking hold of her time, the musician parked her dreams aside in favour of survival. That is, until Covid-19 hit.
Stuck within the confines of her home in 2020, Sope found herself turning back to a not-so-long-lost love. Using it as an avenue to vent, the musician dealt with isolation the best way she knew how. The lockdown gave the two plenty of time to reconnect, and it led Sope down the musical path that she had always dreamed about. After producing five experimental tracks, she began creating more elaborate songs for public release. Now 28, she's since produced a multitude of singles and even an EP, with a full length album of songs on the way.
A treasure trove of musical inspiration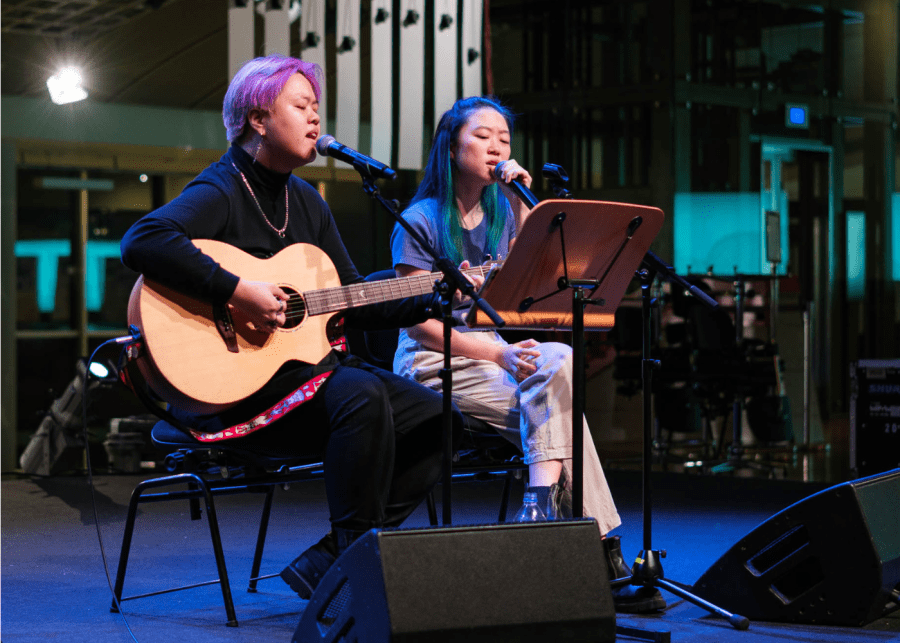 As we chat in the middle of the very busy Haji Lane (her meet-up location of choice), I ask Sope why this street is so significant to her. She reveals that it serves as a place of inspiration. In a moment of late-night reflection, she tells me about the epiphanic experience of coming to terms with moments, emotions, and people that are incredibly important to her. "That turned into the spark for my music. Which then turned into a forest fire," she laughs.
But I'd say forest fire is an apt description of her passion. Her efforts and ardour can be seen throughout each step of the creative process. As an avid learner, Sope dedicated time to experimenting with different instruments including the violin and piano. Her lyricism is also done with an incredible amount of intention. A writer by trade, she takes care to craft songs with significance, as words carry weight and can make or break a musical experience.
Sope feels deeply, and constantly leaves a piece of herself in her music. Her first-ever single, Diabetes, created with fellow local talent Amanda Ong, is a great example of that. Both diagnosed with type 2 diabetes, the singers poured their emotions into a cathartic songwriting experience. In spite of its cheery upbeat melody, the song is a reflection of their daily lives and varying struggles living with the condition. Although the subject matter is unconventional and niche, it's hardly a hurdle in Sope's fervent pursuit of ingenuity.
The first fruits of First Fruits
Sope's latest single, First Fruits, has multiple layers to it that encapsulate different elements of her life. While the song was initially intended as a Valentine's Day gift, the message became a reflection for Sope. Drawing inspiration from the Garden of Eden, it speaks of life, death, rebirth, and renewal. The concept focuses on the garden as a self-sustaining organism.
"Just because something dies, doesn't mean it's the end," Sope tells me. It's about a cycle where even the dead and the rotting are taken back, absorbed into the earth and renewed.
Sope shares that the song was an opportunity for her to seek new perspectives. It's about allowing herself the breadth to better understand the precious things in her life. How to let go of what wasn't meant to be, and to give it back to nature. This ties back to the song's title, where the first fruit offerings are about the very best of your harvest.
It's a philosophy that shows through her singing. Despite performing for a small audience of two, the singer-songwriter pours her heart into every chord and lyric. As my videographer and I film her performance, I find myself entranced. Illuminated by a single street lamp, her voice permeates through the noise of the busy street. It's enchanting enough for passers-by to pause and watch. Her sincerity is clear as she aims to deliver the very best that she has to offer for us.
The baby steps to humble ambitions
With the amount of personal experience and emotion she puts into her craft, I wondered what it was like for Sope to share such raw and vulnerable emotions in such a public way. "Oh, it's terrifying," she admits, followed up with her signature laugh, both hearty and contagious. As someone who's introverted by nature, being on a stage in front of people doesn't come naturally. A lot of her heart ends up on her sleeve, leaving her vulnerable and fearful.
Not knowing if people will accept or welcome her work is her main concern as she continues to release her music. It was also important for her to figure out how to overcome moments of feeling like a fraud. As a musician without formal musical training, it's easy to fall into the slippery slope of imposter syndrome. Thankfully, it hasn't stopped her, as she slowly works her way up to performing for bigger audiences.
Numbers and statistics are the last things she considers when determining her success. Sope focuses instead on how people receive the music on an individual level. "If anyone came up to me and said they could see themselves in my work, to me that's a huge success," she says.
For now, the singer-songwriter keeps her ambitions attainable. As eager as she is to release her full album on the back of her EP, Sope allows herself room to create as naturally as she can. While her goal is to release the full album by the end of 2023, she chooses not to fixate on the finish line, and instead enjoys her creative process. She also plans to book more shows as the months go on, so we'd highly suggest giving her socials a follow to keep up with her whereabouts.
Want us to spotlight a local artist for the next edition of Honey Unplugged? Drop us a DM @honeycombers.