We're seeing gold with Poh Heng's ORO22 collection. Photography: Darissa Lee
Take your style up a notch with gold necklaces, bracelets, bangles, rings and pendants from brands like Poh Heng, Atelier Swarovski and Monica Vinader, that are affordable, fashionable, oh-so glamourous and available here in Singapore.
All that glitters is – indeed – gold. And according to Instagram, gold chains are trending right now, with top models and social influencers sporting lots of bling. Whether paired with a casual tee or a cocktail dress, it's time to get on board with lots and lots of gold jewellery. Here are five jewellers ready to hook you up with gold necklaces, bracelets and rings that you won't have to break the bank for.
Poh Heng
Whether you're glamming up for a family reunion, a candle-lit dinner-date or simply dressing like the girl boss you are, Poh Heng has got you covered. With its ORO22 collection ("Oro" is Italian for gold, and 22 is the carat polished to perfection in this collection), you can find statement pieces coated in Poh Heng's signature colour, moonlight glow. Take your evening wear to another level with gold accessories like the graceful twist necklace, earring and ring set for an elegant touch, the line-inspired bangle and necklace for a modern look, and cocktail rings for those fancy fingers.
Poh Heng, multiple locations.
Atelier Swarovski
In collaboration with Lanvin, Atelier Swarovski has released a Great Gatsby-inspired collection that includes in-your-face statement pieces like the Cristaux Deco necklace ($3,490), drop clip-earrings ($1,290) and cocktail ring ($1,090). These bold accessories are finished in gold and decorated in golden crystals for a regal look. They may seem heavy at first sight, but trust us, they're totally wearable and are an absolute stand-out.
Atelier Swarovski, available online.
Citigems
999 is not just the number to call when your gold treasures are stolen, but it's also Citigems pure gold accessory collection, which is 99.9% gold. Whether it's a gift or a treat for yourself, this collection is definitely one to go for if you're looking for a simple yet timeless accessory. Stunning designs such as the Listen to Me Whimsical Bells necklace ($1,003), the Listen to Me Angels Wings Bell earrings ($682), and the Future Gold Four Season bracelet ($510), ring ($635) and bangle ($2,447) set, are great choices.
Citigems, multiple locations.
Monica Vinader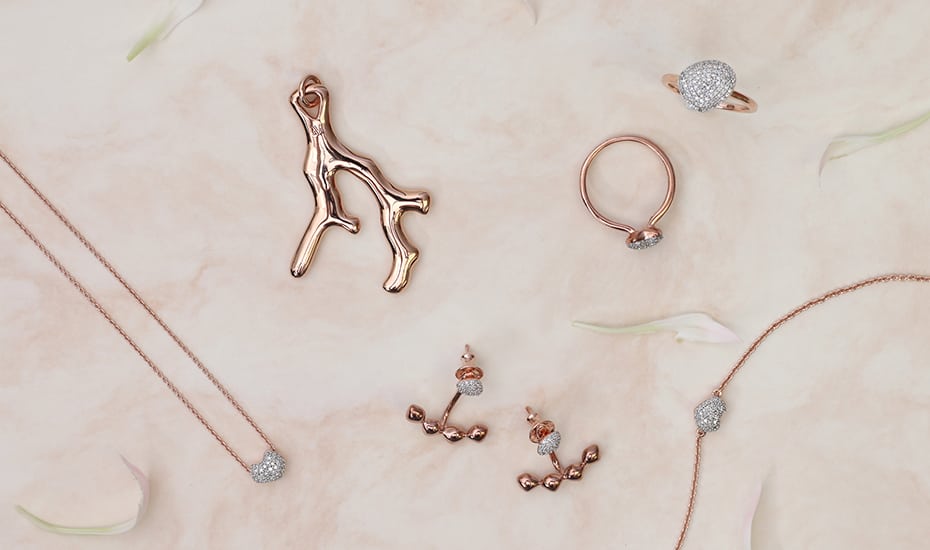 For something very feminine, Monica Vinader is our top pick. Great for minimalists, as well as fans of necklace layering and ring stacking, this jewellery brand has just released the Nura collection featuring versatile pieces like the mini heart ring ($470), bracelet ($525) and necklace ($575) set, the teardrop jacket earrings ($730), the large reef pendant ($315) and the pebble stacking ring ($1,035). These 18 carat rose gold pieces are bound to sweeten your daytime looks and evening wear effortlessly.
Monica Vinader, #B1-09, ION Orchard, 2 Orchard Turn, Singapore 238801, p. 6509 6568; Open 10am-10pm daily.
Goldheart
The Goldheart 916 and 999 gold collections have been designed for those in search of bold designs to spice up their outfits. Pendants with a touch of blue starts from $348, bangles like the Mode Gold 916 twirl bangle is priced at $1,257, rings (from $800) and necklaces (from $1,593). Designs include a variety of shapes and colours that are bound to shine no matter what you're wearing.
Goldheart, multiple locations.