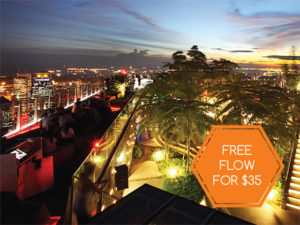 Get there on time and don't let a drop of vino go to waste!
Excellent bites, free-flow bubbles and the most incredible view in town - all for 35 dollars. What better way to chill out and make new pals?
***THIS EVENT IS NOW SOLD OUT. A HUGE THANKS FOR YOUR SUPPORT, AND SEE YOU ON THE 10 JUNE AT 7PM. DON'T BE LATE, OR YOU'LL MISS OUT ON POTENTIAL BUBBLES!***
So you've just moved to Singapore, and finding it tricky to meet new folks. Or perhaps you've been here for a while and you're hitting that stage when your besties are packing up. Or maybe you have a great crowd of pals*, but simply like meeting new folks. Sure, us gals at The Honeycombers can show you the best Nasi Lemak, reveal the top shopping spots and share the latest news around town, but can we really help you when it comes to making friends?
HELL YEAH. And we'll be putting our money where our mouth is at our next awesome event.
Yup, join us on Wednesday 10 June for The Honeycombers' snazzy ladies' night (for newbies and readers alike) at spectacular rooftop venue 1-Altitude (the highest bar in Singapore, we might add). This is… wait for it… a FREE-FLOW event that starts at 7pm (on the dot, ladies, you know what's at stake!) and runs for two hours. For just $35, we're talking about free-flow alcohol, tasty nosh and the most impressive view in town. Foie gras parfait and duck breast on brioche, anyone? How about sliced beef tenderloin with spicy orange chutney? More of a crispy potato skin with sour cream kind-of-laydee? Well, that's OK too.
With gorgeous grub, free-flow bubbles and an amazing setting filled with 80 cool people, you're not going to want to miss this one. We'll be there to make sure everyone is mingling comfortably, and we even have a few tricks up our sleeves to get you talking (they're not lame, pinky swear! OK, 'pinky swear' sounded a little lame, we'll give you that). *Regulars – if you're reading this, we want you to come and bring someone who's new in town! Think of it as great karma.
Our generous sponsors AAM Advisory (financial planners that you need to know in an expensive place like Singapore) will be at the event to host a special giveaway of wine hampers and bubbles – because what's better than cheap alcohol? Free alcohol! As well as 'cheers'-ing the lucky winners, AAM will also be at the event to answer any questions folks may have about health cover, smart investments, wills, getting bang for your buck (tax-wise!), and any other tricky financial topics you need a hand with.
Miss saving moolah on your favourite brands? Don't be shy, we do too! You'll be happy to hear that amazing website PacMe is offering free one-year memberships to all Honeycombers readers (worth 40 bucks), so you can spend more money on the brands you love (and pine after), and heaps less on international shipping. PacMe will also be giving away a fabulous beach bag to a lucky winner!
So, if you're tired of venturing out to networking events and standing awkwardly in the corner (or, at best, chatting forcibly to the bartender), we're promising you free flow proseccs, delicious snacks, a killer view, NON-cheesy ways to connect with people. All while getting to know your new home. So grab a friend (or more!) and join us for free-flow** on 10 June from 7pm-9pm (everyone is welcome to stick around afterwards – we'll be minesweeping drinks at this point, no doubt). Grab your ticket for 35 bucks now!
**Tickets include free-flow Prosecco, red/white wine, beers, juices (orange/lime), sodas (Coke/Sprite) and canapés, plus ace ways to meet new people. Pair that with having a few vinos with us ever-so-friendly Honeycombers gals and you're talking about one hell of a bargain. Be quick – these will surely sell out fast!