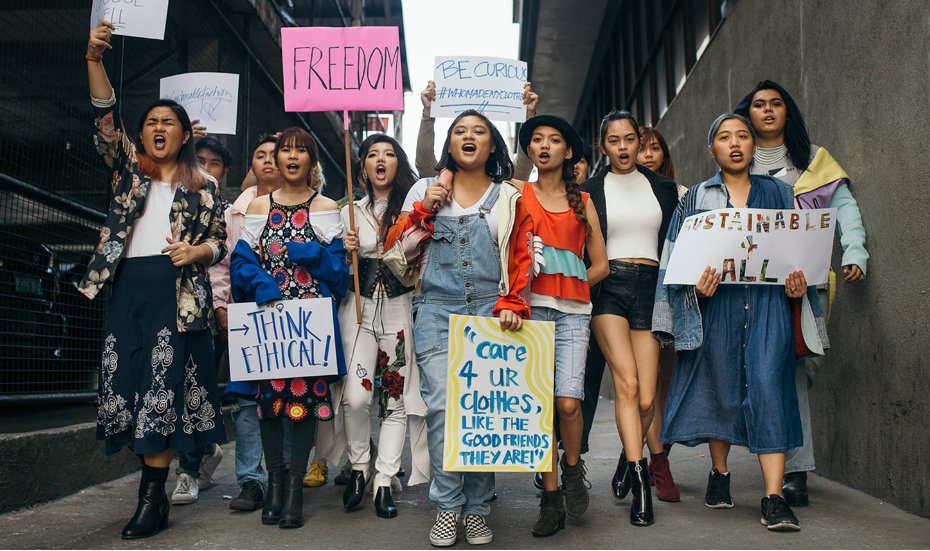 Students of the SoFA Design Institute demonstrating in their best sustainable look. Photography: Courtesy of Fashion Revolution
Shake up your shopping habits by making conscious choices. Join the Fashion Revolution and know where your clothes come from…
We're all about doing our bit for the environment here at Honeycombers (check out our eye-opening chat with Green is the New Black founder Stephanie Dickson), starting with saying nay to plastic and yay to shopping sustainably. Championing ethical fashion, our resident shopaholics are switching fast fashion and high-street glam for something more eco-friendly, like renting luxe threads and coveted bags, and — shock — making a decision to stop shopping needlessly. As part of the global Fashion Revolution Week 2018, which takes place from 23 to 29 April, Fashion Revolution Singapore returns on 28 April to raise awareness on how clothes are sourced, produced and purchased. Time we all thought about the stories behind what we're wearing, people.
Held annually around the world, the movement commemorates the Rana Plaza tragedy of  2013 when 1,138 people were killed and injured due to the collapse of a garment factory in Bangladesh. With an aim to encourage fashion lovers to make eco-friendly changes and for the industry to provide fair and safe working conditions to avoid such deadly situations, Fashion Revolution Week's first step is to push for transparency in the fashion world. Companies should get to know what goes on behind the seams — who makes their clothes and under what conditions — and be able to communicate this information to the public.
With a city that has a high demand for cheap, mass-produced threads, it's about time Singapore jumps on the sustainable fashion bandwagon, starting with Fashion Revolution where there are plenty of activities for sustainable shoppers at its hip new venue at The Hive Lavender. Expect a clothes swap by Swagalls (also great for decluttering your wardrobe), hands-on DIY and textile workshops by Singaporean upcyclers Agy Textile Artist and Taikensonzai, a screening of the award-winning documentary 'RiverBlue', an ethical fashion show by conscious online retailer ZERRIN, and more. Get schooled on the incorporation of sustainably made fabrics and ethical practices in the fashion world through an educational panel discussion hosted by Green Drinks.
You'll see that living a greener lifestyle and shopping more consciously is not that hard, and you can totally do it in style!
Fashion Revolution Singapore, 28 April 2018, The Hive Lavender, Level 6, Vanguard Building, 1 Kallang Junction, Singapore 339263. RSVP here
Like this story? Check these out:
Here's where to start shopping consciously
Why our Style Editor has stopped shopping
Rent a luxury dress or bag instead
Our favourite organic makeup and skincare brands