Photography: John Cahill via Pexels
Love to explore the underwater world? These exceptional snorkelling spots in Asia are worth checking out.
When you're done lazing around at Singapore's best beaches, swap your sunbathing gear for a mask, snorkel, and fins. Yup, we're talking about exploring the exciting marine world beneath the waves. Excited yet? Here are our top snorkelling spots in Asia for encountering magnificent corals, turtles, rays, sharks, and other aquatic creatures.
Best snorkelling spots in Asia
1. Koh Rong Samloem, Cambodia
Nestled off the Cambodian coastline lies Koh Rong Samloem: an emerging snorkelling paradise. Its pristine waters and stunning coral reefs are home to plenty of tropical fish, including clownfish, angelfish, and parrotfish. If you're feeling adventurous, dive into the deep blue and explore the renowned Cambodian Diving Group wreck.
Getting here: Fly to Phnom Penh, then take a domestic flight to Sihanoukville. From there, you can take a ferry to Koh Rong Samloem.
2. Pulau Perhentian, Terengganu, Malaysia
Terengganu is renowned for its crystal-clear waters, and the two islands forming Pulau Perhentian – Besar and Kechil – are exemplary. This is an excellent location to observe sea turtles and small sharks (rest assured, the reef sharks won't bite).
Getting here: Fly to Kuala Terengganu. Next, you can either take a bus or taxi to Kuala Besut jetty, where you can catch a boat service to Pulau Perhentian.
3. Nusa Penida, Bali, Indonesia
Scuba diving is a must to catch a glimpse of Nusa Penida's main attraction – the ocean sunfish. However, for an equally thrilling experience, head over to Manta Point and indulge in snorkelling as you swim with friendly schools of manta rays.
Getting here: Fly to Bali before heading to Sanur beach for boat services to Nusa Penida.
4. Donsol, Sorsogon, Philippines
At one of the best wildlife encounter destinations in Asia, you can expect to witness numerous whale sharks feeding on plankton near the water's surface. It's truly a majestic experience. To make the most of your holiday, the best time to visit is from February to May.
Getting here: Fly from Manila to Legaspi, and take a public van to Donsol.
5. Gili Islands, Lombok, Indonesia
Apart from party boats, yoga, and surfing, the Gili Islands are also popular for snorkelling in Asia, thanks to those stunning shallow reefs and the sea turtle population. You can rent masks and fins from the beach, or opt for a snorkelling boat trip that will take you to three or four different spots.
Getting here: Fly to Ngurah Rai International Airport in South Bali, and take a fast boat from Benoa or Serangan Island.
6. Cape Maeda, Okinawa, Japan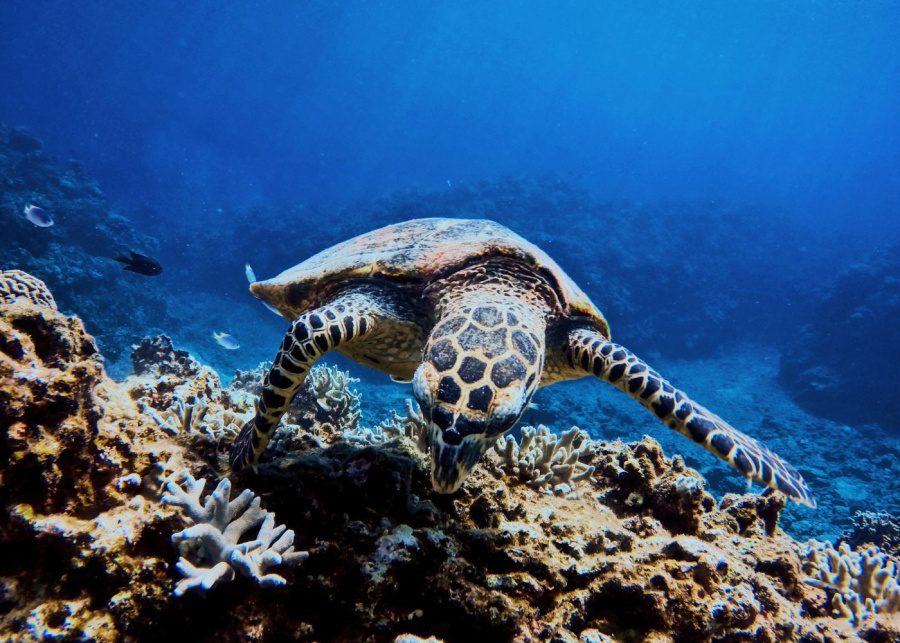 Cape Maeda is one of the most sought-after snorkelling destinations in Okinawa. It's teeming with a diverse range of marine creatures, including turtles, sharks, and manta rays. The most extraordinary aspect of this location is undoubtedly the Blue Cave. Positioned at Maeda Point, you can swim into the cave and witness mesmerising blue sun rays shining down from above.
Getting here: Fly from Tokyo to Okinawa Naha before you rent a car to Cape Maeda.
7. Cenderawasih Bay, West Papua, Indonesia
Another perfect spot to encounter majestic whale sharks? Cenderwasih Bay in Indonesia's remote West Papua province. Sure, it's not an easy place to get to. But the upside is that you get to spend ample time with these magnificent creatures without the hassle of large crowds.
Getting here: Fly from Jakarta to Nabire Airport, and rent a boat to Cenderawasih Bay.
8. Pulau Kakaban, Derawan, Indonesia
It's about a 12-hour journey from Singapore to Derawan, but for the uber-unique opportunity to snorkel with millions of stingless jellyfish on the island of Kakaban, we say it's worth it. Note: it's a bit of a trek to get to Jellyfish Lake from the primary jetty. However, your reward is serene waters and spectacular green hills – free from the crowds.
Getting here: Fly from Jakarta to Tarakan, and rent a speedboat to Derawan Island.
9. Maalifushi Island, Southern Thaa Atoll, Maldives
Maalifushi by Como, a private island resort situated on the picturesque Southern Thaa Atoll, is a perfect destination for avid snorkelers, with its immaculate beaches and rich marine life. Plus, the resort has a resident marine biologist on-site, available to answer any questions you may have.
Getting here: Fly to Male International Airport in Maldives, and take a seaplane transfer to Maalifushi Island.
10. Green Island, Taitung, Taiwan
In addition to cycling and hiking, Green Island in Taiwan is an excellent location for snorkelling. With water visibility of up to 20 metres, you can expect to observe various marine creatures such as moray eels, parrotfish, and sea snakes while exploring the island's refreshing waters.
Getting here: Fly to Taipei and hop on a train to Taitung. Afterwards, take a quick taxi ride to the ferry dock for ferry services to Green Island.
11. Havelock Island, The Andaman Islands, India
One of the advantages of snorkelling around the Andaman Islands? The most spectacular sites are located very close to the shore. That means it's easy to grab your gear and go. Elephant Beach on Havelock Island is a particularly popular spot where you can expect to encounter a diverse array of marine life such as butterflyfish, parrotfish, snappers, and clams.
Getting here: Fly from Chennai to Port Blair and head to Port Blair Harbour for ferry services to Havelock Island.
12. Hikkaduwa, Galle, Sri Lanka
Hikkaduwa is a charming town in Sri Lanka located approximately 17km northwest of Galle. It boasts crystal-clear waters that provide excellent opportunities for you to observe tropical reef fish such as angelfish and snappers. If you're lucky, you may even spot a green turtle!
Getting here: Fly to Colombo Airport in Sri Lanka, then rent a car to Hikkaduwa.
There you have it – the best snorkelling spots in Asia. Grab your gear and get to it!