Photography: Ukiyo Cafe via Facebook
Planning a trip across the border? Don't forget to stop by the coolest cafes in JB that are perfect for brunch and coffee.
Great cafes are one of our many weaknesses. We'll readily admit we're frequent cafe hoppers – we've been to most of Singapore's awesome coffee roasters. But now we're thinking about conquering cafes on the other side of the pond. Watch us hit up all the best cafes in Johor Bahru we can find. Planning a trip to JB and need some recommendations for where to get good food and your daily caffeine fix? Check out this list of the coolest coffee haunts to stop by.
First things first…
Before you pack your bags and get into that car, take note of a few things so you don't make a wasted trip. Ensure you're fully vaccinated, and have a passport that's valid for at least six months. Also, remember that the world has changed since Covid-19 hit. This means the JB from your memories is probably going to be a little different than what it is today. Many shops, malls and places you used to frequent might have closed. So do a quick search online before including them in your itinerary.
The best cafes in Johor Bahru
1. Flowers in the Window
Even if you don't come here for the full meals, you must get the baked goods here. We're talking freshly baked sourdough loaves and croissants laminated and baked in-house. We recommend popping upstairs to check out more of the space. Each nook and cranny is perfect to relax with a cup of coffee. Just be careful not to trip over the knick knacks as you walk around (yes, we speak from experience).
Flowers in the Window, 9 Jalan Dhoby, 80000 Johor Bahru, Malaysia
2. Ukiyo Cafe
This cafe in Johor Bahru definitely scores high marks on aesthetics and Instagrammable factors. Just take a look at the light wood interior and terrazzo-style tables! It's great for anyone with a sweet tooth as Ukiyo Cafe specialises in handcrafted French-Japanese desserts. Each cake is a delicate work of art that pairs perfectly with coffee. The tiramisu coffee and rose-flavoured lattes are our picks.
Ukiyo Cafe, 17-02 Jalan Austin Heights 8/3, Taman Mount Austin, 81100 Johor Bahru, Malaysia
3. The Cool Cat Ice Cream
We don't know about you, but the sun seems to shine a little brighter (and hotter) whenever we're in Malaysia. And what do you need on hot days? Have some ice cream, of course. Pop by The Cool Cat. It's a cosy glass cafe serving up scoops of ice cream in cups or cones with tons of toppings. Psst: if you know anyone getting married in JB, consider hiring the team! You can set up an ice cream booth with them so your guests can fill up on sweet treats.
The Cool Cat Ice Cream, Tunku Mahkota Ismail Youth Center, Jalan Yahya Awal, 80200 Johor Bahru, Malaysia
4. George & Dragon Cafe
The warm wood and quirky decor of this cafe will have you wondering if you're really in Malaysia. The interior is reminiscent of medieval fantasy books with decorative barrels and exposed brick. We've heard that this is the place to be for some of the best British food in Johor Bahru. The menu features some all-time favourites like fish and chips, Kerry lamb pie, and pastas.
George & Dragon Cafe, 1&3 Jalan Glasiar, Taman Tasek, 80200 Johor Bahru, Malaysia
5. Space Cafe
Savour delicious French pastries while enjoying vibrant downtown views at Space Cafe. You'll be basking in the aroma of its rich, house-blended coffee while reclining at dreamy-looking window seats. We recommend trying the Coco Jumbo, a tropical-tasting cuppa that'll put you in a holiday mood.
Space Cafe, G-11, Holiday Villa Johor Bahru City Centre, 260 Jalan Dato Sulaiman, 80250 Johor Bahru, Malaysia
6. Bev C
A fashion boutique as well as a contemporary cafe, Bev C feels like something you'd find in Soho, New York. There's even a bed for customers to rest on! If you're feeling warm from all the good-lookers flooding in the store, chill out with a glass of iced coffee that's served with espresso ice cubes. We also recommend giving the charcoal croissant a try! The edgy pastry is paired with delicious toppings, perfect for Instagram.
Bev C, 54 Jalan Tan Hiok Nee, 80000 Johor Bahru, Malaysia
7. Just Want Coffee, The Factory 30
This JWC chain is housed in a massive factory building. We love how the chic industrial-style cafe is nicely furnished with brass pipes, brick walls and coffee bags hanging on the ceilings. Order its freshly baked, buttery croissants, and pair 'em with its signature ice coffee served in an amber glass bottle.
The Factory by Just Want Coffee, 30 Jalan Mutiara Emas 5/3, Taman Mount Austin, 81100 Johor Bahru, Malaysia
8. The Brew Orchestra
This cafe brews amazing cuppas that will impress even the biggest coffee snobs. Check out its wide selection of speciality coffee beans from award-winning roasters (such as beans from Seoul's beloved 180 Coffee Roasters). Aside from coffee, Brew Orchestra also serves scrumptious brunches and thickly-packed sandwiches that'll keep you full as you venture around JB.
The Brew Orchestra, 19 Jalan Molek 1/5C, Taman Molek, 81100 Johor Bahru, Malaysia
9. Chaiwalla and Co. Container Cafe
Housed in a sleek shipping container, Chaiwalla and Co. is the epitome of hip. With a tagline like "Honest Tea", we'd recommend switching up your regular cuppa with a delicious cup of tea instead. Customise your drink by experimenting with different flavours and toppings – just like how you would at bubble tea stores.
Chaiwalla and Co. Container Café, 36 Jalan Tan Hiok Nee, 80000 Johor Bahru, Malaysia
10. Commune by the Creators
The clean interior of this cafe makes it the perfect spot to take respite from the bustle of city life. Tuck into warm, perfectly poured cups of coffee alongside a hot meal. We recommend the freshly baked bagels, or the yuzu benedict for that classic Instagrammable brunch. You can also go for one of the other mains if you need something a little more filling.
Commune by the Creators, Tama Adda Heights, 228 & 230 Jalan Adda 7, 81100 Johor Bahru, Malaysia
11. The Replacement – Lodge & Kitchen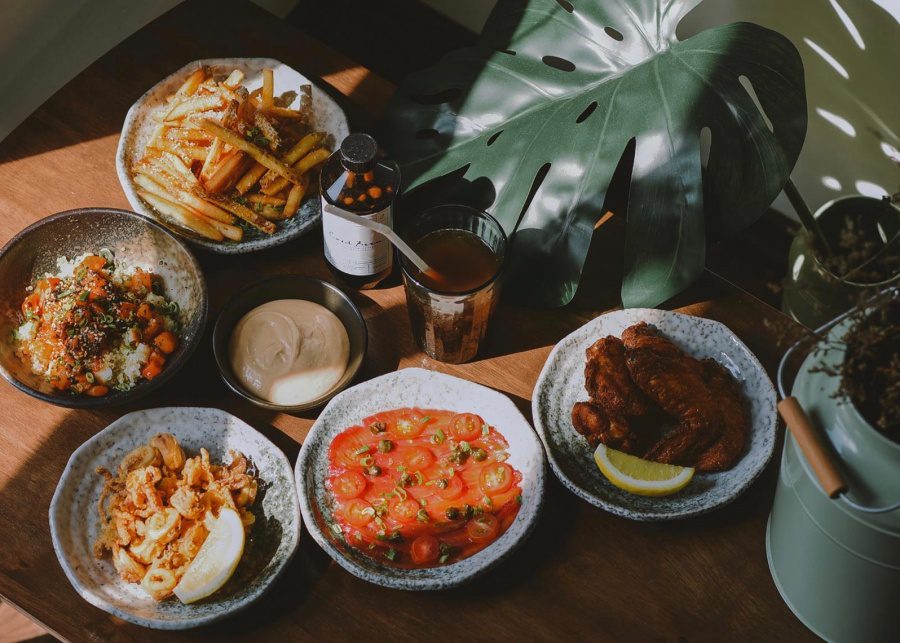 Taking up a spot on the cool list is this spiffy bed-and-breakfast, an off-shoot of the popular Faculty of Caffeine. Head here early for breakfast or bunch and have the indulgent English breakfast platter. If you want to make a quick getaway to Australia but don't have time to actually fly there, you're in luck! The interior of this cafe is inspired by the cafes in Melbourne.
The Replacement – Lodge & Kitchen, 33 Jalan Dhoby, 80000 Johor Bahru, Malaysia
12. The Atlas Maison
Designed with pine and muted grey touches, Atlas Coffee Embassy looks like it's jumped right out of the pages of a Kinfolk magazine. While the main focus is, of course, the coffee, it also doles out delicious homely breakfasts including the usual scrambled eggs and ham affair. There are also sweet breakfast options if you're not up for the savoury options. The coffee is even made specifically for the taste of the typical Johorean.
The Atlas Maison, 32 Jalan Austin Heights 8/7, Taman Mount Austin, 81100 Johor Bahru, Malaysia
13. Haru Coffee
This cafe will whisk you away to the land of K-dramas with its Korean-inspired menu and interiors. Think light and fluffy tofu cheesecakes, and hot bibimbap or Shin ramyun served alongside sweet dalgona coffee. Grab your close chingus and make some new memories of Johor Bahru at this cosy little cafe!
Haru Coffee, 48 Jalan Adda 7, Taman Adda Heights, 81100 Johor Bahru, Malaysia
We can't wait for more adventures across the Causeway! Don't forget to bookmark this list for the best cafes to explore in Johor Bahru, Malaysia.