Photography: Baybeats Festival
Baybeats is back in full swing, and we've got all the delectable deets here for you.
That's right, Honeys. The largest alternative music festival in Singapore is back and it's bigger and better than ever. Come October, the 22nd edition of Baybeats will bring Esplanade – Theatres on the Bay to life. Independent artists, homegrown bands, and music producers are just some of the personalities we'll be seeing. Expect both local and international acts to take the stage and inject their contagious energy through their sets. Need the 411? Right this way.
Our guide to Baybeats 2023
1. A head-bangin' lineup of indie acts, electrifying bands, and fresh talents
We'd say the way to fully immerse yourself in the great music our local talents have to offer is to pop by Baybeats. Especially if you're a lover of alternative music that strays from the norm. Oh, and did we mention it's free? Yes, you can catch every performance here without paying a single cent. This music festival occupies multiple stages across Esplanade – Theatres on the Bay, each hosting its own genre and style of music.
The Powerhouse2 is the newest stage, a power-packed addition to the festival grounds which saw an overwhelming amount of support during its debut in 2022. Underground music fans, be ready for a head-banging line-up (and yes, moshing is welcomed). Annexe shows off artists in a cosy and intimate setting, serving genres ranging from dream pop, ambient, hip hop, and more. For anyone looking around for a new band to love, take to the Arena. It's a playground for the Baybeats Budding Bands, and it'll see the presence of groups covering genres like funk rock and surf rock. And if everything seems too intense for you, find sanctuary in the Chillout Stage where talents will serenade you with a series of acoustic sets.
2. Show some local love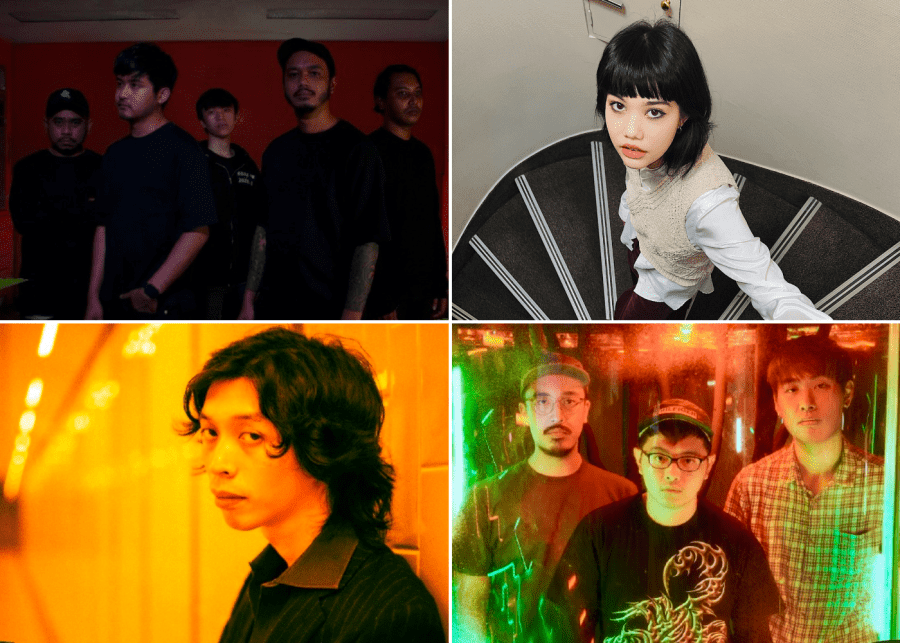 Staying committed to celebrating and supporting the Singapore music community, we're seeing a partnership between Baybeats and two esteemed East Asian festivals. Joining hands with the Golden Melody Awards (GMA) and Festival, and Ear Up Music Festival, local talents are getting the opportunity of a lifetime. The collaboration sees the profile of Singaporean artists boosted to overseas audiences, which is a huge opportunity! So bring your incredible energy back to Esplanade – Theatres on the Bay and show some love to these homegrown talents. Here are just a handful of acts we'll be catching.
No Rest For The Weary is a five-piece deathcore act with more than 10 years of experience in the music scene. Familiar face Shye will be bringing her dreamy DIY tracks that float between bedroom pop to indie electronic pop. Since their formation in 2014, emo, math-rock trio Forests has gained a massive global following. They've performed in Japan, Taiwan, Hong Kong, Indonesia and more, and now we get to witness their riotous live performance. Or zone out to the wistful synth-pop act that is Sun Cell. His lush soundscapes and folk-inspired vocals draw inspiration from 80s new wave and post punk.
3. A warm Singapore welcome to international acts
We're welcoming some top-notch acts onto our sunny shores, hailing from a multitude of countries from Asia and beyond. Alternative rock band I Mean Us joins us from Taiwan thanks to the collaboration with the GMA Festival. Their sound is a meeting between dream pop and rock with a combination of music styles including shoegaze and classical music. The band is joined by electronic musician and producer Hirsk from Hong Kong in collaboration with Ear Up Global. His genre-defying creations blend timeless Hong Kong classics with abstract influences of electro-acoustic, jazz, club music, and musique concrete.
Other acts that you'll be able to catch on Baybeats weekend include Jade Eyes, an all-female Taiwanese trio with a focus on electronic music with retro influences. Combining introspective lyrics and haunting vocals, you'll be treated to dreamy and atmospheric tracks. Bomb at Track is a band from Thailand with hard-hitting bars and a signature heavy metal sound. The quintet has gained immense popularity with their nu-metal tracks that are raw, rare, and real. Rosalyn promises an electrifying performance with enchanting blends of pop, soul, indie, and heart-melting vocals. While Mass of the Fermenting Dregs is a post-hardcore, shoegaze trio based in Japan known for their tightly arranged, guitar-driven style.
4. The blooming bands from the Baybeats Budding Programme
We can't forget about the aspiring talents featured in this year's Baybeats Budding Programme. This mentorship programme within the Baybeats Festival covers music, emceeing, gig photography, and journalism. Independent artists from all over the Lion City gather together to gain insights, network, and hone their crafts. After a two-month mentorship programme with music veterans, bands get to present their music with a 30-minute set at Baybeats.
Taledrops is bringing the drama with their uniquely theatrical act, driven by a blend of progressive rock, metal, and classical music, inspired by the likes of Muse and Nothing But Thieves. Thy Howler is a dynamic alt-rock band that creates deep compositions with introspective lyrics about melancholy, hope, ambition, and loneliness. Plus, they've got some incredible musical chemistry and a magnetic stage presence that can't be missed. Meanwhile, The Workshop slips into a groove of addictive funk and hip hop that'll have you vibing through the night. If that's not quite your style, you might enjoy M.Y.T.H's range of instrumental rock paired with inflexions of heavy metal, electronic music, jazz, and classical music.
And that's everything you need to know about this year's Baybeats!
Baybeats 2023, 6 – 8 October 2023, multiple locations within Esplanade – Theatres on the Bay, admission is free with registration required for some acts