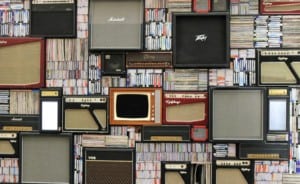 Everyone on the team here at Honeycombers Hong Kong loves a good binge-watching session, so we thought we'd share what we're watching for you here
Yes. We like to party. Whether it's hanging out at dive bars in Wan Chai, shaking it at these LGBT bars or sipping on classy cocktails throughout the city, we are always up for a good time. However, we are also big fans of keeping up with our collective TV and movie addictions, so we've put together this guide to – What we're watching. From Netflix binges to classic movies and the best TV shows – find your next screen time inspiration right here.
What we're watching
Every month, we're going to give you our hot picks for what to watch in Hong Kong. With a team that was raised across the globe, expect everything from the latest movie releases, to art house cinema and our favourite Netflix releases. So get comfortable on the couch or in bed and enjoy – What we're watching.
A 2012 Japanese crime thriller anime series, is my recent favourite. The story is set in a future dystopia where police officers are authorised to eliminate citizens that have committed thoughtcrime, which is measured by their Crime Coefficient Index through the Sibyl System – an omnipotent psychometric system that can read people's minds and mentalities, and facilitates self-surveillance. It touches upon the issues of evil and good, and how people have to abandon their human-ness in order to continue living in a peaceful yet unjust society. If you're a fan of George Orwell's 1984 or Philip K. Dick's Do Androids Dream of Electric Sheep?, you'll surely enjoy the this show.
I've been waiting for the return of Fsociety. Elliot Alderson (played by Remi Malek), a programmer/hacker that suffers from social anxiety disorder and clinical depression – also leader of Fsociety – was determined to take down the biggest conglomerate E-Corp (aka Evil Corp) that exploited everyone for capital gain. By questioning human fallibility, wretchedness and necessary nihilism through the eyes of an anti-hero protagonist, it's one of the most well-written and thought-provoking shows I've seen.
– Carly Wu, Editorial Assistant
I'm super stoked for Thor: Ragnarok which was released here last week. Since it's already released, you might ask why I haven't seen it already – well, it's because local cinemas are always packed to the brim on opening weekends for films like this. The movie is unique because they went with an eccentric indie Kiwi director, Taika Waititi, which is unusual in Hollywood. It seems this was the right choice as Waititi has added a hefty dose of flair and humour to the franchise. He's also added more of a human side to this godlike character from out of space which is a good move, given the fact that the audience will be predominantly earthbound humans.
– Billy Clarke, Freelance Writer
The Crown Season Two is everything. You can read my full review here, as there's too much to mention in just a paragraph! It's especially good in light of recent happenings within in the House of Windsor…
A prequel set ten years before the original Captain Kirk story, this is a sci-fi spectacle with some dark twists. The story is in the midst of unfolding and seems to be building to something a bit more deep than the typical space opera. The whirling colors amongst the stars combined with intense acting, (featuring Michelle Yeoh!) make for a thrilling ride, even for those that have not delved into this world before. Netflix, week by week.
– Adam Bires, Freelance Writer
Infernal Affairs 1
Infernal Affairs 1 is one of the best Hong Kong movies that was ever made in 2000s (the trilogy was even remade by Martin Scorsese). I'm obsessed with this movie. I've watched it four times. It's not just a story between an undercover cop and a mole in the police force, it's a great way to observe local culture, with social elements like: the ceremony of being a gangster, their traditions, the complicated relationship between officers and gangsters or even the local street scenes. You can't miss it!
King of Comedy (1999)
King of Comedy (1999) by Hong Kong's highly popular actor and director Stephen Chow. It's a story about a struggling actor who has dedicated his life to be a professional movie actor. Success will never be easy unless you work hard to achieve it through lots of tears; it's always fun to watch Chow's movies from time to time. His story structure is quite a low-class character to accomplish his own wills or to make the impossible possible. You can always learn some lessons from the tons of laughs in his movies.
– Anson Yip, Photographer and Videographer
The Dreamers
The Dreamers is a film directed by Academy Award-winning director Bernardo Bertolucci. Set in the late 60s in Paris during the student riots, the story focuses on an unnatural, beautiful, yet twisted three-way relationship between a brother, sister and an American exchange student. The three individuals share a love for cinema and find themselves lost in their own world that they create together. The film toys with dreams we all had of changing the world during our youth – with no real world experience and while still under the care and protection of our family. It discusses politics, world ideas, war, violence, beauty, art and sexuality in a two hour time span. Settle in and be prepared to feel confused and disturbed by feelings that cannot be articulated.
American Vandal is a Netflix original, a mockumentary which is half comedy and half true-crime. The story centres around a troubled senior – Dylan Maxwell, who is expelled from his high school just shy of graduating after being found guilty of spraying penises across 27 school faculty members' cars. Two members of the film-club take it upon themselves to investigate – the show is filled with twists and turns that keep you guessing till the very end as to who sprayed the dicks.
– Kristy Or, Partnerships Coordinator and Content Creator
I am watching Criminal Minds Season 13, but, honestly, it got off to a really rocky start with the new (huge) cast and some horrible writing. Thankfully, a few episodes in, we're back to good old fashioned BAU magic at it's best. I am obsessed with Daniel Henney, so it's great to see him jump over from the APPALLING Criminal Minds: Beyond Borders franchise that was so American-centric it was offensive. If you like murder mysteries, and getting in the minds of serial killers, then you will enjoy this, but you have to start from season one to get to know how and why the internal relationships work. Wheels up!
If you don't know this show then you need to check out the epitome of modern friendship between Abbi and Ilana on Broad City. Originally a web show, these guys talk the real stuff, covering everything from depression to being Jewish to being females in the world. With New York city playing what some may consider the supporting role, appreciate day-to-day life through the eyes of these two amazingly creative talents.
– Sophie Cullen, Editor