Looking for a reputable studio to get your body inked up? Tried and tested by our team, these Hong Kong tattoo parlours won't disappoint
While there are a great number of local illustrators and artists trying to get their messages across by painting on a canvas such as Zlism, Ophelia Jacarini and Alana Tsui. Art comes in different shapes and forms, and that includes body art. Because who says tattoos are only for delinquents and hipsters? They could be introspective and rich with profound meanings. We've gathered a list of some of the best Hong Kong tattoo parlours and studios, so you'll get it done right.
Check out these top Hong Kong tattoo parlours 
1. Galaxy Tattoo
Galaxy Tattoo customises tattoos of all size and shape for their customers, whether it be black work, new school tattoos or dot work. Tattoo apprentice Mari Cheung from Galaxy Tattoo has gained a huge following because of her delicate portrayal of ladies. Paying excellent attention to details, it's hard to not fall in love with Mari's gorgeous and badass female characters.
Galaxy Tattoo, Room B1, 4/F, Acro Industrial Building, 19 Yuk Yat St, To Kwa Wan, Hong Kong, p. 2968 0098, 土瓜灣旭日街19號雅高工業大廈4樓B1室
2. Story Tattoo
Tattoo artist Tino from Story Tattoo showcases brilliant skills in tattooing all sorts of designs, including old school and new school tattoos, as well as realistic tattoo works. This tattoo parlour in Causeway Bay also provides tattoo numbing cream for customers upon request, so they can get tattooed painlessly, how considerate!
Story Tattoo, Room B, 4/F, 500 Lockhart Road, Causeway Bay, Hong Kong, p. 5988 8971, 香港銅鑼灣駱克道500號4樓B室
3. The Company Tattoo
Founded by Vince Yue in 2014, The Company Tattoo creates an array of great traditional designs, from old-school to realistic. While Vince specialises in human portraits – astonishingly lifelike – and soft shading, another tattoo artist Dave Ryo Lau draws the coolest black and red old-school tattoos. We particularly love his take on sharp edges skulls and alluring female bodies. Also, the studio has got these amazingly eccentric toys and action figures lying around, just another way to liven up the place even more.
The Company Tattoo, 581 Nathan Road, Mong Kok, Hong Kong, p. 2349 2649, 旺角彌敦道581號3樓B
4. Hello Tattoo
We're aware that cute Korean-style tattoos are trending these days! Opened in 2015, Hello Tattoo is for those who appreciate small and delicate tattoos. The artists here are especially great at sketch, watercolour, and 3D designs among all the other styles. From cute kittens to a few sprigs of lavenders, they know how to make those thin lines valiantly shine. Definitely one of our fave Hong Kong tattoo parlours.
Hello Tattoo, Unit B, 9/F, Speedy Industrial Building, 114 How Ming Street, Kwun Tong, Hong Kong, p. 6644 8114, 九龍觀塘巧明街114號迅達工業大廈9樓B
5. Star Crossed Tattoo
Back in 2010, Rich Phipson and Ross Turpin opened their parlour together, and since then, Star Crossed Tattoo has gathered a huge following (including myself; I had my first inking experience here!) and has become one of the most acclaimed tattoo parlours in town. It is hard not to appreciate Rich's spectacular line work and Ross's Japanese-influenced designs that scream anarchic joy. Never underestimate the difficulty of keeping the lines straight, clean, and consistent! Last but not least, they have vegan ink provided upon request, so that's a plus for vegans.
Star Crossed Tattoo, 2/F, 64 Granville Road, Tsim Sha Tsui, Hong Kong, p. 3427 3820, 九龍尖沙咀加連威老道64號2樓
6. Mei Wah Tattoo
This hidden gem glimmers in the labyrinth of buildings in Mong Kok, and Hong Kong tattoo parlours do not get any cooler. As if walking into the setting of a Wong Kar Wai film, you will be impressed by all the vintage-looking designs and paintings stacked against the walls. Tattoo artist Nic Tse is the only guy taking care of everything here. Particularly outstanding at sketching traditional Chinese floral and dragon designs, he also specialises in custom work of all sizes. Moreover, this place invites many internationally well-known guest artists throughout the year.
Mei Wah Tattoo, 4/F, 703 Shanghai Street, Mong Kok, Hong Kong, p. 2757 0027, 旺角上海街703號4樓
7. BLACKOUT Tattoo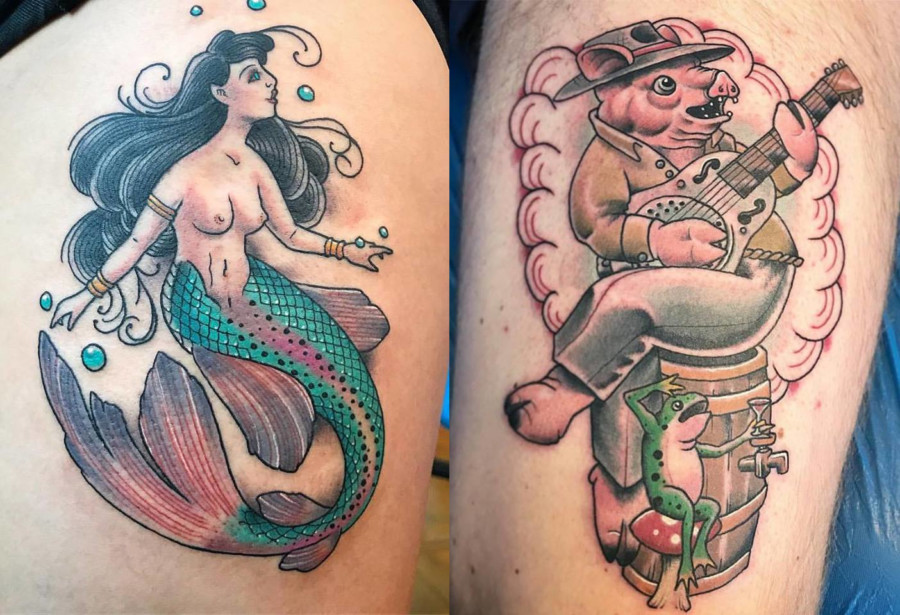 Founded in 2010 by Rob Kelly, BLACKOUT Tattoo is a tattoo studio that carries a strong belief. The English tattoo artist thinks it's particularly true that tattoos are still considered as rebellious clichés and low-brow art in Hong Kong, and that's why he is determined to break that stereotype by giving his clients the best quality custom work. Rob specialises in all sorts of styles, including but not limited to traditional, black work, and colourful new-school. He is currently the only tattooer at the studio, but he discloses in excitement that he's in the process of having two more amazing female artists  join the team by the end of the year!
BLACKOUT Tattoo, 502 Hing Tai Commercial Building, 114 Wing Lok Street, Sheung Wan, Hong Kong, p. 9427 2278, 香港上環永樂街114號興泰商業大廈502室
8. MOFO Tattoo
The funky studio MOFO Tattoo has been open since 2012, and these guys have got all the styles covered – from trippy geometric and delightful cartoon-inspired tattoos, to Chinese calligraphy designs. They also have a piercer on site, which is not the case for every tattoo parlour, so if you're interested in getting a nose piercing or even a nipple piercing, they will take good care of you. MOFO Tattoo is one of the most well-known Hong Kong tattoo parlours and regularly hosts international artists.
MOFO Tattoo, B/F, 16 Observatory Road, Tsim Sha Tsui, Hong Kong, 天文台道16號地庫