Step into a realm of opulence with Johnnie Walker Blue Label and have the rare opportunity to luxuriate in an immersive experience. Beyond tasting the drink, whisky lovers are invited to dive deeper into the world of Johnnie Walker Blue Label with a multi-sensorial experience. You will explore and revel in the diverse flavour profile, while engaging all five senses to discover the full spectrum that Blue Label has to offer. From the first sight of the vibrant hues to the tactile touch of the pour, this is a unique opportunity to uncover the true essence of Blue Label.
A multi-sensorial indulgence at Landmark
Renowned for its unparalleled depth of flavours and meticulous blend of rare, hand-selected whisky from four corners of Scotland, Johnnie Walker Blue Label is the result of elite artisanship. Only one in every 10,000 casks has the elusive quality, character, and flavour to deliver the remarkable signature taste. Carefully selected casks of dwindling stocks from iconic "ghost" distilleries including Port Ellen, Pittyvaich, and Port Dundas, each lend Johnnie Walker Blue Label an inimitable character of their own. Brand lovers can now savour this exceptional whisky and have a rare opportunity to luxuriate in an immersive experience of Johnnie Walker Blue Label's Craft, Rarity, and Flavours at Landmark until 29 June.
The Immersive Chamber
Embark on a captivating journey of discovery with Johnnie Walker and witness the brand's rich heritage through a series of carefully curated chapters in the Immersive Chamber. Step into a multifaceted 360º box with LED screens and mirrored flooring, paired with ultra-realistic motion content and soundscaping, expertly designed for a true-to-life spectacle that brilliantly unfolds the Johnnie Walker Blue Label into three intricate chapters: Craft, Rarity, and Flavours. Walking into a bilateral interactive dialogue, guests will engage in the process of the chapter unveiling through dynamic interaction, inviting them to play an integral role in the storytelling experience.
Tunnel to Paradise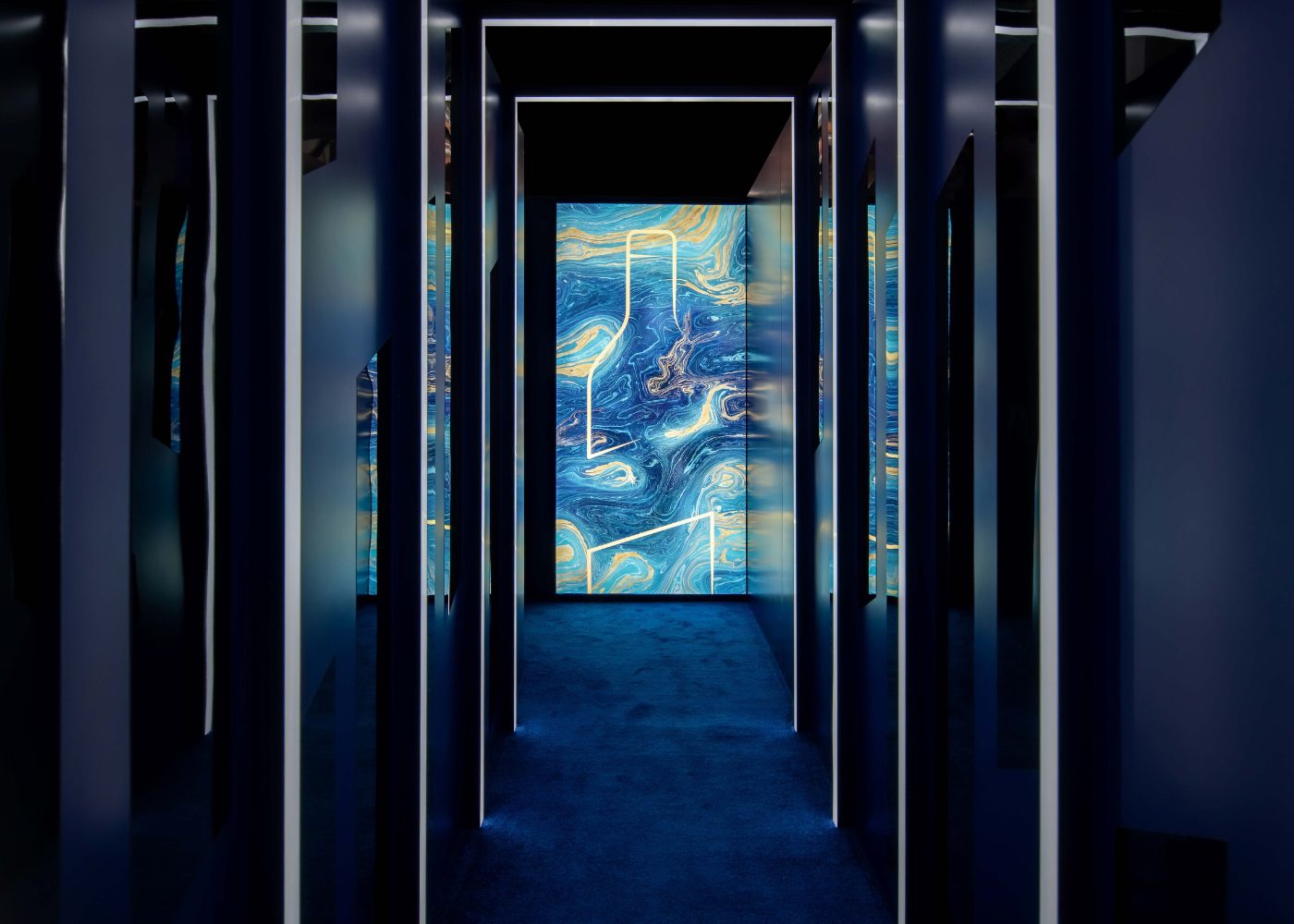 Adorned with mirrors and vibrant light tubes, the Tunnel to Paradise serves as a connecting link between The Immersive Chamber and the tasting room, offering a transcendent visual experience. Resembling a palate cleanser, guests will walk through this tunnel that is truly a sensory work of art, just before guests enter the tasting room.
Roundtable Tasting Room
Enter the tasting room, guests will be greeted by a roundtable tasting area. The table will be graced with an enthralling centrepiece installation, with glass domes holding tasting note ingredients placed around the table. Guests can inhale the complex and nuanced tasting notes of Johnnie Walker Blue Label before enjoying it. Here, they will be invited to gather around the table for a truly experiential tasting of Blue Label.
In partnership with Riedel, a renowned glassmaker that designs glasses in different contours to elevate the drinking experience, guests will have an exclusive opportunity to taste Blue Label in two different Riedel glasses – Bold and Complex. The Bold glass enhances the fiery spice and dark chocolate aroma of Blue Label, reaching a crescendo in a dry, powerful finish, while the Complex glass brings out aromas of sandalwood, honey and sherry, lingering on the palate with dark chocolate and smokey elements. Accompanied by ambient illuminated visuals, the tasting experience is a true feast for the senses.
Rare Collection Exhibit
The ultimate destination on this multi-sensory journey is the rare collection exhibit, showcasing a selection of two remarkably rare collector bottles of Johnnie Walker, on an exclusive display with the utmost attention to detail for the eyes of brand lovers; the Johnnie Walker Master's Ruby Reserve 40 Year Old and the Johnnie Walker Masters of Flavour 48 Year Old, both had been more than 40 years in the making and blended with masters of exceptional knowledge in whisky. Journey through time as you explore the storied history of Johnnie Walker, where you will be transported to a bygone era through the exhibit's various milestones, offering a glimpse into the exquisite taste and unparalleled craftsmanship of the past. To further enhance the experience, the exhibit also features old Hong Kong visuals, taking guests on a historical odyssey and making them feel as though they have stepped back in time.
Indulge in the sublime taste of luxury with every sip of Johnnie Walker Blue Label and discover new layers of flavour and complexity with the limited-time partnership with Riedel. With every Blue Label bottle purchased, guests will receive a Degustation Gift Set of three Riedel glasses to enjoy the different tasting notes of Blue Label in greater heights: Bold, Elegant, and Complex. Exclusively at this pop-up event, guests can also take advantage of a complimentary engraving service as a memorable keepsake that will serve as a testament to their unforgettable journey through the world of Johnnie Walker Blue Label.
Gastronomic Experience at MO Bar + Johnnie Walker Blue Label and Royal Caviar Club Box Set
The journey continues with a limited-time "Savour the Depth of Blue" pairing experience at MO Bar, located at The Landmark Mandarin Oriental Hotel, Hong Kong. The menu infused with Johnnie Walker Blue Label includes Johnnie Walker Blue Label Cured & Smoked Tasmanian Salmon, Steak Tartare with Johnnie Walker Blue Label in crispy Pita, and Bitter Chocolate, Arabica and Johnnie Walker Blue Label Tart. Guests can opt to enjoy the food pairing only ($198) or try the experience with Johnnie Walker Blue Label by the glass alongside one set of canapés ($298) or by the bottle of 20cl Johnnie Walker Blue Label paired with two sets of canapés ($1,308). The experience is available from today to June 29th. All prices are subject to 10% service charge.
In honour of the luxurious journey, Royal Caviar Club, located in Landmark Atrium, and Johnnie Walker collaborates on a specialty gift box set, which includes the 75cl bottle of Johnnie Walker Blue Label, 100g Imperial Ossetra Caviar, along with the three-piece Riedel and Johnnie Walker Whisky Degustation Gift Set ($3,600). This culminates the one-of-a-kind journey from exhibition at the Landmark to gastronomic experience at MO Bar, and the Royal Caviar Club Box Set.