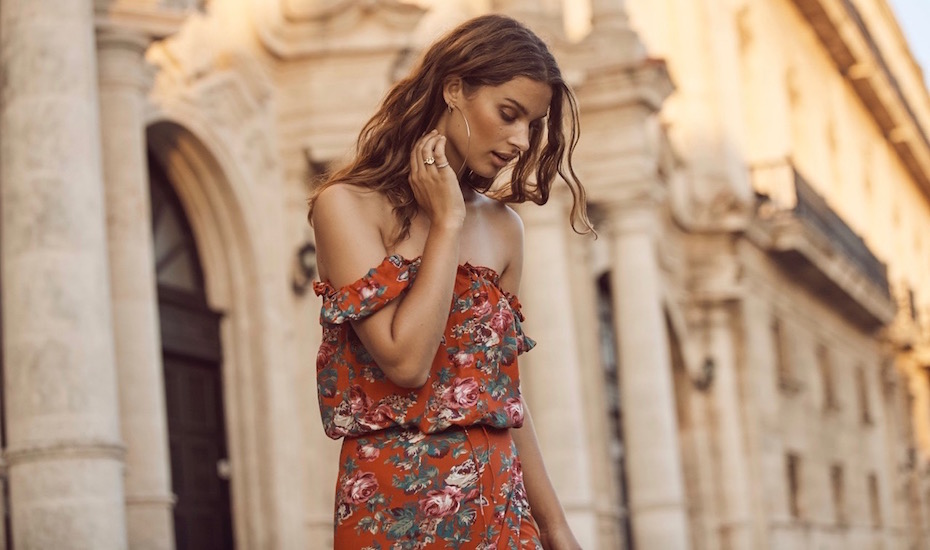 The oh-so-cute Stevie 70s Crop Top by Auguste
From cute and classy crops, to floral prints and tear drop trims, this season's hottest trend is all about sexy shoulders and flattering, floaty fits.
There's something sexy about exposed shoulders, and this season, they are on show! The 'off shoulder' look is current and making its mark on the Bali fashion scene. Showing a little skin – but not too much – delivers a seductive yet feminine look. Whether it's a floral print with a tropical summer vibe, or a block colour to give this wardrobe essential some extra attitude, fashion blogger and Bali expat Sally Donald from On Any Given Day has scoped out the best 'off shoulder' tops for you to get EXPOSED this season!
BEACHGOLD
Beach chic meets your everyday staple. The Wayfarer Top from Beachgold's latest The Voyager Collection is casual, comfortable and versatile. Mix and match this piece during the summer months, or team with high-waisted jeans and a jacket for some edge this winter.
Beachgold, Jl. Laksmana 54, Seminyak. p. +62 (0)361 737 549.
BAMBOO BLONDE
'Tis the season for florals and shoulders! This Bamboo Blonde "Pleats Off Shoulder Top" is both cute and sexy. Featuring a pleated stretchy fabric, it gives a subtle silhouette. Pair it with white denim shorts and gladiator sandals to make this top a stand out.
Bamboo Blonde, Oberoi, Jl. Laksmana, Seminyak p. +62 (0) 361 731 864. Jl. Raya Legian No. 154, Kuta. p. +62 (0) 361 751 667. Bamboo Blonde has 11 Bali stores in total.
LULU YASMINE
This Boho Time Lace Blouse is a casual-chic piece from Lulu Yasmine's Resort Collection. Easy to wear and versatile in your wardrobe, this blouse can be worn with a pair of jeans, shorts, or a cute skirt. The cross embroidery detail on the sleeves delivers a soft and feminine feel – trademark to the Lulu Yasmine label. This special piece is only available in the Lulu Yasmine Resort store on Jl Kayu Aya (Oberoi) or otherwise on the online store.
Lulu Yasmine, Jl. Raya Petitenget No. 100XX, Seminyak. p. +62 (3)61 4737470. Jl. Monkey Forest Ubud. p. +62 (0)971800. Lulu Yasmine has 4 Bali stores in total.
LITTLE JOE WOMAN
A new off-shoulder favourite, this stunning piece is from Little Joe Woman's Gail Elliott. The 'Feel the Heat' blouse features a deep-V back, inserts of broidery anglaise, and a trim with tear drop cotton lace on the hem and sleeve. Available in white or black, this blouse is a must in the wardrobe.
Little Joe Woman, Jl. Petitenget No.198, Seminyak. p. +62 (0)361 4735964.
AUGUSTE
This pretty little button-up crop top from Auguste is the perfect partner for vintage denim or the matching Maxi Skirt. The Stevie 70's Crop Top, in Vintage Heart Red, is made from the softest rayon and can be worn on or off the shoulder. It has a drawstring waist so you can wear this either slightly or super cropped – a perfect little boho number.
Auguste, Seminyak store: Jl Kayu Aya No. 60X, Seminyak. Canggu Store: Batu Bolong No. 97 The Slow Hotel Canggu. p. +62 (0) 812 94640429.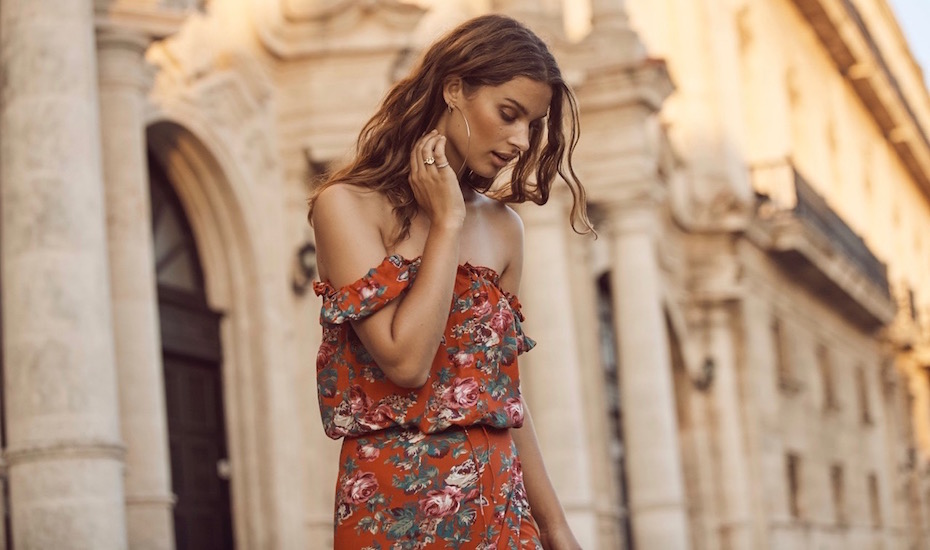 So, whether you're lazing the day away beachfront at Finns, or jet-setting to another paradise hideaway in the Maldives, this season's sexy off-shoulder look has got you covered for a fresh, feminine, and undeniably on-trend look.
Sally Donald is an Australian fashion and health blogger living in Bali. You can check out her regular style updates and fitness inspiration on her blog On Any Given Day and follow her on instagram at @onanygivenday_.