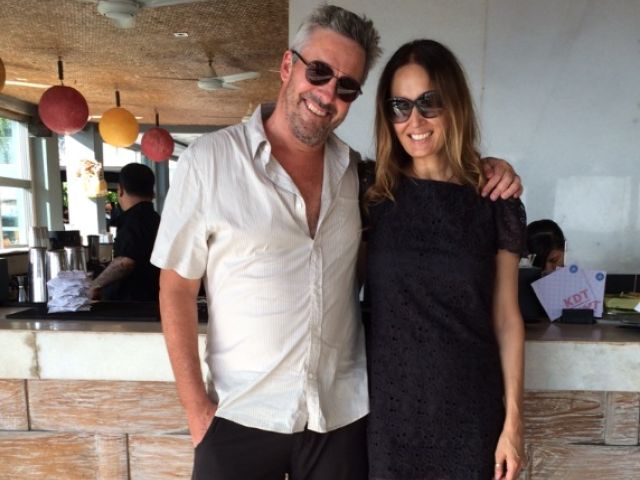 Gail and Joe have visited most of Bali's restaurants, pictured here at KuDeTa
Want to live like a (stylish!) local in paradise, with even just a few insider tips of the local hot spots to frequent? Former supermodel turned fashion designer and her entrepreneur husband graciously share their favourite places to hang in Bali
This stylish couple know how to live a fashionable life, and in Bali no less.  Not jealous much. After reading about their big Bali sea change (moving their fashion brand Little Joe Woman and ex-Bondi life to Canggu), you can't help but fantasise (just a little!) at the possibility of living a day of Joe Coffey and Gail Elliott's Bali life.  So here's the next best thing:  the inside scoop on their favourite places to hang out in Bali, like a local.
What first attracted you and Joe to Bali?
Joe has been coming here for 30 years, and every time I visited I also really loved it. Like many people, we have always found the very relaxed, happy spirit of the island like a balm to our busy city-souls. The natural beauty here is really extraordinary, but beyond that, there's something special about this island which is hard to put into words.
Which part of Bali do you and Joe live, and why did you choose this location?
We live in Berawa, near Canggu. The location is great for us – it's centrally located between the beach and our boutique in Seminyak. We both love living by the beach [isn't that one of the reasons you move to an island?], but didn't want to be too much in the thick of things either, so finding a home that felt tranquil was what we wanted.

What inspires you about Bali, for your gorgeous collections?
There is a deeply established culture of artisans, makers and craftsmen in Bali. It's impossible not to be inspired by that. The leather workers here are just spectacular. I am particularly proud of the beautiful hand-tooled, fringed leather bags that I've designed and created – the attention to detail in the quality and finish.
Gail and Joe's Bali address book:
Our favourite local is:
Milk & Madu in Canggu's Berawa serves simple, healthy casual salads and juices.
Breakfast or lunch is often at:
Cafe Petitenget in Seminyak serves an amazing breakfast, has a great wine menu and as it's just down the road from our boutique, it's an easy spot to duck into for a quick lunch on the terrace.
For a special meal we love:
La Lucciola. It's easy to overlook because it's not new, but it serves consistently good food and has amazing views overlooking the ocean. Very 'old Bali' in style. You can't go wrong. Sardine is another top spot.
You can pick up the perfect gift at:
Either Carga or SOUQ. They both carry beautiful gifts and one-of-a-kind homewares.
Favourite Bali shopping or souvenirs:
You might be surprised to hear, but I think the best souvenir to bring home from Bali is the pretty, tasseled friendship bracelets that the Balinese women sell on the beach. They come in an array of colours and I like to wear them as ankle bracelets.
My pick for a lovely local spa is:
Prana Spa in Seminyak is wonderfully tranquil. It's tucked away on Jalan Kunti. I love the hammam feel of it.
Describe your Bali in five words:
A new adventure somewhere blissful!
Finally, where is your and Joe's Bali happy place:
Right now, it's exactly where we are: at home, poolside, in Bali!
Don't forget to check out the Little Joe Woman boutique in Seminyak, it's filled with so many beautiful pieces, you'll need more addresses to frequent just to show them all off.
Little Joe Woman by Gail Elliott, Jalan Petitenget, Seminyak, Bali 80361. Images by Little Joe Woman, Gail Elliott and Myles Pritchard; Pinterest; Sardine image: Christopher Leggett.