Nothing says 'romance in Bali' quite like an escape to Ubud, where couples' rituals, romantic dinners and jungle-hugged villas reign supreme…
When it comes to wooing your boo in Bali, the options are infinite. The island breathes romance, with its dreamy landscapes, encapsulating culture and all the swoon-worthy adventures you could wish for. And one of the best places for all of that and more? Ubud – the beating heart of Bali.
In fact, there's so much to see and do in Ubud when it comes to a romantic getaway, that choosing the right resort, restaurant or couples' outing isn't always easy. So, we asked Ini Vie Hospitality – Bali's experts in fairytale vacays and honeymoon hotels – to give us the lowdown on where to escape with your special someone when in Ubud…
1. Wine and dine in the jungle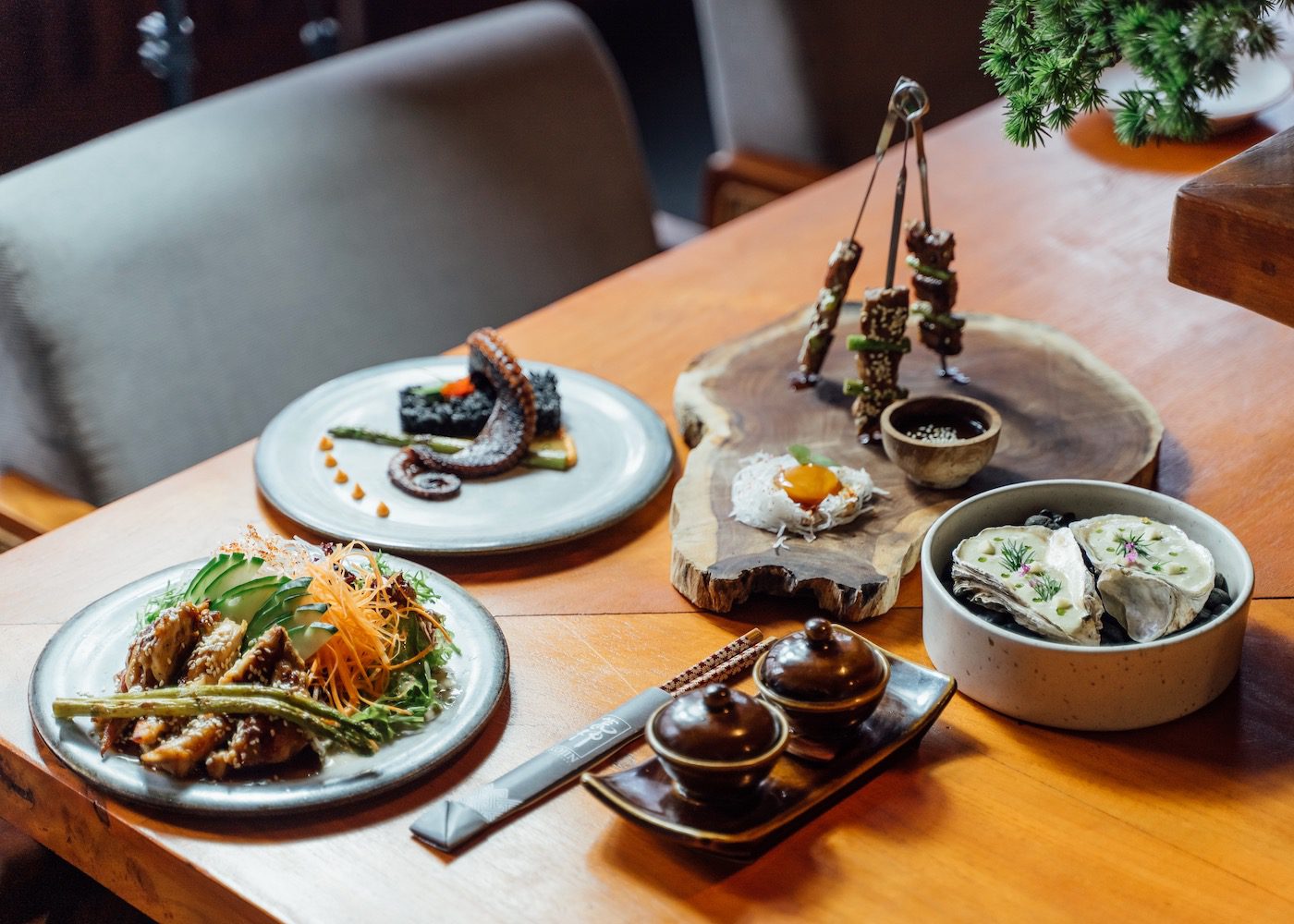 A romantic Ubud escape should always begin with a spectacular dinner, so you'll want to book a table for two at Kojin Teppanyaki – the fabulous Japanese restaurant within the breathtaking Aksari Resort Ubud. Overlooking the jungle and serving delectable Japanese specialties in an intimate atmosphere, it's the perfect setting for couples. And the best bit is, you can try the Omakase dinner, where you entrust the chef to select and serve the very best seasonal specialities. It's an intimate dining experience where you'll not only watch the chefs flip, sizzle and rat-a-tat-tat on the teppan, you'll also learn the philosophy and history behind the menu. Feast on fresh sashimi, fine Wagyu and seared scallops, and pair it with bubbles to raise a glass.
2. Bliss out with a couples' spa treatment
A couples' spa treatment always makes an appearance on every romantic itinerary, but when in Ubud, these treatments come with the sounds of the jungle, an open-air setting and bubbling jacuzzis big enough for two. Offering exactly that is Avani Spa Kenderan and Avani Spa Bisma.
Avani Spa Kenderan is all about refreshing, recharging and relaxing both your body and mind, helped along by the serene backdrop of dense forest and the nearby river. The semi-outdoor treatment room lets in the fresh jungle air and the sounds of nature while you and your loved one enjoy the oohs and aahs of the Purnama Healing Package – a two-hour ritual featuring a massage, facial, body scrub and foot reflexology. Finish it all off with a long and lovely soak in the jacuzzi or spa bath…
Similarly at Avani Spa Bisma, the jungle and river play a key role in any ahh-inducing spa treatment, sitting on a valley verge and overlooking the magical landscapes below. Breathe in these breathtaking views and opt for a couples' scrub or massage, both of which use traditional oils and local scents. Or, go all-out with the two-hour Exotic Romantic Essential package. As the skilled therapists work their magic, an ever-present soft breeze reminds you that you and your boo are being pampered in paradise.
3. Stay in a romantic resort or private villa
To really make the most of your romantic getaway to Ubud, you'll want to stay in a dreamy resort or even a private villa. And of course, you'll want to feel a world away from any hustle and bustle, but close enough to downtown Ubud for when you're ready to adventure.
For all of that and more, book a stay at Asvara Villa – an all-villa resort in the rice fields with contemporary Balinese designs, one-bedroom villas with private pools and jacuzzis, and romantic surprises available at every turn, from floating breakfasts in the pool, to candlelight dinners beneath the stars. We love how each villa feels like your own personal abode, with services on-call if you never want to leave…
There's also the stunning Dedary Resort Ubud, nestled amongst the lush rice fields and jungles of Ubud. Here you can choose from a one- or two-bedroom private pool villa (check out the ones with forest views!) and up the romance with a Honeymoon Package. You'll be treated to candles in the pool, an in-villa romantic dinner, a couples' massage and so much more. Psst – you'll also want to dine at the onsite Sans Thai restaurant – the colourful cuisine is perfect for swapping and sharing.
Last but certainly not least, Amarea Resort Ubud should be on your romantic Ubud itinerary to give you a true taste of Balinese culture. Like an art museum in a resort, you'll spot Balinese carvings, murals and architecture at every turn. Choose from a private villa, suite or cottage, and soak up all of the resort facilities throughout your enchanting Ubud getaway. Float from your own private bathtub to the resort's pools, before a couples' yoga session in the open-air shala, or a bite to eat in the elegant lounge. And for when you're ready to explore the neighbourhood? You'll be pleased to know that the resort is just minutes from the buzz of downtown Ubud.
Now that's a real 'Eat, Pray, Love' Ubud romance story…!
This article is in partnership with Ini Vie Hospitality.