If it's budget spa bliss you're after, you've come to the right place. We scouted 6 of the best and most affordable massage treatments in Bali from EazySpaDeals, and our blissed-out bods are thanking us for it...
Being the spa-obsessed, pamper addicts that we are, we're on a never-ending search for affordable spas in Bali – the kind of spas that won't skimp on the bliss factor but won't break the bank either. We're talking top-notch interiors, professionally trained therapists, and of course, world-class beauty and wellness treatments without the worry of a hefty bill at the end. After all, we're paying a visit to the spa to banish any wrinkle-inducing frowns, not paying to create them… 
Well, finally we're hanging up our spa-search jackets, because we've found an online platform that's doing all the hard work for us. Introducing EazySpaDeals: a one-stop beauty & wellness shop that offers a comprehensive and premier collection of spas in Indonesia right at your fingertips – all with competitive prices that you'll struggle to find anywhere else. In fact, most of the prices on EazySpaDeals are cheaper than booking direct with the spas themselves…
So, we put EazySpaDeals to the test and searched for 6 of the best and most affordable massage treatments in Bali. Not only was the online search simple and easy with real-time confirmation and comparisons, we were even able to narrow our search down from hundred of spas and more than 3500 treatments across Bali, Jakarta and Surabaya. Here are the six affordable spas that we discovered, along with six winning massage treatments that you should be ticking off your bliss list.
Padma Spa at Plataran Menjangan – West Bali
Why you'll love it: A trip to the untouched natural expanse of the West Bali National Park is a treat in itself: lush vegetation, blossoming lotus flowers and the ever-present view of the glittering ocean out yonder. Add to that a visit to Padma Spa at Plataran Menjangan and ahh-inducing moments are guaranteed. This stunning spa is cocooned within the mangroves of the mystical resort, packed to the pampering brim with therapeutic beauty treatments that have been specifically designed to reignite your inner glow.
Our fave treatment: Try the Bali Nadi – a traditionally inspired massage therapy influenced by Balinese healing rituals, typically practiced by local healers known as "Balian". The therapists for this treatment become the instruments of indulgence, using deep kneading and rolling techniques over every pressure point to ease muscle and joint pain, and to improve the flow of energy. Pure bliss.
BOOK HERE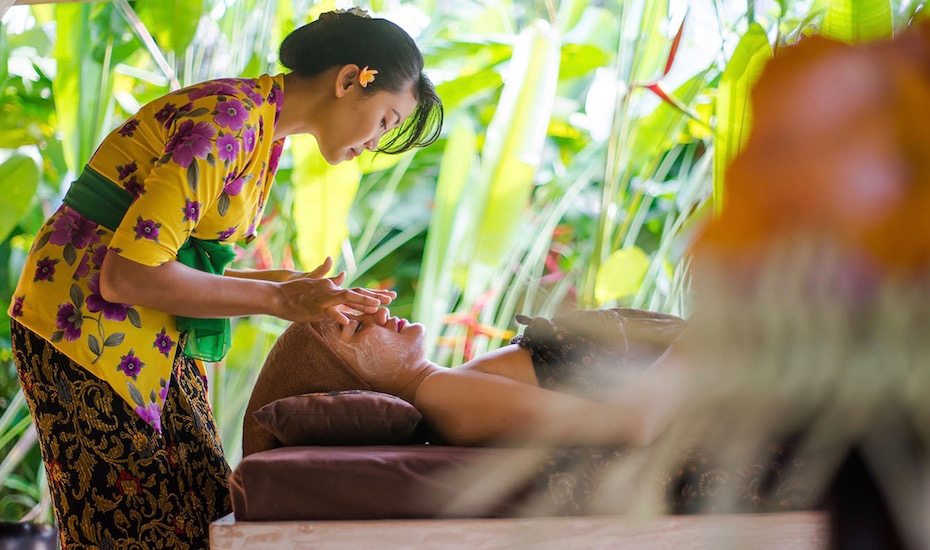 Visesa Balinese Healing & Spa – Ubud
Why you'll love it: Not only a beauty destination, Visesa in Ubud is a holistic healing spa that makes use of time-honoured Balinese therapies designed to preen and pamper from the inside out. More than just glossy manis and refreshing facials (though they have these too) this spa is based on authentic Bali Usada principles – the knowledge of curing ailments using Ayurvedic medicinal plants, herbs and spices. We're talking masks, baths and scrubs that use white ginger, turmeric, papaya, rice powder and many other natural ingredients.
Our fave treatment: Try the Signature Visesa Herbal Healing Treatment. This signature package is inspired by Bali's traditional healing legacies and uses organic ingredients from Visesa's own permaculture gardens. Beginning with the massage, hot and herbal compresses are used with classic pressure techniques to relieve stress and improve overall wellness, beautifully followed by a body scrub, banana leaf wrap and a long soak in a herb-infused bubble bath. Heaven!
BOOK HERE
Spa at The Amala – Seminyak
Why you'll love it: Located in downtown Seminyak, The Amala Spa brings together an incredible collection of therapies that merge Asian medicine with western holistic philosophies – East meets West if you will. The gentle pace of life here is relaxing enough, complemented by organic spa ingredients, holistic treatments, yoga classes, meditation, Reiki, acupuncture and even Tibetan Bowl Music therapy – among many others. It's a complete institution for health, fitness, lifestyle and wellness that we simply love.
Our fave treatment: Try the Amala Holistic Massage. Using Amala's exclusive blend of pure essential oils, this holistic full body treatment uses a fusion of therapeutic techniques to give you the ultimate soothing and pampering experience. Top it all off with a post-massage yoga sesh or breathe out any stresses at one of the resort's wellness classes.
BOOK HERE
The Sanctoo Spa – Ubud
Why you'll love it: If it's refreshment, rejuvenation and overall body awakening you're after, then The Sanctoo Spa is the place for you. This luxurious and peaceful retreat is designed to recharge overworked and tired bods with its uplifting rituals that draw on the healing energies of the earth.
Our fave treatment: Try the Revitalizing Massage with its organic and natural ingredients designed to deliver serious skin care benefits. A lightweight, non-greasy pure grapeseed and safflower oil gives optimum absorbency, whilst gentle massage and careful pressure along the meridians of the body restores energy levels and uplifts both mood and spirit.
BOOK HERE
Espace Spa – Canggu 
Why you'll love it: Bright, modern and oh-so swish, Espace Spa is a fave affordable spa in both Canggu and Seminyak thanks to its beauty and wellness treatments designed to revive and stimulate sun-kissed, beached-out bods. From your tootsies to your tresses, this contemporary spa has it all: manis, pedis, facials, massages, cream baths and more – it's all here, and it's all fabulous.
Our fave treatment: Try the four hands massage, because two masseuses are always better than one! This new signature massage relies on the incredible choreography of two professional therapists working in perfect harmony, merging blissful techniques derived from Swedish massage, Lomi-Lomi, myofascial stretching, percussion and rocking.
BOOK HERE
Darbha Spa at Honai Resort – Ubud
Why you'll love it: Surrounded by lush jungle and farmland, Darbha is a therapeutic healing retreat named after Bali's sacred tropical grass that's used to purify the daily offerings given to Hindu Gods. As such, this special grass is used throughout the spa, including within the therapeutic treatments that use ancient Balinese healing rituals combined with freshly-plucked ingredients from the surrounding vegetation.
Our fave treatment: Try the Darbha Detoxing Treatment. Beginning with a Don Base foot ritual and Toyam detoxing massage, this two-hour indulgence uses warm herbal compresses to release any muscle tension (perfect after a long flight to Bali) followed by a coffee exfoliation to give you a nice smooth glow. The exfoliation not only removes dead skin cells, it also detoxes and improves circulation for temporary yet noticeable cellulite reduction. Sign us up!
BOOK HERE
If that wasn't enough spa inspiration for you, go ahead and check out more affordable spas on EazySpaDeals website – because with deals and discounts this good, you deserve it all!
See you in the spa, Honeys!
Like this story? Here's three more we think you'll enjoy!

The best spa treatments in Bali – and where to find them
Budget bliss list: Bali's most affordable spas
The top 10 spas in Canggu for your bliss list