The famous smile mural in Jalan Dhoby
Enough with the day trips to JB! Check into a fab hotel for a weekend, and explore the capital of Johor's cafes, night markets, heritage shops and more. Here's how we did our getaway... (and you could win your own stay!)
When we're planning a weekend escape from Singapore, what often comes to mind are the usual hotspots around Asia: Bintan, Bali, Phuket and even Bangkok. What we don't always think of? Our neighbour across the causeway: Johor Bahru (JB). We've always been daytrippers when it comes to Johor's capital and if you live in Singapore, JB's our favourite place to pop over for cool little cafes, authentic street Malaysian fare and shopping at those designer outlets. (Shhhhh.)
WIN A STAY FOR TWO AT NEW HOTEL, AMARI JOHOR BAHRU!
When we were invited to stay at the new Amari Johor Bahru, we jumped at the chance to discover the capital in all its glory. Here's how we spent a weekend in Johor Bahru chilling out at this brand spanking new hotel, shopping, pampering and cafe-hopping. Want to discover it all for yourself? We're giving away a three-day, two-night stay at the Amari Johor Bahru, valued at over $1000! Read on for and get inspired for your next minibreak, and enter to win. 
See all the action here:
Stay
Situated in the heart of central JB, Amari Johor Bahru unarguably boasts the best location – it's only minutes away from the causeway, and major attractions like popular malls and the cafe strip. Wander through its colourful grounds and you'll be quick to notice how its decor is heavily influenced by Malaysian and Thai cultures – step through the elevator doors to the lobby on the sixth floor and you'll be greeted by panels and screens portraying elephants and trees synonymous to Thai culture.
Our stay at the Executive Deluxe Twin Room is best described as restful. Like all of the hotel's other rooms, ours was decked in calming shades of beige and purple, with soft yet supportive mattresses, spa-like bathrooms and convenient dual-frontage wardrobes. You're in for the best sleep of your life here, thanks to the pillow menu – choose from seven pillow options which includes lavender-scented, ultra soft and contour massage to realign your spine).
No weekend stay is complete without a fab dine-in option. Market-style Amaya Food Gallery is where we had all our breakfasts and dinners to the sights of open-air kitchens. We recommend that you come in your baggiest pants for its buffets – you'll stuff yourself silly with the array of Asian cuisine here. Alternatively, if your room comes with access to the Executive Lounge, you'll want to spend the bulk of your time there, as it faces the JB skyline, and offers personalised services alongside buffet breakfasts, all-day refreshments and evening cocktails.
Once you're done exploring JB's nooks and crannies, check into the hotels' Breeze Spa, which offers therapeutic massages, facials and scrubs and salon services. I had the privilege of experiencing a 120-minute treatment, which comprised of a coffee scrub followed by a thoroughly rejuvenating massage. Two words: utter bliss.
The heritage-hipster quarter
JB's heritage quarter (made up of Jalan Dhoby, Jalan Trus and Jalan Tan Hiok Nee) is home to the capital's exciting cafe scene and lifestyle stores. Here are our top picks for great coffee, delicious bites or a unique trinket or two.
Eat: Cafes
The Replacement Lodge and Kitchen
This Melbourne-inspired cafe boasts the spiffiest decor of the district, with distinct white marbling on both its exteriors and interiors. Inside, natural light drenches its chic, Scandi-style seating.
If you're coming here for dessert, order a rose latte, and churros with various dips. Instagram tip: Grab a Kinfolk mag off the racks and snap away!
The Replacement Lodge and Kitchen, 33, Jalan Dhoby, Bandar Johor Bahru, 80000 Johor Bahru
Bev C
One word truly describes Bev C: cool. The first floor is home to Bev C the clothing brand, which offers basic tees with quirky details, nifty bags and unique silver accessories.
The second floor houses a cafe with the most interesting design deets we've yet to see in its Singapore counterparts: a massive lamp the size of a car, a giant gallery space to see into its boutique and seats covered with white shirts. If you've only got time for a drink here, order one with the espresso cubes.
Bev C, 54  Jalan Tan Hiok Nee. 80000 Johor Bahru, Johor, Malaysia.
Flowers by the Window
You don't have to possess a green thumb to appreciate Flowers by the Window. The high-ceilinged double-storeyed cafe includes plants at every corner, and rustic-looking wooden furniture.
The menu here is largely healthy and hearty, with drink options like juices and smoothies, and food featuring a wide range of local produce.
Flowers by the Window, 9, Jalan Dhoby, 80000 Johor Bahru
Roost Juice Bar
Funky shelves, quirky old-timbre tables, bar stools made with paint containers, a vintage TV and a shopping trolley chair – Roost Café's recycled furniture certainly screams eclectic. Arm yourself with a book and chill out here over brunch or fresh juices.

Roost Café, 9, Jalan Dhoby, 80000 Johor Bahru, Malaysia.
Shakespeare Milkshakes
Located on a little corner of Jalan Trus is Shakespeare Milkshakes, the newest member of the hipster precinct. Everything here is Instagram-worthy, from the sleek decor, to the milkshakes and soft-serve ice cream. Favourites here include the Kinder Bueno Milkshake, Chocolate Soft Serve, and croffles (a cross between a croissant and waffle).
Shakespeare Milkshakes, 9, Jalan Trus, Bandar Johor Bahru, 80000 Johor Bahru
Chaiwalla and Co. Container Café
Housed in a sleek shipping container, Chaiwalla and Co. was one of the first players of JB's cafe scene. Like bubble tea shops, you can customise your drinks by choosing your base, flavours and toppings. But trust us, on a hot day, there's nothing you'd want more than a simple iced Chai tea.
Chaiwalla and Co. Container Café, Lot 2180, Tan Hiok Nee Street, 80000 Johor Bahru, Malaysia
Heritage eats 
Botak Asam Pedas
Cheekily named after the bald owner, this Malaysian hawker institution draws in lunchtime crowds everyday with its steaming pots of asam pedas: a Malay sour and spicy stew, filled with meaty chunks of fish. To complete your meal, you'll need fluffy fried omelettes on the side, stir-fried kangkong (water spinach) and additional fried snapper fish on the side (these are covered in crispy, garlic-laden skin ).
Botak Asam Pedas, 142, Jalan Lumba Kuda, Bukit Chagar, 80300 Johor Bahru
Kok Yow Yong
This herbal shop is undeniably a household name in JB it's been around for over a hundred years. Have the chrysanthemum tea or wong lo kat (a Chinese herbal tea) to go. If you're in need of a vitality boost, ask for yours with extra strength.
Kok Yow Yong, 131, Jalan Trus, Bandar Johor Bahru, 80000 Johor Bahru
Hiap Joo Bakery
One of Johor's oldest bakeries continues to see trailing queues at its stall every day, so you know its goods are legit. Its banana cakes are the bestseller here, and it's easy to see why: it's moist, airy, and aromatic. The secret? They're baked in hole-in-the-wall wood-fired ovens.
Hiap Joo Bakery, 13, Jalan Tan Hiok Nee, Bandar Johor Bahru, 80000 Johor Bahru, Johor, Malaysia
Salahuddin Bakery
This bakery has been around for over 79 years, feeding generations of Malaysians with its freshly baked loaves and curry puffs. Baked goods tend to run out by 11am, so grab 'em while they're hot!
Salahuddin Bakery, 26, Jalan Dhoby, Bandar Johor Bahru, 80000 Johor Bahru
Shop
Calypso Vintage
Vintage lovers, you know how hard it is to find the good stuff in Singapore. Calypso Vintage offers a selection of vintage and new threads, along with unique accessories. If you're not planning on shopping, make it a point to pop into the store anyway as the store's the combination of artfully mismatched 70s furniture with indoor plants and checkerboard floors isn't something you'll see everyday.

Calypso Vintage, No 29, Jalan Dhoby, Bandar Johor Bahru, 80000 Johor Bahru, Johor, Malaysia
Pasar Karat
Loosely translated to rusty market in English, Pasar Karat is a night market located in the hipster Jalan Dhoby district. On our visit, we spotted antique knick-knacks, second-hand clothes, handphone accessories and street food. If you're lucky, you can even catch a busker or two singing their hearts out under the dusky glow of fairy lights.
Pasar Karat, 26,, 20, Jalan Segget, Bandar Johor Bahru, 80000 Johor Bahru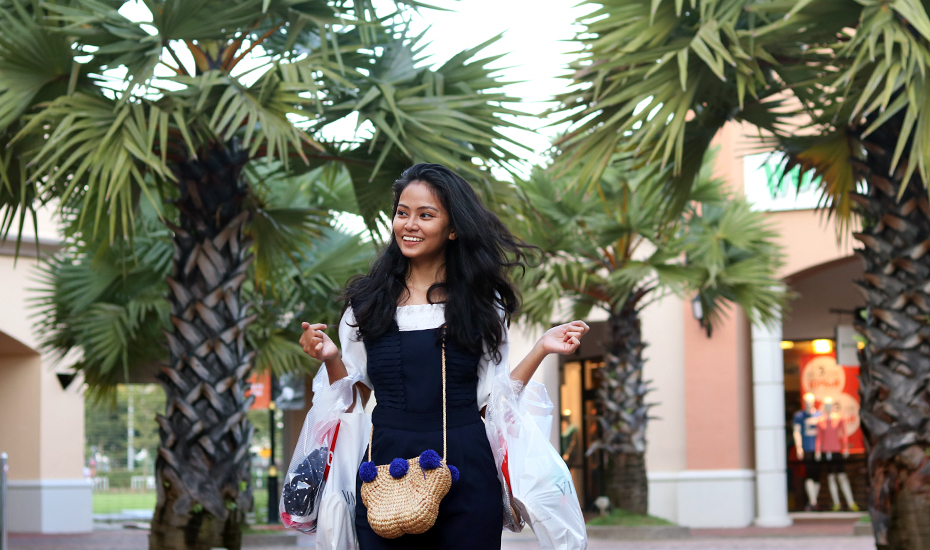 Johor Premium Outlets
Luxury shopping for less? We're so there. This mammoth complex is home to a jaw-dropping array of high-end brands for the ladies, lads and tots. For the women, big-name brands include everything from Gucci and Ferragamo to La Perla and Bally. Prefer shopping on a budget? The list of more affordable brands include Malaysian-based Vincci, as well as other fast-fashion names like Cotton On.
The men don't miss out on all the action either, with stores like Sacoor, Hugo Boss and Ermenegildo Zegna. Driving here takes 20-30 minutes from JB Central. If you're going via public transport, take JPO1 or JPO2 from the bus terminal at CIQ.
Johor Premium Outlets, Jalan Premium Outlets, Indahpura, 81000 Kulaijaya, Johor Darul Takzim, Malaysia, p. 607 661 8888.
City Square
Ah, City Square… the favourite Malaysian mall of Singaporeans. The mall's connection to the immigration customs is a major plus point. Everything you need is here, from athletic wear stores, to fast fashion giants like H&M and beauty stores. What City Square does have a leg up on Singapore malls is its abundance of popular K-beauty brands like Banila & Co.
City Square, 106, Jalan Wong Ah Fook, Bandar Johor Bahru, 80000 Johor Bahru
Komtar JBCC
The more upscale Komtar JBCC similarly offers all your basic mall needs, along with luxury stores like Swarovski and Pandora, a Sephora outlet (with more attractive prices after the exchange rate), and a gourmet grocer on its top floor.
Komtar JBCC, Johor Bahru City Centre, Bandar Johor Bahru, 80000 Johor Bahru

Ready to explore JB in a new light? Enter to WIN a stay and spa session for two at the Amari Johor Bahru!
We're giving away a three-day, two-night stay, valued at over $1000! For your chance to win, simply pop your details into the entry form below*. This fantastic prize includes:
A complimentary 3D2N stay in the Junior Suite inclusive of a buffet breakfast for two people
Afternoon tea for two people for two days (excluding alcohol)
Energy Boost Spa treatment for two people either on the first or second day
Dinner for two days for two people (excluding alcohol)
This competition ends 6 November 2017, and the winner will be announced here. Bookings are subject to availability, and must be made within three months of the announcement of our winner. See our full competition terms and conditions.
* NOTE: By sharing your details and entering this competition, you will also be signing up for our weekly newsletters, packed with insider info and inspiration for living the good life in Singapore. You may be contacted via email by our prize partner, Amari Johor Bahru.
Photography: Hazirah Rahim for Honeycombers
Like this story? Here's more we think you'll enjoy:
Here's how we bossed a weekend in Bangkok
The best outlet malls in Singapore for your fave brands at a steal
Bali vs Phuket: Who's the winner?
Check into these resorts in Bintan for a luxe island getaway