Gorgeous views of the Tiger's Nest monastery in Bhutan.
Looking for things to do in Bhutan? Our handy guide has you covered.
The journey to Bhutan is a once-in-a-lifetime adventure you've got to take on before you kick the bucket. This country isn't just known for being the happiest place on Earth (according to the Gross National Happiness index). It's also famous for its breathtaking monasteries, colourful festivals and scenic hiking trails. If you're looking to embark on a magical trip to the Himalayas, fill your time with our top picks on the best things to do in Bhutan.
How to get there
Here are a couple things to know before you fly to the land of the Thunder Dragon. First, you've got to travel with a local licensed tour operator in order to be issued a visa – yes, even if you have a Singapore passport. So don't go trying to apply for one on your own. Next, visiting Bhutan doesn't come cheap. You have to pay a sustainable development fee of $281 per person per day while you're there. It's a lot, we know. But this money will help with the country's sustainable tourism development.
Best things to do in Bhutan
1. Take on the Snowman trek
If you're looking for a real challenge, the Snowman trek is right up your alley. This notorious mountain excursion spans across 25 to 27 days. While it'll push you to your limit, the views and experiences you gain will be well worth the challenge. You'll go off the beaten track and have the opportunity to visit remote farms and villages. Not forgetting scenic lakes and cascading waterfalls. Now, that's an adventure.
2. Hike to Kila Goempa Nunnery
Next on our list of things to do in Bhutan is a hike up to the Kila Goempa Nunnery. This isn't just any old religious community – it's the oldest nunnery in the world. If that's not impressive enough, Anim Dratshang, the nun who established it back in 1986, still lives there. You'll find it in between Paro and Haa, on a cliffside overlooking the Paro valley. Expect some amazing views up there. You may even catch sight of the sacred mountains Jomolhari and Jichu Drakey.
3. Catch Bhutan's vibrant festivals
Hot tip: plan your trip around Bhutan's festival season. This country is home to some of the most spectacular festivals like the Thimphu Tshechu (the national festival of Bhutan) and the Matsutake Festival (the harvest festival). You can expect performances, colour mask dances, mushroom picking excursions and more. Check in with licensed tour operators for a schedule on upcoming dates in 2023.
4. Admire the Tiger's Nest monastery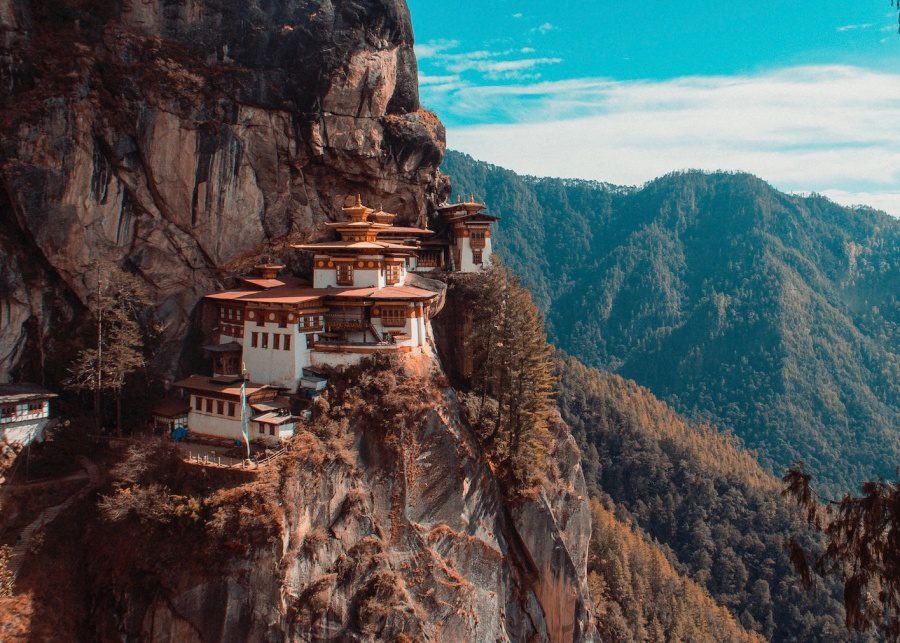 Of course, this list of things to do in Bhutan wouldn't be complete without mention of the Tiger's Nest monastery. This extraordinary destination sits 16 km north of Paro, and you have to hike up a mountain to get there. We've heard it's a pretty manageable walk, and there's even a canteen you can stop at midway for a break. Unfortunately, you're not allowed to take pictures while you're in the temple. But you can still snap some gorgeous pictures to and from your journey to the monastery.
5. Visit the second largest seated Buddha in the world
A definite must-see in Bhutan is the Buddha Dordenma statue that sits in the capital city of Thimphu. This colossal 169-foot bronze statue was made in celebration of the fourth King Jigme Singye Wangchuck's 60th birthday. What's more impressive is that the statue itself contains 125,000 miniature Buddhas. That's more than Thimphu's current population of 114,551 people.
6. Stop by Centenary Farmers Market
If you don't see this on your tour itinerary, check with your tour operator to see if they can take you to the Centenary Farmers Market. This open air market is home to plenty of local vendors hawking flavourful spices and goods. You'll find lots of dried herbs and spices such as Sichuan peppers here (where are all our mala lovers at?), and plenty of incense you can use to purify the air at home.
7. Explore the capital city with no traffic lights
By now, you might've already guessed that Thimphu is the capital city of Bhutan. But we bet you didn't know it doesn't have a single traffic light on its streets. Instead, Bhutanese policemen stand at busy intersections to direct vehicles and people. Once you've experienced it yourself, visit other hot spots like the Jungshi Handmade Paper Factory; the weekend market for treats and souvenirs; and local restaurants for authentic Bhutanese cuisine.
We hope our list of the best things to do in Bhutan has you excited for your next adventure.