Photography: Joli Pretty via Facebook
Not your average Chinese New Year outfits: We found cheongsams and qipaos we want to wear all year round...
It's that time of the year again: Time to work on your CNY style for all those family reunion dinners and get-togethers… or just get into the vibe of Chinese New Year, your way. It isn't ALL about red though (you don't need to be a walking ang pao). This year, CNY fashion goes well beyond the classic cheongsam with batik, modern jumpsuits and even African fabrics thrown into the mix. Here are our fave local (and almost local) brands injecting a bit of edge into the festivities this year.
Joli Pretty
The devil is in the details and Joli Pretty knows what's up. Each piece has character – think lace details, embroidered patterns and batik prints. There's even a mini-me collection so everyone in the fam (yes, dads included) can match! Pre-orders are already closed for CNY but you can get something from the ready stock. Fear not, there's still plenty to choose from!
Joli Pretty, available online and at Que Sera Vintage, #01-32, UE Square, 81 Cleamenceau Avenue, Singapore 239917
Esse x Made by Mate
We love it when local brands collaborate – especially when the results are oh-so-pretty! Esse the Label and Made by Mate come to together to produce a whimsical capsule of alluring prints and reimagined classics, drawing inspiration from the traditional cheongsam. Esse puts on a modern spin with an overlapping mandarin collar, and you can pair the ensemble with Made by Mate's silky sweet scarf inspired by ang ku kueh. Trivia: The local delicacy features a tortoise shape, which symbolises longevity and good fortune.
Esse x Made by Mate, available online.
Ong Shunmugam
Bow down: Priscilla Shunmugam is a queen of Singapore's fashion scene whose talent can't be denied. We're big fans of her aesthetic: At once elegant, modern and accessible, always blending exotic elements that make her pieces so distinctive. Her Cheongsam 2020 collection delves into various digital prints and explores unconventional methods. Expect oversized butterfly prints, digital batik prints and bold florals. Cheongsams not your scene? Browse the Ella Zheng x OM Ed capsule collection, which features the most gorgeous prints from Singaporean graphic designer and illustrator, Ella Zheng. Book an appointment at [email protected] to view the collection yourself in her atelier in Chip Bee Gardens.
Ong Shunmugam, 43 Jalan Merah Saga, #01-76, Singapore 278115
The Missing Piece
What began as a little label with lovely resort-friendly dresses and cute kids' shirts has quickly evolved into one of the most coveted independent brands for CNY style: It's all thanks to its signature cut-out jumpsuit with Mandarin-collar. It has a few variations now, as dresses and jumpsuits, which are currently available for pre-order so yes you can still snap one up in time for this season.
The Missing Piece, available online.
YeoMama Batik
If you aren't following this lovely little brand on Insta yet, you know what to do. Mother and daughter team Mama Yeo and Desleen are behind this label, which is all about handmade batik designs spanning tops, dresses, the cutest jumpsuits and even dungarees. Sizes span UK 6 to UK 18 – and we love that. Check out the mandarin-collar jumpsuits, blue-and-white cheongsams for CNY. Desleen models the designs for their site and on Insta: and she's giving us so much life right now. There's loads online (including shirts for guys and designs for kids so start #twinning), So many goodies.
YeoMama Batik, The Promenade @ Pelikat, 183 Jalan Pelikat B1-73 Singapore 537643
Lark & Peony
Another lovely local label, which sells out every year so you'd better be quick. We're heavily into the retro fabrics, cool colour combinations and the more versatile two-pieces which you can turn into different looks. Most pieces are pre-order: check out this year's exclusive, limited-edition print Chinatown at Midnight, which we're loving in all its variations and designs, from dresses to tops with vibrant pompom trims.
Lark & Peony, available online.
Kanoe
This Malaysia-based brand caught our eye at Public Garden, courtesy of its relaxed, tropical-friendly collection featuring beautiful block prints and batik. Not strictly for CNY, but giving a nod to the season, its limited collection of batik jackets, shorts and frilled trousers in festive red is just our thing.
Kanoe, available online with shipping to Singapore from $8.50.
Olive Ankara
Not your average qipao here: Olive Ankara's vibrant wax-print fabrics from Africa bring a cross-cultural twist to your CNY look. We're a little obsessed with the colours and prints at Olive Ankara: Shop online or visit the Tiong Bahru studio for a fitting, but know this: if you spot something you love, snap it up stat. These limited-edition styles are known to sell out in a flash, so we endorse impulse shopping when it comes to this bold brand. Besides, these statement pieces need to brought out well beyond Chinese New Year…
Olive Ankara, #01-02, 79 Chay Yan Street (opposite Plain Vanilla), Tiong Bahru, Singapore 160079
Or have one made…
Studio HHFZ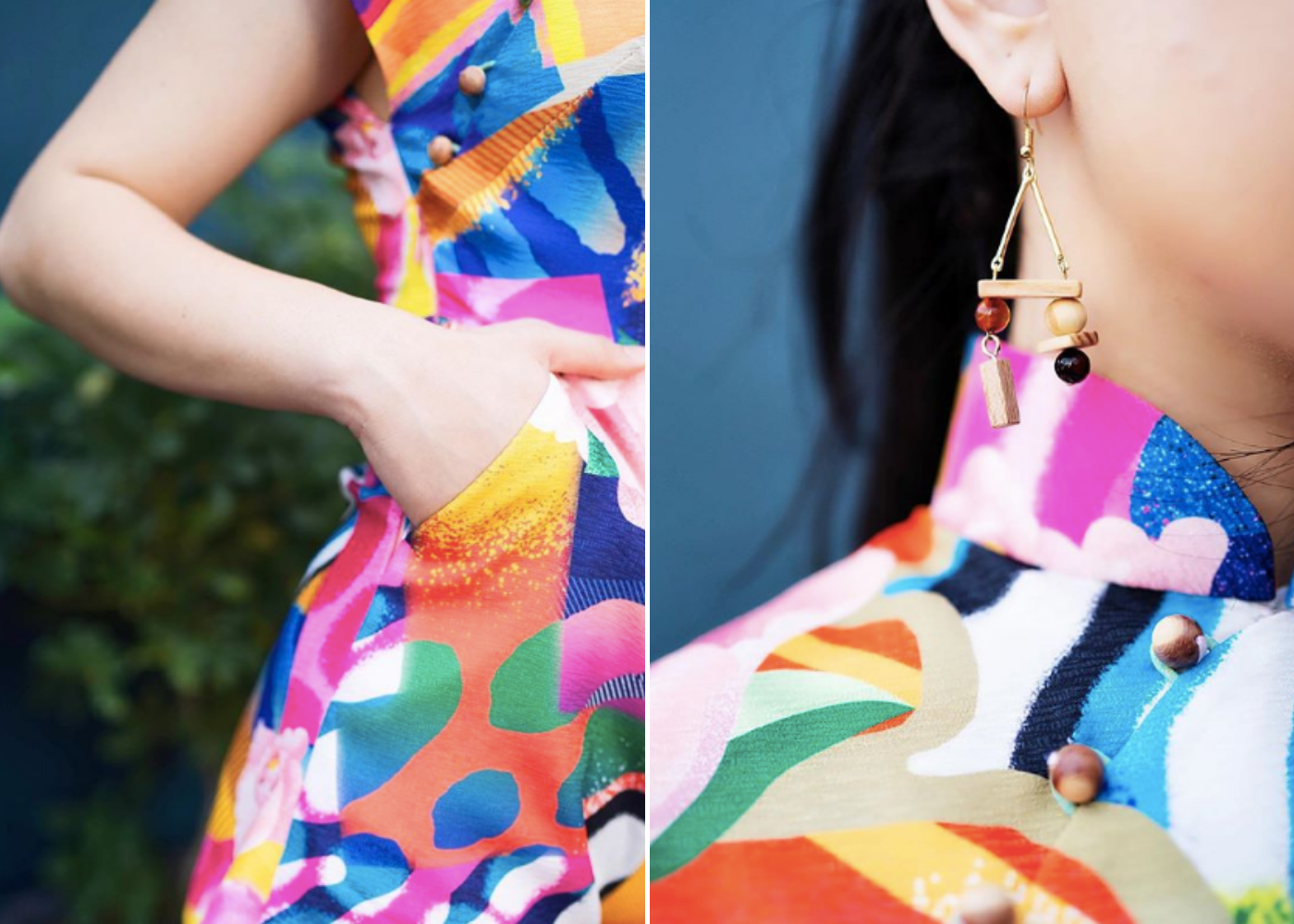 This beautiful atelier stopped us in our tracks during a recent visit to MOX at Katong Point: The interior looks old-word, but dressmaker Ruixian Hu's work has an edge. If it's time you wanted something tailor made, check out Studio HHFZ's Insta feed for examples of the beautiful pieces being created here. Look closer at the buttons on those dresses: they're next-level and made of mother-of-pearl, marble and jadeite. And can we just say, we seriously need that cheongsam jumpsuit!
Studio HHFZ, 451 Joo Chiat Rd, #01-04, Singapore 427664