Photography: Joli Pretty via Facebook
These are not your average Chinese New Year outfits! We found cheongsams and qipaos we want to wear all year round...
It's that time of the year again. Time to work on your Chinese New Year style for all those family reunion dinners and get-togethers… or just get into the vibe of Chinese New Year, your way. It isn't ALL about red, though (you don't need to be a walking ang bao). This year, CNY fashion in Singapore goes well beyond the classic cheongsam with batik, modern jumpsuits and bold prints thrown into the mix. Here are our fave local (and Singapore-based) brands injecting a bit of edge into the festivities.
Where to buy cheongsams in Singapore
Joli Pretty
The devil is in the details and Joli Pretty knows what's up. Each piece has character – think lace details, embroidered patterns and floral prints. There's even a mini-me collection so everyone in the fam (yes, dads included) can match! Just browse through the range to find the perfect outfit for your CNY gatherings.
Joli Pretty, available online
The Missing Piece
What began as a little label with lovely resort-friendly dresses and cute kids' shirts has quickly evolved into one of the most coveted independent brands for CNY style. It's all thanks to the brand's mix of prints, colours and eye-catching designs. With details such as flutter sleeves, brocade organza fabric, cheery hues, flared skirts and pom pom tassels, the cheongsam range is all about contemporary beauty.
The Missing Piece, available online and at #03-06, 10 Winstedt Road, Singapore 227977
YeoMama Batik
If you aren't following this lovely little brand on Insta yet, you know what to do. Mother and daughter team Mama Yeo and Desleen are behind this label, which is all about handmade batik designs spanning tops, dresses, the cutest jumpsuits and even dungarees. Sizes range from UK 6 to UK 18, and we love that. Check out the mandarin-collar jumpsuits, blue-and-white cheongsams and elegant designs blending batik and cheongsam elements. The label also offers outfits for men and kids so you can all match!
YeoMama Batik, available online and at #01-87, Oxley Bizhub 1, 65 Ubi Road 1, Singapore 408729
Yacht 21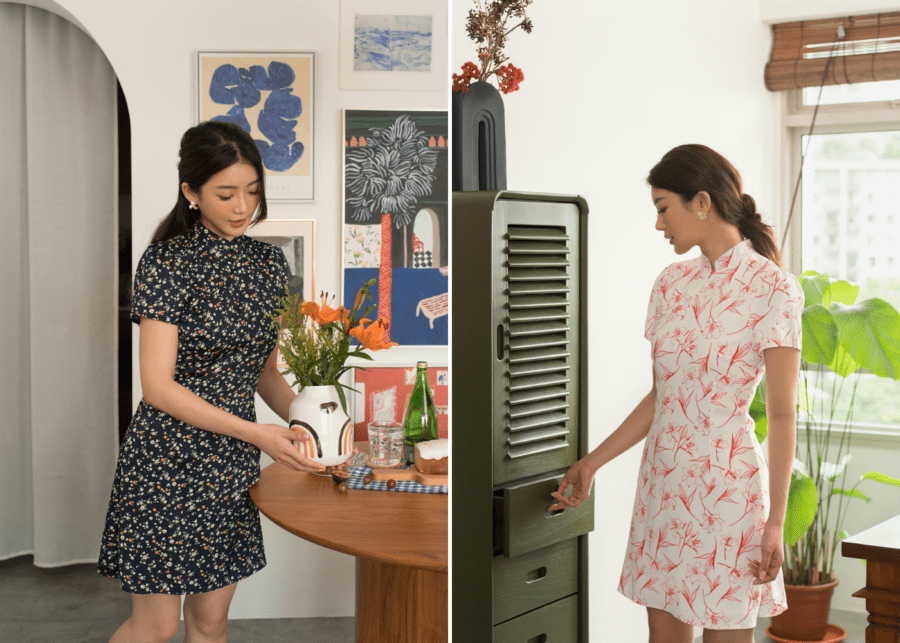 A homegrown urban resortwear brand, Yacht 21 is all about summer-friendly apparel made with lightweight and breathable materials. Perfect for our tropical island! The cheongsam collection is elegant and modern, featuring classy silhouettes, bold colours and beautiful prints. Whether you're after floral patterns, puffed sleeves or bright hues, you'll find something to suit your sophisticated style here.
Yacht 21, available online and at multiple locations including Wheelock Place and Jewel Changi Airport
Ong Shunmugam
Bow down: Priscilla Shunmugam is the queen of Singapore's fashion scene whose talent can't be denied. We're big fans of her aesthetic! At once elegant, modern and accessible, she blends exotic elements that make her pieces so distinctive. In celebration of her brand's 10-year mark, the local label drops a retrospective line featuring 10 of its iconic cheongsam silhouettes from the past decade. Look through the Cheongsam 2010-2020 range for tops, dresses, pants and skirts in gorgeous, bold prints.
Ong Shunmugam, #01-76, 43 Jalan Merah Saga, Singapore 278115; and online via the personal shopping service
Lark & Peony
We're heavily into these retro fabrics, cool colour combinations and versatile two-pieces that you can turn into different looks. Most pieces are pre-order, with vintage skirts in rockin' patterns and button-down shirts in a medley of colours. Look to the Yokihi cheongsam-style fit-and-flare dresses for a flattering silhouette made fun with floral prints.
Lark & Peony, available online
PaoPao
So you'd like to take your cheongsam collection to the next level? Keep tabs on new local label PaoPao. We're lovin' the stylish, edgy designs that give a modern spin to the traditional attire. Plus, each piece is handmade, with private fitting sessions for customisable options. Best of all, you can sift through the different silhouette choices – from A-line to fitted – and find one that best suits your body type. Oh, and every outfit features hidden side pockets for you to stash your ang baos!
PaoPao, available online
Olive Ankara
Not your average qipao here: Olive Ankara's vibrant wax-print fabrics from Africa bring a cross-cultural twist to your CNY look. We're a little obsessed with the colours and prints at Olive Ankara. Shop online or visit the Tiong Bahru studio for a fitting, but know this. if you spot something you love, snap it up stat. These limited edition styles are known to sell out in a flash, so we endorse impulse shopping when it comes to this bold brand. Besides, these vibrant statement pieces don't only have to be worn during Chinese New Year…
Olive Ankara, #01-02, 79 Chay Yan Street, Singapore 160079
Studio HHFZ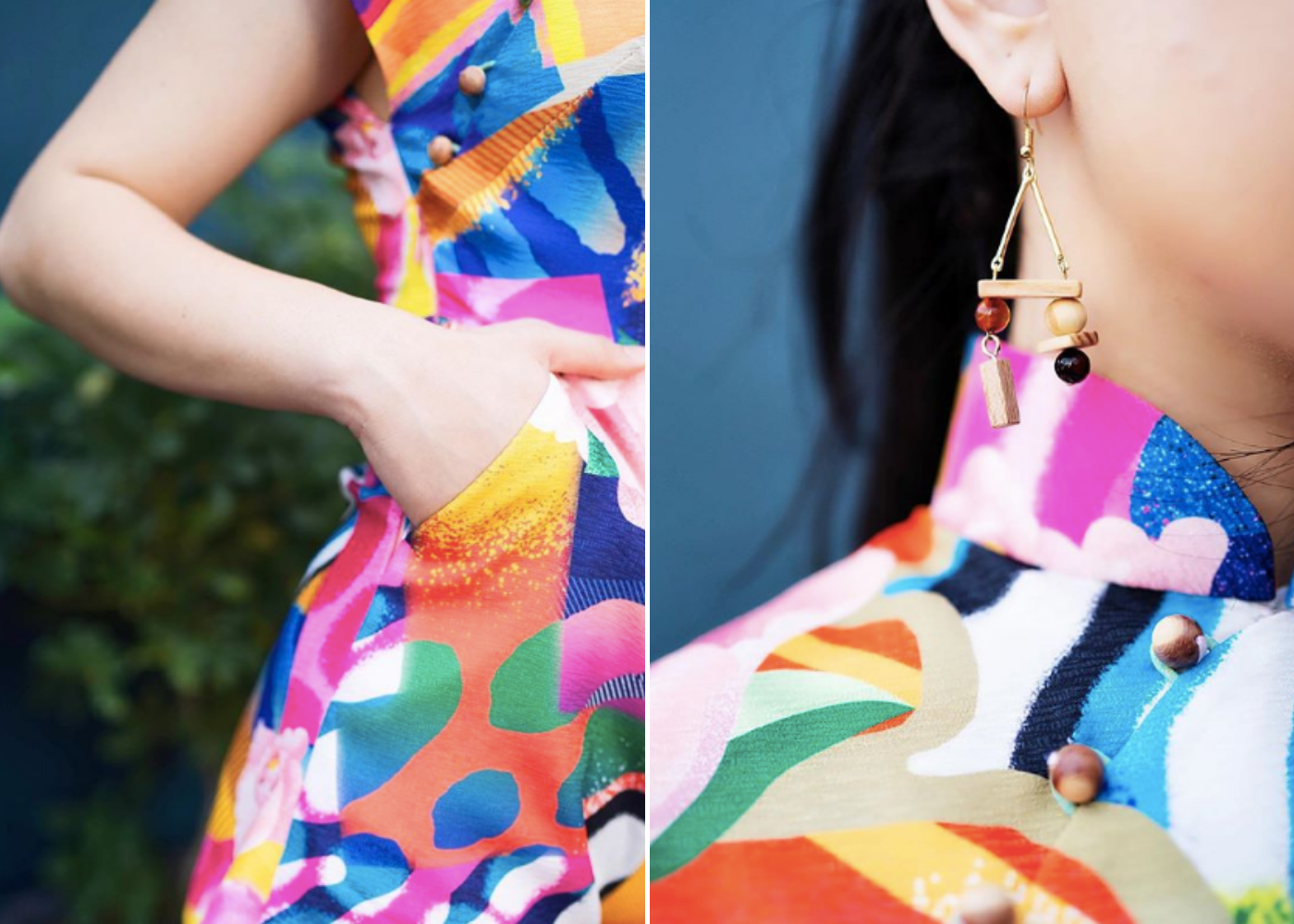 Looking for exquisite cheongsams in Singapore? Dressmaker Ruixian Hu's work has an edge. If you want something tailor-made, check out Studio HHFZ's Insta feed for examples of the beautiful pieces created here. Look closer at those dresses: they're next-level beautiful and crafted to fit perfectly to your body. From luxe fabrics to intricate details to stunning prints, each piece is quite the work of art.
Studio HHFZ, #02-12, Waterloo Centre, 261 Waterloo Street, Singapore 180261
Esse x Made by Mate
We love it when local brands collaborate – especially when the results are oh-so-pretty! Esse the Label and Made by Mate come to together to produce an elegant capsule collection of alluring silhouettes and reimagined classics, drawing inspiration from the traditional cheongsam. Esse puts on a modern spin with an everyday cheongsam, and you can pair your ensemble with Made by Mate's silky scarf inspired by ang ku kueh. Trivia: The local delicacy features a tortoise shape, which symbolises longevity and good fortune.
Esse x Made by Mate, available online
Kanoe
This Malaysia-based brand caught our eye thanks to its relaxed, tropical-friendly collection featuring beautiful block prints and batik. It gives a nod to CNY with kimono wrap dresses, mandarin collars and casual separates featuring a variety of pretty batik prints in all sorts of festive hues.
Kanoe, available online
Time to update your cheongsam collection at these shops in Singapore!