Pomelo has a bright idea for CNY. From left: High neck knot button dress, eyelet detail long sleeve dress, front bow detail dress. Photography: Pomelo
Call off the search: Your CNY fashion shortlist has arrived.
CNY is the time for reunion dinners, non-stop snacking and dressing up to the nines – there's no better time to flex your fashion chops after months of mandatory at-home lounging! This year, we're crushing on festive street style, oriental inspirations and other stylish finds that will stay in your wardrobe beyond the festive season. Here's where to shop the CNY 2021 outfits on our list…
Where to shop for CNY 2021 outfits
1. Pomelo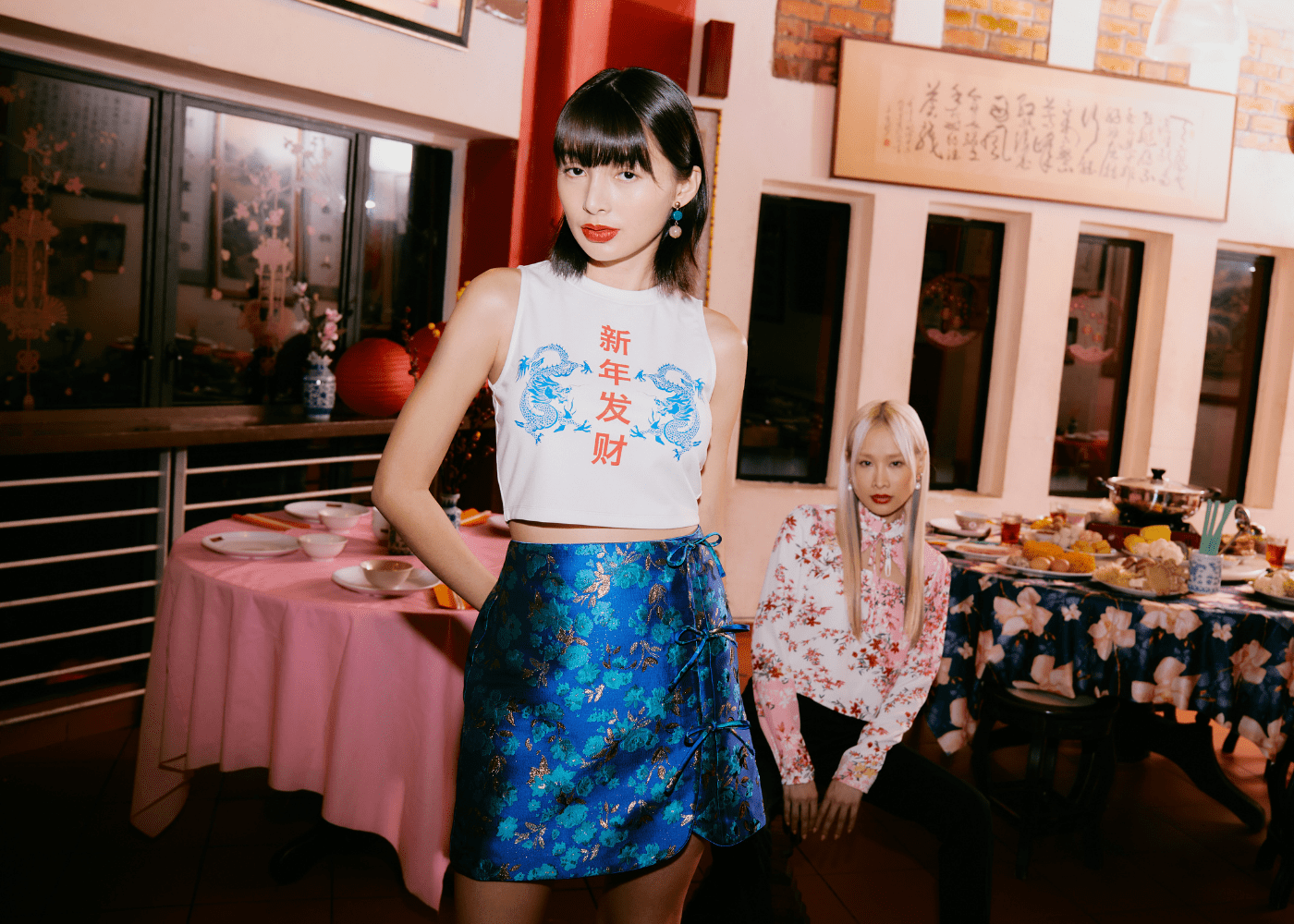 Begin the festivities with traditional details and punchy colours. We're talking about sprightly dresses from Pomelo (pictured top) that remind us of classic cheongsams with a modern spin. Think mandarin collars and oriental blooms married with trendy puff sleeves and empire waist silhouettes – we'd totally cop. Street style more your thing? Step out in the sleeveless graphic crop top with wishes of prosperity and the bow detail flower print skirt that features heritage-inspired designs.
Pomelo, available online and in store at [email protected]
2. Dear Samfu
Homegrown slow fashion label Dear Samfu is bringing its brand of nostalgic chic to the CNY fashion table. If you're cutting down on your style buys, we recommend choosing a statement piece that you can create multiple looks with. Take a peek at Dear Samfu's Big Sister skirts and cheongsam tops, featuring paisley and floret designs that'll have style mileage long after the house visiting season is over. The online store also has a selection of retro-inspired shirts and dresses, if throwback style is your theme for the year.
Dear Samfu, available online
3. Wray Crafted
Elevate your wardrobe with sustainable CNY outfits for 2021. We're eyeing Wray Crafted's organic cotton numbers that are designed to last. Don the Niya dress for a relaxed silhouette that will keep up with all your CNY feasting, or snag the Kali wrap dress for a universally flattering cut. Fun fact: the fabrics are handprinted, which means no two dresses are the same.
Wray Crafted, available online
4. Love, Bonito
In these times of virtual meetings and loungewear, it might be tough to coax yourself into 'going out' clothes. The solution? Effortless pieces from Love, Bonito that are timeless and easy to style. We love the versatile Rhetta toga bustier top that can look smart with tailored trousers or casual with a pair of shorts. Also in our cart: the Lainey ruched panel camisole maxi dress, which promises style points with minimal effort. Slip it on with a pair of heeled sandals and you're good to go!
Love, Bonito, available online and in stores at locations including Funan and [email protected]
5. SocietyA
For romantic pinks that'll double as your Valentine's Day outfits (it's only a day after the CNY public holidays, after all), hit up SocietyA to bag Krinou's gorgeous numbers. Welcome the festivities with the Punta top that's blooming with organza petals. Or, turn heads in the ruffled Petuna dress, featuring an abundance of sweet pink flowers. These creations make you into the flower of the reunion dinner party, fosho.
SocietyA, available online and in store at Takashimaya
6. Envyless
Spotted: classy and chic botanicals at Envyless. If you're in the market for a little floral lovin' for your CNY 2021 outfit stash, check out this multi-label store for elegant picks. We'd step into spring with the Diana green floral skirt, a soft satin piece that pairs amazingly with whites and olives. Wanna dress scarlet without looking like a red packet? Go for a dash of maroon, we say. The Baif pink floral blouse and silk bow shorts have got your back.
Envyless, available online
Done carting out your fave fits? A stylish CNY celebration awaits.