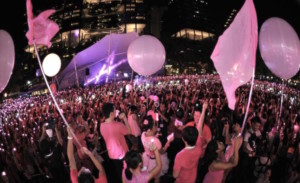 Bad news if you're not a Singaporean of permanent resident for this year's Pink Dot
Due to a recent amendment to the Public Order Act, only Singaporeans and permanent residents can participate (and observe) in the annual LGBTQ rally at Hong Lim Park
When you drop a bombshell that the freedom to love is not open to everyone, you're gonna piss a lot of people off. Such is the predicament that's currently plaguing the iconic LGBTQ rally at Hong Lim Park, Pink Dot.
In a harrowing announcement, Pink Dot organisers shared on 14 May that only Singaporeans and permanent residents will be allowed to attend the annual event – a reveal that has clearly riled up its supporters and tainted the principle on which it stands. It is a decision that's out of the organisers' hands, as it's a repercussion that's bled out from recent amendments to the Public Order Act. How severe is this? The punishment for violating this rule can extend to a fine of up to $10,000.
The new rule of the Public Order Act states that "[organisers] must ensure that only citizens of Singapore or permanent residents of Singapore participate in the assembly or procession". Yet, according to the press statement from Pink Dot organisers, "the law no longer distinguishes between participants and observers, and regards anyone who turns up to the Speakers' Corner in support of an event to be part of an assembly".
The exact boundaries of Pink Dot – in legal terms, the "assembly" – have yet to be released, but what this means is that, if you're a foreigner who's simply stumbled into the area not knowing what Pink Dot is, you might get picked up by the po-po. Taking an Insta-story to show your loved ones back home? Better watch out. Loitering nearby while waiting for the traffic light to turn? Nope, you're "participating".
To prevent this from happening, organisers have stated that they'll make sure that people who've entered the assembly are in possession of a pink or blue identity card – an official, cordoned-off entrance, perhaps?
But of course, how organisers are going to enforce this notorious rule isn't really the point at all. What's problematic is how this rule has reared its ugly head in the first place. For the last eight years, foreigners have been able to observe the rally at least – they were restricted from actively participating by raising placards. This latest proclamation, however, strikes a blow to the inclusivity of Pink Dot and its exponentially-growing base of supporters.
We don't need to tell you how bad this reeks, and certainly, the "freedom to love" is looking a lot less free for all. We'll keep you updated on further developments, but as of now, a lot of people are seeing more red than pink.
To reach out to Pink Dot and its organisers, visit its official website.
Pink Dot 2017, 1 July, 3pm, Hong Lim Park, 43 North Canal Road, Singapore 058284. Wear pink to celebrate the freedom to love!