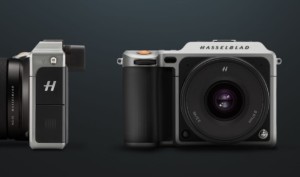 Photo credit: Hasselblad (via Facebook)
Looking for the perfect shot? Capture those once-in-a-lifetime moments with these DSLRs, Polaroids, and compact cameras
Let's get one thing clear – a fancy kit doesn't make a great photographer, but it certainly helps. If you're keen on ditching your cellphone cameras for something a little more versatile, you'll enjoy perks like greater low-light performance, larger images and quicker response times (never miss a shot!). Whether you're a happy snapper eager to dive into the world of photography or a seasoned veteran taking the next step, here's our pick of 2017's most exciting cameras to snap up. 
For very serious photographers: Hasselblad X1D 50C
At a hefty $12,764, the Hasselblad X1D is a significant investment to say the least. But for that price, what you get is a beautifully designed medium-format digital camera that's crafted by hand in Sweden. Hasselblad is a legendary name in photography, so it's not surprising that their digital offerings cut no corners in image quality. Its whopping 50-megapixel sensor captures incredible dynamic range from shadow to highlight in great detail. Despite its stunning performance, the camera itself is no larger than a small-format rangefinder, making it easy to use on the fly. You'll also have access to Hasselblad's new range of auto-focus lenses, tailor-made to the camera's capabilities.
Hasselblad X1D 50C. $12,764 (body only).
For jetsetters: Panasonic Lumix GH5
A camera is a must-have travel item for any globetrotter, but the thought of lugging around a full-size DSLR and lens might be daunting to some – especially for backpackers looking to travel light. So if you want a versatility of a DSLR without the bulk, get savvy with CSCs (Compact System Cameras) like Panasonic's Lumix GH5. In addition to the control offered from a full-size DSLR, the smaller GH5 offers features like five-axis image stabilisation, along with splash-, dust-, and freeze-proofing – features that'll make shooting on the fly in chaotic environments a breeze. The clincher? It weighs just 725g with batteries.
Panasonic Lumix GH5. 2838 (body only).
For novices: Nikon D5600
Phone cameras have come a long way from their grainy two-megapixel ancestors. But, if you want greater control and flexibility in your photographic pursuits, getting a DSLR is a great way to break into photography as a serious hobby. The newly-released Nikon D5600 offers a mix of features that'll thrill novice photographers like its 24.2 megapixel sensor, fold-out touchscreen and an ISO (light sensitivity) range of 100 to 25600. Another useful feature the camera packs is the SnapBridge application – using Bluetooth, you'll be able to conveniently transfer images to your smart device and share them right away. Adding to its attractive feature set is its modest price tag of $1,249, inclusive of a 18-55mm kit lens.
Nikon D5600. $1,249 (with kit lens).
For a dose of old-school cool: Instax Square
There's something undeniably fun about taking a photo and getting a physical image to keep. You're probably no stranger to Fujifilm's ubiquitous Instax camera with its portrait-size prints, but the company's latest offering shoots in a new square format that offers larger images with greater detail. The square format is also delightfully retro – a throwback to the original Polaroid prints of the '70s. The camera releases in Spring 2017.
Instax Square. Pricing TBA.
For the outdoorsmen: Fujifilm Finepix XP120
While action cameras come to mind when prep for action-packed outdoor adventures, dedicated cameras like the XP120 offer far more versatility with a larger screen (for fine-tuning exposure settings) and increased water resistance for those aquatic adventures. While it only offers a modest 16 megapixels, its pedigree as a 'sports camera' is apparent in its continuous shooting feature. This mode allows photographers to shoot ten frames per second, making sure you don't miss those special moments.
Fujifilm Finepix XP120. Pricing TBA.