Here's to one divine getaway – time flies when you're exploring historical architecture, digging into local favourites, and jumping into waterfalls.
Don't get us wrong, we love our long weekends in Bali. But there's a whole lot more to holidays in Indonesia and we're hell bent on exploring it for our next short getaway from Singapore. First stop – we're hitting North Sumatra and here's why you should too.
Medan
Touch down in the vibrant capital city of Medan. History and heritage chasing travellers are going to love this place. First stop, The Maimoon Palace that was once home to sultans. Bet you didn't know it Malay, Islamic and Indian architecture, with Spanish and Italian decor. The Great Mosque of Medan – an octogonal beauty with skyward minarets and towering columns –  is another must-see for history buffs (and lovers of aesthetic Instagram shots).
The bustling capital of North Sumatra is a food haven like no other. Get your durian fix or indulge in the bolu meranti, a popular local snack made of rolled sponge cake with buttercream. On the savoury end of the spectrum, don't leave town without slurping a bowl of Soto Medan: the delicious local take on chicken soup with a rich, turmeric and coconut broth. Or taste the lontong sayur and satay by the street as locals do, while noisy buses and motorbikes jostle to get ahead.
How to get there: Take a flight to the Kualanamu International Airport (KNO) and Medan will be a two hour's drive away. Alternatively, direct flights are available, which take about one and a half hours.
Lake Toba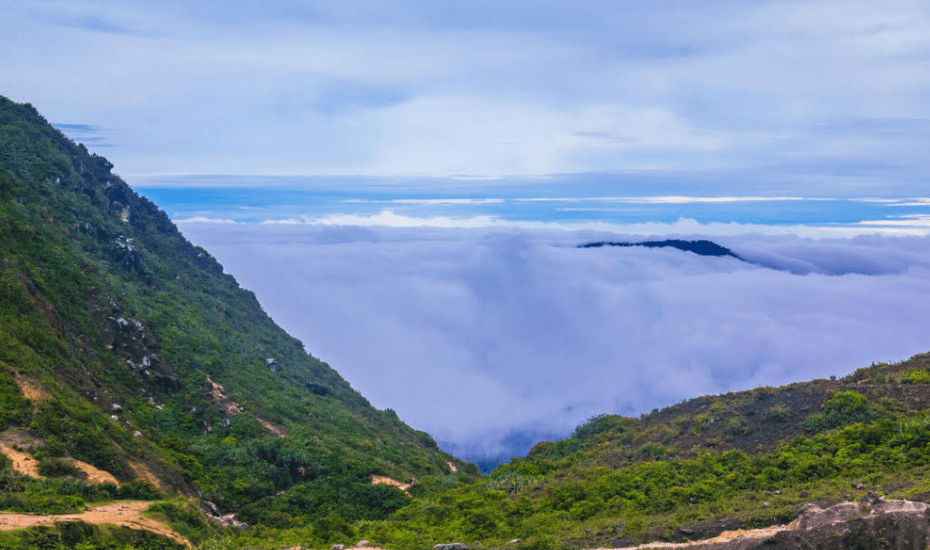 Call us weird, but the quality of air is one of the first things we notice when visiting another country. And boy is the cool breeze at Lake Toba worth taking in (it is 900 metres above the sea, after all). Living in Singapore's humid climate (and living in the urban jungle) really makes us appreciate the crisp mountaintop air, so much so that we kinda want to bottle it up and bring it back. (Maybe that's why bottled air exists? But we digress).
Fun fact: Lake Toba is the largest volcanic lakes in the world. And its pristine waters are positively breathtaking. But it's not all about the lake itself – there's plenty to explore around the shores. The Sipiso-piso and Binangalom waterfalls are just some of the most iconic drops. Dip your toes in the water or dive in for a swim or sit by the banks admiring its magnificence.
If that's not enough for your adventurous soul, go water skiing, kayaking, motor boating, canoeing and more in Parapat, the small town by the lake. All that travel got you tired? Enjoy a good long soak in the natural hot springs at the foot Pusuk Buhit.
How to get there: From Medan, public buses can take you to Parapat in a little under six hours. By car, the journey will take around four to five hours.
Samosir Island
Believe us when we say that a visit to Lake Toba isn't complete without travelling to this island. If you travel to chase culture, you're going to love it here too. It's home to the Batak people, an ethnic group that has preserved a culture vastly different from the rest of Indonesia. Wander around their villages to soak it all in – admire the traditional architecture, bring home at traditional woven fabrics (called Ulos), learn how to dance the Tor Tor and savour their cuisine.
Take a peek into the sights and smells of local life at Tomok market. You'll find everything there – tropical fruit, seasonal spices, traditional fabrics and more. Outdoorsy type? Rent a bike and explore the countryside. Ride past hills, rice fields, villages and of course, the gorgeous lake. Now, this is one escape from Singapore you're unlikely to forget…
How to get there: From Parapat, ferries can take you to Samosir Island in 50 minutes.
Got a serious case of wanderlust now? Get even more travel inspiration for a getaway in Wonderful Indonesia.
This post is in partnership with Indonesia Tourism.