Photography: Miranda Kozan
The creative force behind a boutique residential interior design firm based in Singapore, Miranda Kozan lets us in on her journey.
We love entrepreneurs and small business owners at Honeycombers, which is why we've created Launchpad, a comprehensive digital networking platform (with IRL benefits, too) that encourages connection, business support and community. It's a privilege and pleasure to learn from so many talented and inspiring folks, so we've decided to share the love by interviewing some of the lovely Launchpad members. Looking for inspiration? Check out how Miranda Kozan, the founder of Interior Couturier, gets it done like a boss.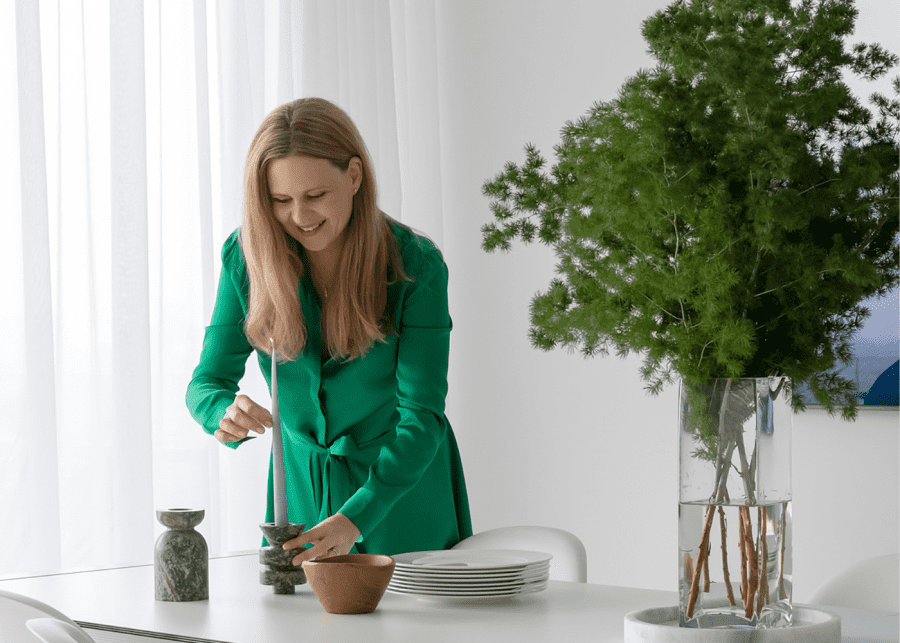 What is your backstory and why did you decide to launch your business?
Growing up in Australia, I was always a creative kid. I loved making stuff and discovering how things worked. So, I studied furniture design at university, straight out of secondary school. And I never looked back!
In my early twenties, I worked as a furniture designer before shifting gears to interiors during my time in London. Those furniture days taught me to appreciate the small details and how they connect with our lives. Now, in my interior design work, I carry over those skills, crafting personalised pieces that click with my clients.
After a decade in Singapore and with my kids finally in school, the timing felt right to dive into design and bring my dream to life. I launched the business in 2022, bringing my global perspective of creating spaces in Singapore, focusing on quality and sustainability. With 18 years of international living under my belt, I understand the importance of turning a house into a home, regardless of where you are. It's about realising a home that's not just a place, but a genuine reflection of yourself.
What has been your biggest challenge so far and how did you overcome it?
Battling my comfort zone – it's tough for an introvert like me. However, stepping outside that safe zone has proven to be very enriching. I sought help where I needed it in the form of coaches, friends, mentors and my network. I pushed myself to get uncomfortable and the results are remarkable.
We never know what we're capable of until we put our minds to it. Coupled with commitment and dedication, small actions add up. I now ask myself, "How can I get uncomfortable today?"
How do you stay motivated and energised?
It's a twofold thing for me. Apart from the joy of designing a beautiful home, a major driving force is helping people create a space that really supports them and their families. It's a thrill to take a small spark of an idea and develop it into the stage where their life stories will unfold. I think about the cosy movie nights, the leisurely dinners with friends, and that quiet corner for a coffee break.
Secondly, there's an immense reward in hearing my clients – understanding their lives – and transforming their dreams into reality. This mix of creation and connection keeps my motivation and energy up.
How do you keep stress levels low?
I'm all about routines to keep stress at bay. Every morning, I go for a walk. It's my way of boosting those "feel good" endorphins. I love being outdoors, usually in the Singapore Botanic Gardens. I also extend these routines to work. Each of our projects follows a clear step-by-step process. Even though clients and projects vary, the process remains the same. This helps me stay on track and aware of where we're at and what's coming next. It's so important because interior design involves many decisions and moving parts that are all interconnected.
Favourite places to work?
The office is great for diving deep and checking tasks off the list. But I also enjoy getting out and connecting with my suppliers. There's a wealth of knowledge and inspiration out there, and I love tapping into it. Being face-to-face builds connections but also gets my creativity and ideas flowing.
Can you share a work mantra that you use?
A mantra I have picked up is: "Don't just work in the business; make time to work on the business." When you're deep into the day-to-day, it's easy to forget the big picture and where you're headed. I set aside time every month to dream big, make strategic choices, and keep pushing our boundaries.
One thing you can keep talking about for hours?
I can easily chat about design and the choices we make. Exploring how these decisions affect our homes, as well as impact the environment and our daily routines, really interests me.
Your go-to self-care activity?
I've started journalling this year and I really enjoy it. I take five minutes in the morning and write whatever comes into my head. It helps me set the intention and tone for the day.
One piece of advice to your younger self?
Remember, each phase of life has its moment. Don't hurry and overlook the best parts along the way.
Get in touch with Miranda Kozan online.
Launchpad is a comprehensive digital networking platform (with IRL benefits, too) that encourages connection, business support and community. It is designed to make the entrepreneurial journey not only easier, and more successful, but also a whole lot more fun. We offer almost daily activities for members to connect, along with weekly masterclasses, member networking roulette, small-business mentoring and media profiles on Honeycombers. Check it out and join us!