Photography: Impossible Foods
On the hunt for Impossible Foods in Singapore? This plant-based meat is ready for world domination, and we know where to get it!
Nothing is impossible with Impossible Foods. Apologies for the bad pun, but all jokes aside, it has opened a whole new world for vegans, vegetarians or anyone looking to lower their meat intake. Famous for its meat-like taste and texture, Impossible Foods is a growing trend across the globe, and the brand aims to end all meat products by 2035. And with restaurants working their creative chef hats, we're getting more than just burger dishes. From satays and pho to pizzas and meatballs, here's where you can find Impossible Foods in Singapore.
Burgers
This has to be one of the more popular Impossible creations in Singapore, and we were lucky enough to be one of the first to try it at Three Buns at Potato Head. Other popular establishments have jumped on the bandwagon too, which means you can also get your fix from Brewerkz, Fat Boys and Fat Burgers. If you're looking for something nostalgic, Loof does a mean meatless version of the popular ramly burger as well.
Meatballs
Another innovative way to cook Impossible meat? Turning it into juicy meatballs! Executive chef Robin Ho of Prive Orchard does just that – the Juicy Lucy Impossible meatball spaghetti is a vegetarian take on the typical meatball pasta. Another choice pick: Extra Virgin Pizza's classic tomato-based meatball pasta.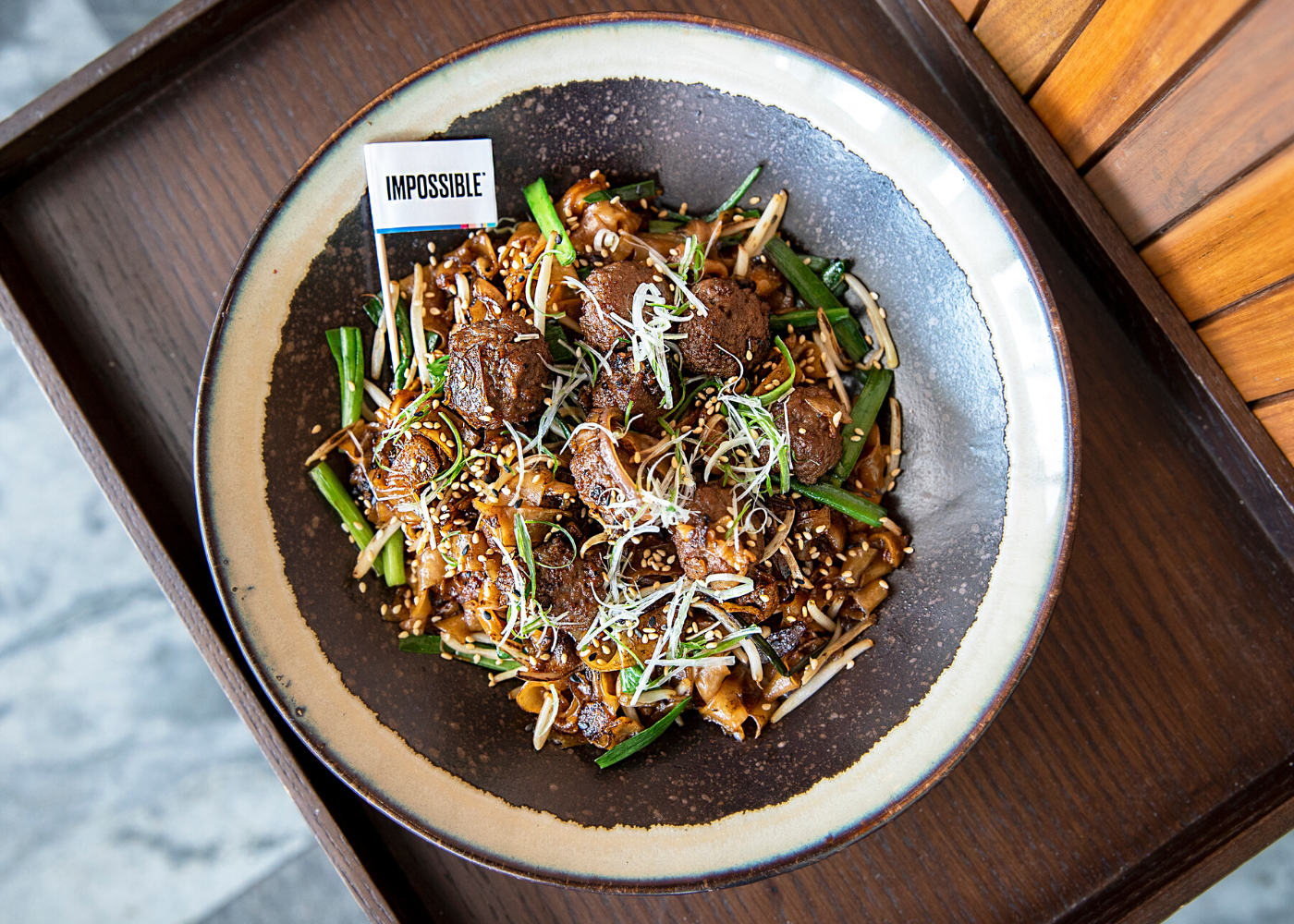 Serving up artfully plated classic Chinese cuisine, Empress has also rolled out meatballs with an Asian twist: Black pepper Impossible skewers. Feeling ravenous? The Dragon's Breath Fried Kuay Teow with Impossible meatballs will fill you right up.
Pizzas
While we love its meat counterpart, the plant-based version manages to tick all our Meatless Monday boxes and help the planet too. Pizza Express' curry version is topped with vegan mozzarella and kale, red chilli, onion, garlic oil and Impossible meat – essentially every vegan's post-drink dream meal. Oriole Coffee + Bar is another spot to hit, thanks to its Sloppy Joe Pizza that substitutes ground beef with Impossible meat.
Mexican food
Mexican cuisine has a decent selection of vegetarian options, but sometimes we want something more substantial than just beans and rice in our tacos. At Stuff'd, you can swap your usual meat options for Impossible fillings in everything from kebabs to burritos – the list is endless. Or check out Dean & Deluca's quesadillas that are packed with spiced Impossible meat.
Asian flavours
Known for its Vietnamese offerings, Nam Nam whips up three meat-free options: Bahn mi, pho and dry braised noodle. Oh, and Peranakan household name Violet Oon has created a version of vegan satay. Available in her namesake satay bar and grill, the dish is served alongside cucumbers, peanut sauce and rice cakes. Peranakan restaurant Straits Chinese has also jumped on the bandwagon by creating the traditional ngoh hiang using Impossible meat.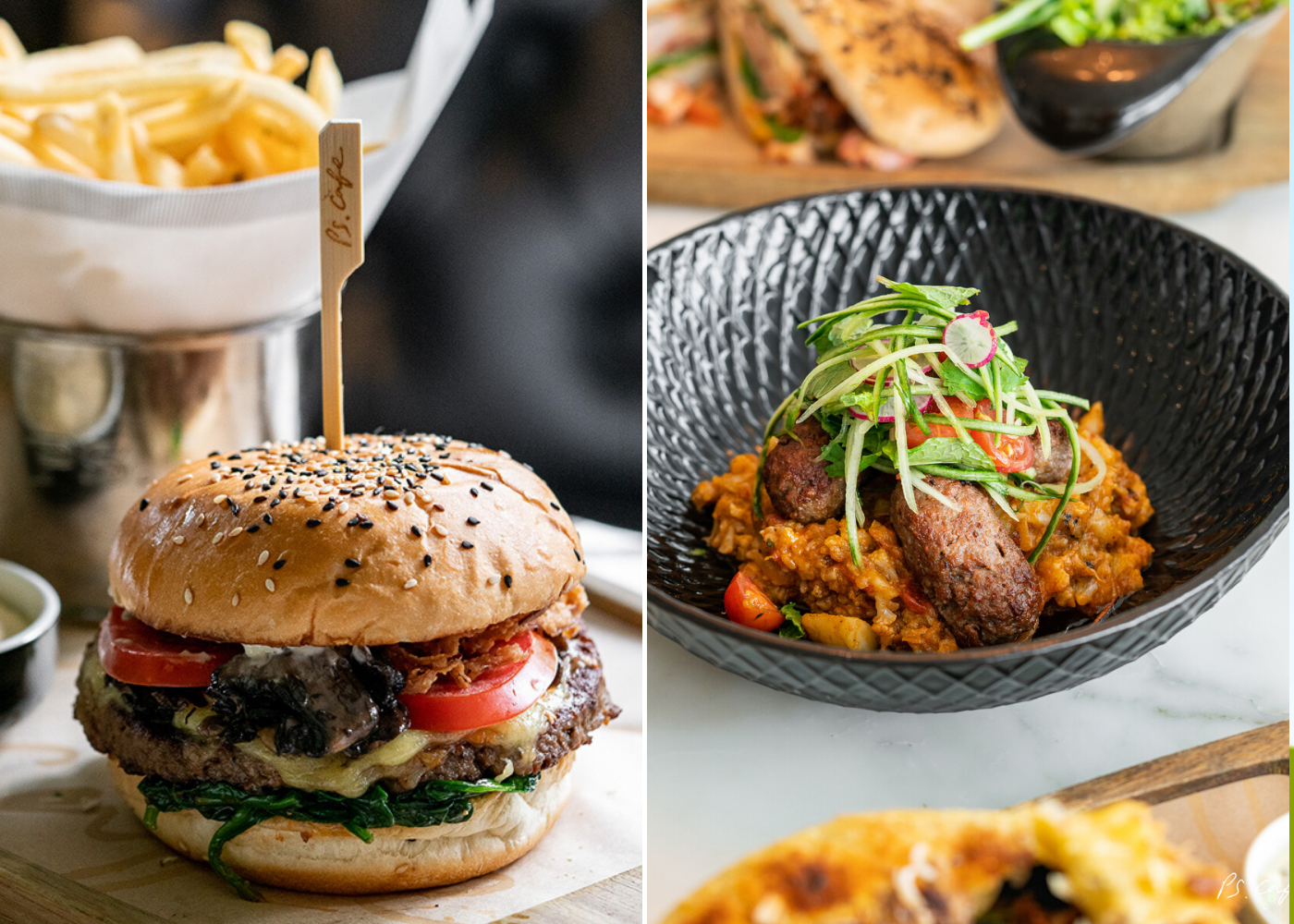 Not only has PS.Cafe rolled out the ubiquitous meat-free burgers, its Great World City outlet has upped the ante by creating tempting Impossible Bombay Koftas that come with cauliflower and potato hash.
Looking to get your donburi bowl fix sans meat? Head to Tanuki Raw for your vegetarian-friendly bowl. It features crispy tofu along with Impossible meat cooked in doubanjian sauce and onions, shio konbu and chives.
Thinking of an afternoon snack? Indulge with Tip Top Curry Puff. And before you ask – yes, the store has put out a plant-based rendang curry puff that's pretty impossible to believe till you've tried it.
British classics
Beef Wellington is synonymous with Gordan Ramsay; and now, vegans can have a slice of this savoury pastry at his restaurant, Bread Street Kitchen. The Impossible Wellington is stuffed with plant-based meat and baked to golden brown perfection. Delish.