Photography: Fenty Beauty via Facebook
These skin tints are lightweight, sheer, and here to enhance your natural beauty without hiding it.
The clean girl makeup trend is in; gone are the days of slapping on full coverage foundations. Not that it's a terrible thing – but on days when we want a fresh, dewy glow without the full-on coverage of foundation, a skin tint is your best bet. Plus, they're a lifesaver in hot, humid weather. No more worrying about your foundation melting off your face! Skin tints let your skin breathe and stay comfy all day. And now that brands are producing more shades to cater to a wider market, there's no stopping you from giving it a try.
Just remember to think of them as your skin's sidekick, not the superhero. Yup, skin tints provide sheer coverage. So if you have blemishes or pigmentation, it's best to go in with some concealer and colour corrector on those areas.
Best skin tints to try in Singapore
1. Eaze Drop Blurring Skin Tint Foundation
Rihanna knew what she was doing when she whipped up this magic potion. Eaze Drop is lightweight, buildable, and ready to give you that flawless, blurred look in a snap. It features a QuickBlur Complex for a hydrating, diffused effect, and is humidity, sweat, and transfer-resistant. If you're not thrilled with liquid formulas, the Eaze Drop Blur + Smooth Tint Stick ($53) is as creamy as it comes. It provides higher coverage and glides on like a dream thanks to the hydrating murumuru butter and sodium hyaluronate.
Editor's note: This magic tube is the reason I converted to skin tints. Aside from the variety of 25 shades, this skin tint offers adequate coverage for my uneven skin tone and pigmentation. Plus, it's a breeze to blend.
The Fenty Beauty Eaze Drop Blur + Smooth Tint, $53, available at Sephora
2. Rare Beauty Positive Light Tinted Moisturizer SPF 20
This tinted marvel is all about natural radiance. Not only does it hydrate the skin, but it also gives you that lit-from-within-glow in 24 flexible shades. It boasts a weightless formula so you don't have to worry about it settling into fine lines or pores. And did we mention it has SPF 20 and a dose of vitamin E for extra hydration? Just keep in mind that the coverage is light and sheer so you have to keep your concealer nearby to cover any spots or blemishes.
Rare Beauty Positive Light Tinted Moisturizer SPF 20, $52, available at Sephora
3. Hourglass Veil Hydrating Skin Tint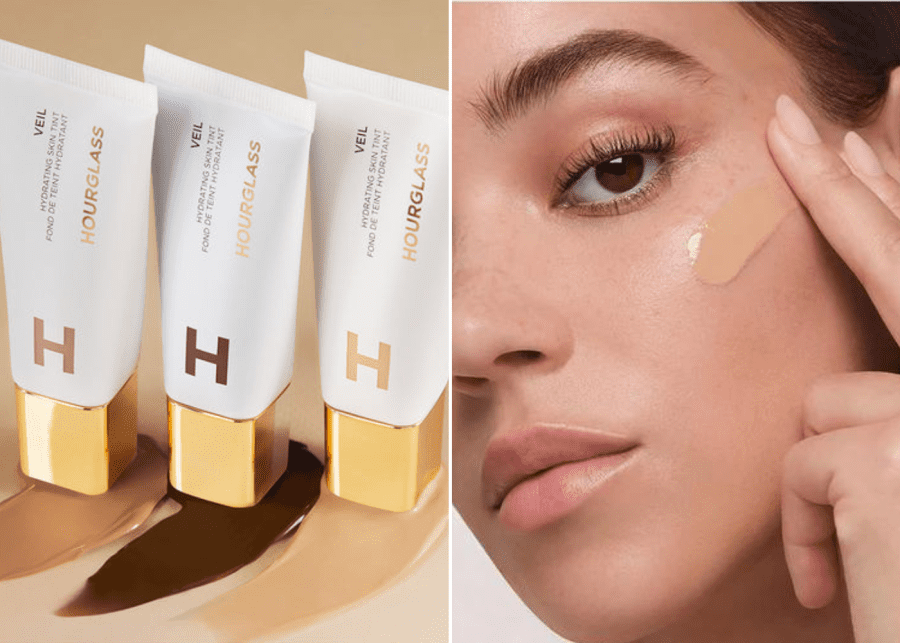 Say goodbye to dry, dull skin, and hello to a dewy, radiant complexion that's ready to slay all day. What's the magic potion, you ask? This bad boy can boost your skin's moisture levels by a whopping 52%. This formula is so lightweight that it melts into your skin, giving you that oh-so-comfortable all-day wear. It's packed with the good stuff – 94% naturally derived ingredients, to be exact. There's hyaluronic acid for deep hydration, plant-based squalane for moisture retention, and a blend of rambutan goodness to keep you looking smooth and nourished.
Hourglass Veil Hydrating Skin Tint, $82, available at Sephora
4. Ilia Super Serum Skin Tint SPF 40
This clean skin tint is the real deal. It gives you perfect light coverage and a dewy finish that'll make your skin scream, "I'm ready to take on the world" – or your next Zoom meeting at least. This powerhouse is loaded with skincare goodness that's here to rescue your skin. Say goodbye to dryness, blemishes, redness, wrinkles, and uneven tone. Plus, the Ilia skin tint is vegan, non-comedogenic, safe for sensitive skin, and free from fragrance, gluten, and silicone.
Ilia Super Serum Skin Tint SPF 40, from $76, available online via Shopee, Amazon SG and The Naturally Better Company
5. Shiseido Synchro Skin Self-Refreshing Tint SPF 23 PA++
This skin tint works hard to banish any unevenness in tone and texture, keeping you fresh and fine for up to 12 hours. Yep, you heard that right – 12 hours of moisture, waterproof magic, crease-proof perfection, and shine-resistant goodness. No more makeup meltdowns! A winning trio of self-repair gel, actigel polymer, and time match powder gives you a glowy finish and prevents oxidation.
Shiseido Synchro Skin Self-Refreshing Tint SPF 23 PA++, $68, available at Sephora
6. Ultra Violette Daydream Screen SPF50 Tinted Veil
Ultra Violette's skin tint may be sheer on the coverage, but it guards you from the sun's harsh rays thanks to SPF50 and broad-spectrum UVA and UVB protection. It gives an ultra-dewy coverage, which is perfect for folks with dry skin. It's also free of oil, silicone, and alcohol, so you can flaunt that fabulous skin without any extra baggage.
Ultra Violette Daydream Screen SPF50 Tinted Veil, $46.40, available at Sephora
7. Maybelline Super Stay up to 24H Skin Tint Foundation + Vitamin C
Get your glow on with Maybelline's Super Stay Skin Tint Foundation with a serious boost of Vitamin C. This lightweight, skin-loving skin tint is smooth like butter. But that's not all – you've got the magic of Vitamin C so you can say goodbye to dull, tired-looking skin and hello to a radiant, glowing complexion.
Maybelline Super Stay up to 24H Skin Tint Foundation + Vitamin C, $23, available online via LookFantastic  
So, have we convinced you to try some of these skin tints yet?