Photography: McLaren Vale Wine Region via Facebook
It's always wine o'clock in the wine regions of Adelaide. Uncover award-winning wineries, exceptional dining, and unique stays in this ultimate wine lover's guide.
You may not have visited it yet, but chances are, your favourite Aussie red hails from the Adelaide region. It's a place where picture-perfect landscapes, world-class wineries, dining options and uber-cool stays characterise into a big, bold appellation of greatness. Are you prepared to indulge your senses in the 'Great Wine Capital of Australia'?
Like its namesake, Adelaide's wine regions deliver great wine by the barrel load. There's the world-renowned traditional Barossa Valley, biodynamic cutting edge wineries in McLaren Vale and everything in between. We can't possibly cover its entirety, but here's a tasty snapshot to whet your whistle.
Adelaide Hills wine region: Where to eat and drink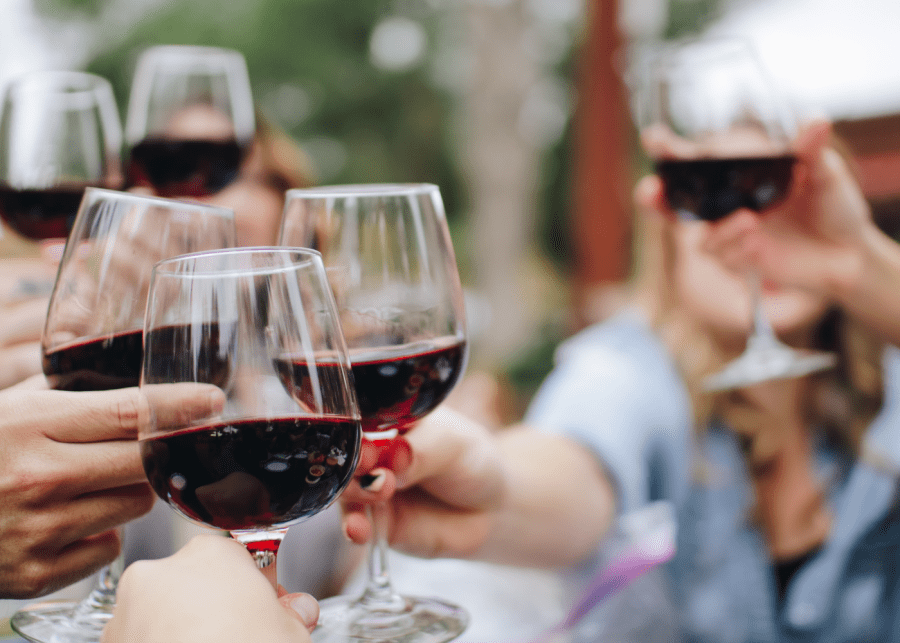 A short 45-minute drive northeast of Adelaide's CBD, it's the closest wine region to any capital city in the world. The region produces quality cool climate wines like pinot noir, sparkling, and chardonnay thanks to its location in the Mount Lofty Ranges. It's home to over 60 award-winning cellar doors with storybook pretty towns to visit.
Escape to the higher altitude of Adelaide Hills and check out the renowned tasting cellars of award-winning family-owned vineyards such as Longview Vineyard, Shaw and Smith, and Petaluma. Make sure to also explore the charming hill towns of Hahndorf and Stirling, known for their German heritage and local produce – sausage and sauerkraut, anyone?
While you're at it, swing by exceptional boutique wineries such as The Lane for views and wine to die for, followed by the off-the-charts sparkling varietals produced by Deviation Road. Or immerse yourself in the decadent chardonnays and pinots from Murdoch Hill. Plus, there's something for everyone at Whistler Wines.
For top-notch melt-in-your-mouth cuisine, try the five-course chef's menu at Patch Kitchen, or the Angler if you have a hankering for sustainable and ethical seafood cooked with love. Both are located in Stirling. For days where only cosy traditional English pub vibes will do, check out The Stirling Hotel or Crafers Hotel for Aussie pub charm on tap.
Adelaide Hills wine region: Where to stay
There's no place quite like the adults-only Sequoia Lodge. This is a modern secluded haven of only 14 suites perched on top of Adelaide's most elevated mountain, Mount Lofty. Attracting guests like Novak Djokovic and billionaire Gordon Getty (thank you very much), Sequoia Lodge is exclusive and decadent yet wholesome and rooted in refinement. Immersive yourself in fine food and wine options, nature and wildlife experiences, cultural events and historic tours. There's even The Gatekeeper's Spa retreat for a range of relaxing and beautifying treatments.
This is the place where you can relax and enjoy a specially tailored and personalised experience package, offering endless options for your enjoyment and well-being. We chose to start our stay with a cheese and wine masterclass with our fellow guests followed by a leisurely soak in the hot spring pools overlooking rolling hills (bliss!).
Mount Lofty House sits close by and represents a heritage-styled accommodation which comprises a fine-dining three-hatted Hardy's Verandah Restaurant and a more relaxed Martha Hardy's Kitchen, which serves up delicious contemporary dishes made from locally sourced seasonal produce.
For those wanting to explore the surrounding wine regions, take a helicopter ride (helipad onsite), or supercar tour in a Ferrari F8 Tributo, Lamborghini Huracán or McLaren 570S throughout the beautiful Adelaide Hills. It's impossible not to feel like royalty at Sequoia Lodge –  the trick is to stay for a few nights so you can make the most of every experience while also finding the time to rejuvenate!
Barossa Valley wine region: Where to eat and drink
Renowned as Australia's premier and traditional wine region, Barossa Valley is a must-visit destination for wine enthusiasts. Located 60 km northeast of Adelaide city centre, it has a rich heritage dating back to the 19th century and is famous for its robust shiraz wines.
Make sure to embark on a vineyard tour experiencing some of the most iconic names in Australian wine. We're talking about Penfolds, Henschke, Seppeltsfield, Wolf Blass, Yalumba and St Hugos for starters. Savour exceptional wines and learn about the winemaking process. Don't miss the opportunity to sample more boutique superstars like Alkina Estate for grenache and new school wines with many different varieties, or David Franze for one of the most beautiful views. David is the son of Peter Lehmann, so you know you're in good wine hands.
Reislefreak cellar door is exceptionally good for (you guessed it) rieslings, while Rochford Wines offers nothing short of award-winning excellence. Take your time at Seppeltsfield, and dine at the celebrated Fino Restaurant, after which you can explore the cellar door. Next, stop by Jam Factory – the perfect place to pick up an array of bespoke products for gifts.
Try impeccable fare at Hentley Farm, which sits across the road from Seppeltsfield. Meanwhile, more relaxed dining approaches can be found at Otherness Wines and The Farm Eatery, located at the famous Maggie Beer's Farm Shop (Australia's answer to Violet Oon).
Barossa Valley wine region: Where to stay
Travellers looking to spoil yourselves silly should stay at The Louise in Mediterranean villa-style luxury suites with a strong sentiment for sustainability and eco-tourism. Everything about this place is exclusive, from the experiences to the in-house dining.
Alternatively, Barossa Pavilions in Lyndoch offers individual pavilions designed for absolute privacy while maximising views of stunning farmland, vineyards and rolling hills. Those with a group of mates can consider the award-winning architectural icon Barossa Glasshouse (as featured on Grand Designs Australia) for a special stay.
McLaren Vale wine region: Where to eat and drink
Located 45 minutes drive south of Adelaide CBD, McLaren Vale is a coastal paradise renowned for its Mediterranean climate and diverse wine offerings. Australia's oldest and most acclaimed wine region, it's a wine lover and foodie's paradise boasting more than 100 vineyards with a wide range of grape varieties, including shiraz, grenache, and cabernet sauvignon. Tip: walk or e-bike along the famous Shiraz Trail, then enjoy stunning views of wineries from the top of d'Arenberg Cube. The best part? You're close to some of the most picturesque beaches in Australia.
Global mainstream wines abound in McLaren Vale, thanks to Angoves, Hardy's, d'Arenberg, Wirra Wirra, Peter Lehman, Kay Brothers, Jacobs Creek and St Hallett – there are more than enough cellar doors to keep you busy for a month! Also check out the exceptional quality wine offerings at award-winning Hither & Yon and Gemtree for exceptional sustainability. Plus, don't miss out on Pannell Enoteca, Samuels Gorge, and Maxwells Wines.
There's no shortage of great dining in McLaren Vale. Make sure to bookmark Down The Rabbit Hole for casual dining or the iconic Salopian Inn. Alternatively, try Russells Pizza for the best dough in town, Muni for fine Asian fusion tasting menus, Singapore Circus for chilli crab and finally, The Star of Greece.
McLaren Valewine region: Where to stay
The devil is in the details at the exquisite and beautifully restored modernised Coach House in Hillenvale. Perched on the side of a hill overlooking lush green views, this peaceful cottage features elegantly combined Farrow and Ball colour dressing alongside pine wood finishes and high-end furnishings. This is the ultimate place to unwind – be sure to light an aromatherapy candle and soak in the mineral-infused bathtub. Hillenvale is the kind of place where you'll find that wonderfully rare commodity: privacy!
The cottage can sleep up to four persons upstairs, while the downstairs kitchen is fully equipped with a Weber BBQ, dishwasher, artisan clay crockery and everything you need to whip up your own nosh. Oh, and you're a short drive into the heart of McLaren Vale.
Looking for a down-to-earth adventure? Try Cabn in Kuitpo Forest for a rare and splendid treat. You'll hang out in an eco-pod that's off-grid in a serene pine forest, with tree views as far as the eye can see. The cabin is more like an uber cool tiny house, complete with comfy beds and air-conditioning, a mini-kitchen with gas hobs, a power shower, a Weber BBQ and best of all, no Wi-Fi.
There's nothing to do except stop, switch off and relax nestled in nature. Build fire-pits, stoke the flames, roast marshmallows, play board games and drink wine, all while listening to the orchestra of nature surrounding you. If you're lucky, you'll even see kangaroos coming by to say hello!
The Adelaide wine regions offer a unique blend of viticulture and amazing food options – Adelaide is home to Tasting Australia after all. They also provide the perfect opportunity to escape the hustle and bustle of life.
Ready for your vino adventure? Singapore Airlines flies direct daily from Singapore to Adelaide in just under seven hours. Let your wine journey begin!