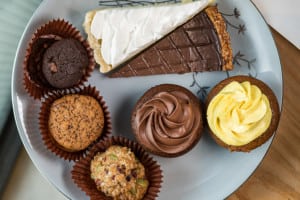 Vegan cakes, pies and cookies by Sweet Secrets
If you're lactose-intolerant or living a vegan lifestyle, Sweet Secrets will provide you with a sweet solution.
When speaking of recent popular vegan and vegetarian restaurants in Hong Kong, one would probably go for Confusion Plant Based Kitchen, Veggi Monster or Green Common. So the savoury part is all taken care of, but what about for those who have a sweet tooth? Thankfully, Sweet Secrets in Central provides a number of plant-based cakes that are dairy-free and egg-free, so health-conscious consumers can also have options. And we're all about it!
What does Sweet Secrets do?
Established in 1999, Sweet Secrets was one of the first bakeries in Hong Kong dedicated to creating innovative and delicious western style baked goods. Since 2011, Sweet Secrets has started to offer a great selection of vegan, gluten-free, refined sugar-free cakes to cater to individuals who suffer from different food intolerances. Because who says cakes that are wholesome and hearty can't be just as delicious as traditional ones?
Vegan cupcakes and pies by Sweet Secrets
We lucky peeps got to sample some of Sweet Secrets' vegan cupcakes, including the Heaven's chocolate cupcake and the turmeric ginger lime cupcake. Voted by our in-house meat eaters, the Heaven's chocolate cupcake tastes most like the real thing – indulgent and super chocolatey, whereas the turmeric ginger lime cupcake was my personal favourite as a vegan. The sponge itself is moist and fluffy, with the tasty turmeric icing giving it an interesting twist. If you're keen to trying innovative flavours, this is the pick!
We also got to try two of their plant-based pies, which are the lemon coconut tart and the cardamom chocolate ganache tart. Two words to describe the lemon coconut tart: Zesty and refreshing! It's delicious yet completely guilt-free. However, the cardamom chocolate ganache tart does come off as a bit too strong as the cardamom flavour takes over the subtlety of the cocoa. We would definitely recommend the lemon coconut tart over the chocolate one.
Last but not least, vegan cookies! The three flavours that we had were cranberry pumpkin seeds and oat, double chocolate chip and spicy ginger. The spicy ginger and cranberry pumpkin seeds and oat ended up being our absolute favourites. They're nutty and flavourful, and of course, we devoured them very quickly.
We have a feeling these treats won't be secret for very long.
Sweet Secrets, G/F, 35 Graham Street, Central, Hong Kong, p. 2545 8886, 中環嘉咸街35號嘉豪大廈地舖