Taste classic French dishes crafted with Japanese ingredients by Dominique Bouchet
If you're on the hunt for something new to eat or drink in Hong Kong, then we have the latest new restaurants, dining promotions and special menus right here every week
The Hong Kong dining scene is always changing thanks to seasonal menus, chef pop-ups, new happy hours and restaurant openings. We want to keep you up-to-date with everything that is going on here in the 852, so check out our weekly Food News to plan your dining and drinking calendar.
Dominique Bouchet at The Ritz-Carlton, Hong Kong
Culinary maestro Dominique Bouchet will be cooking up a storm from 15-17 March we he turns the private dining rooms of The Ritz-Carlton, Hong Kong into an epicurean hot spot. For just three days, Hong Kong food lovers will be able to experience his signature French cuisine that incorporates the freshest produce from Japan. The six-course dinner menu includes a glass of champagne and costs $1,988+10% per person, while the four-course lunch menu is priced at $988+10% per person.
The Ritz-Carlton, Hong Kong, International Commerce Centre, 1 Austin Road West, Hong Kong, p. 2263 2263, 香港中龍柯士甸道西1號
Hey Handsome pop-up at Mrs Pound
From 28 February to 1 March, Chef Nicco from Hey Handsome in Manila will be serving a range of contemporary South East Asian dishes at Mrs Pound. Including plates such as Riverprawn and Monkfish Laksa, Lamb Rendang with Cucumber and Beetroot Paneer, you will need to get in early as you can't book for this one.
Mrs Pound, 6 Pound Lane, Sheung Wan, Hong Kong, p. 3426 3949, 上環磅巷6號地舖
Nobu presents its 2018 Gourmet Journey of Japan: Episode 2
Showcasing special seasonal ingredients and dishes from Nagasaki, the 2018 Gourmet Food Journey of Japan continues at Nobu. From 2-31 March indulge in delights such as Shiogama Yaki Madai Fillet with Truffle Yuzu Miso, a traditional Nagasaki delicacy that requires a mini hammer to break into the salt crust fish, along with a selection of sushi and a dessert that includes burnt bread ice cream!
Created by Executive Chef Sean Mell and Executive Sushi Chef Kazunari Araki, choose from the eight-course dinner menu ($1,488) or try the six-course lunch menu ($668 per person).
Nobu, 2/F, InterContinental Hong Kong, 18 Salisbury Road, Hong Kong, p. 2313 2323, 尖沙咀梳士巴利道18號香港洲際酒店2樓
Fat Legs' BBQ pop-up at PMQ Taste Kitchen
Lovers of Thai food rejoice, as Hong Kong-based Australian/Thai chef Siam Sattayaphan is bringing his Fat Legs' BBQ to HK. Until 24 February at PMQ Taste Kitchen, indulge in modern Thai grill cuisine that will knock your socks off.
Fat Legs' BBQ, PMQ Taste Kitchen, H113-114, PMQ, 35 Aberdeen Street, Central, 中環鴨巴甸街35號
Get loved up at Zuma
Go all out this Valentine's Day at Zuma with their 11-course tasting menu ($1,250) that features dishes such as Japanese oysters with hojiso vinegar, tuna tartare with caviar and rice cracker and naruo beef tataki with truffle ponzu dressing and perigord truffle. Head Pastry Chef Eddy Lee and Bar Development Manager Arkadiusz Rybak have also crafted an exclusive dessert and cocktail to go along with your mod-Japanese meal. Enjoy the Pink Gravity dessert, a mix of white chocolate layered with wild strawberries, crispy rice biscuit, rose petal and lychee sorbet, and cheers your lover with a White Peach & Rose Bellini. If this doesn't say love, we don't know what does!
Zuma, 5/F & 6/F, The Landmark, 15 Queen's Road Central, Hong Kong, p 3657 6388, 中環皇后大道中15號置地廣場5-6樓
Find romance at Morton's
For one week only, Morton's of Chicago will be serving their limited edition cocktail The Blushing Lady. Made for all the lovers in Hong Kong, this sparkling prosecco-based creation dips its hat to Morton's all-American roots and features a splash of bourbon  finished off with cranberry juice, fresh lime, pomegranate liqueur and a cinnamon sugar rim. Treat your baby, boo or bae to one between 10 and 16 February, 2018.
Or make it legit and propose in style with Morton's and Piaget. Find out more here about the special package that will help you put a ring on it.
Morton's The Steak House, 4/F, The Sheraton Hotels & Tower, 20 Nathan Road, Tsim Sha Tsui, Hong Kong, p. 2732 2343, 尖沙咀彌敦道20號香港喜來登酒店4樓
Superfood menu at Grassroots Pantry
Grassroots Pantry is offering The Superfood Aphrodisiacs Menu this Valentine's Day, meaning you can indulge in a guilt-free way with your lover. Enjoy Tomato Poke Salad, Mole Stew and a Cherries and Cream dessert, and wash it all down with a Spiced Martini enhanced with fertility improving maca. Oh-la-la (nudge, nudge, wink, wink!)
The menu ($680 + 10%) is only available on 14 February, and has two seatings, one at 6pm and one at 8:30pm.
Grassroots Pantry, 108 Hollywood Road, Sheung Wan, Hong Kong, p. 2873 3353, 中環荷李活道108號
Wow them with a 5-Course menu at Feather & Bone
Available at both their Happy Valley and Sai Ying Pun locations, Feather & Bone is offering a gorgeous 5-course menu for you and your S.O. this Valentine's Day. Featuring dishes including a hearty Grain Salad with feta, pickled celery and fennel, along with a perfectly cooked Tenderloin with baby vegetables, we think the star of the show may just be the heart-shaped Neufchatel cheese.
Feather & Bone, Shop 1, G/F, Bohemian House, 321 Des Voeux Road West, Sai Ying Pun, Hong Kong, p. 3705 0280, 西環西營盤德輔道西321號瑧璈地下1號舖
Romance Bae at Bao Bei
Available from 9-14 February, Bao Bei is celebrating Valentine's Day with a 4-course east-meets-west set dinner, including a unique Cupid's Potion cocktail that features Maple Vodka, Godiva Chocolate Liquor, Osmanthus Syrup and Cream. Dishes include Hand-Pulled Chicken Salad with Homemade Wasabi Sesame Dressing, Beer Battered Tiger Prawns in Wonton Strips and Char Siu and Egg Rice Burger with Homemade Cantonese BBQ Pork Patty, Fried Egg, Arugula and Caramelized Onions. For dessert, indulge in a fruity  Mango Mousse Cake with Fresh Berries and a complimentary glass of Sparkling Wine to get it going with the good vibes
The Valentine's Day menu is priced at $598 + 10% per couple.
Bao Bei, Carfield Commercial Building, B1/F, 75-77 Wyndham Street, Central, Hong Kong, p. 2801 7779 中環雲咸街77號嘉兆商業大廈地庫1號舖
New menu at Back Bar pays homage to the cha chaan teng
Lovers of Back Bar (and there are many) will be happy to know that the laidback little bar in Wan Chai has just launched a new cocktail menu that finds its inspiration from the humble cha chaan teng. Concoctions include Sweet Potato Soup, a creative twist on the Old Fashioned; Corn Lada, featuring coconut rum and corn honey butter; and Don't 'Lai Cha' Me, which is essentially a boozy milk tea. Definitely made for some after-work tipples.
Back Bar, 7 Ship Street, Wan Chai, Hong Kong, p. 2555 0628
All-you-can-eat brunch launches at The Envoy
Served every weekend at The Envoy in Central, the new all-you-can-eat brunch is full of colonial-inspired delights. For $288 + 10%, enjoy small plates, such as Butter Chicken Lollipop, Spicy Sambal Popcorn Shrimps, Slow-Cooked Pork Belly Bao, Sir Pottinger's Squid Salad, the "Nine Vegetables" Ragout and the Numbing Vegetables. Big plate options include New School Fish & Chips and The Classic Weekend Roast, and it's all available between 12-4pm. Plus, for an additional $228, guests can add on free-flow wine and champagne.
The Envoy, 3/F, The Pottinger Hong Kong, 74 Queen's Road Central, Central District, Hong Kong, p. 2169 3311, 中環皇后大道中74號中環石板街酒店3樓
CNY burger at The Butchers Club Burger
Throughout the month of February, burger specialists The Butchers Club Burger will pay homage to the Year of the Dog with a burger combination that celebrates 'the morning after the night before'. Created for Chinese New Year, the Hair of the Dog ($140) blends the best of both American and British breakfasts, featuring an Irish pork sausage patty topped with black pudding, crispy bacon, a fried egg and hollandaise sauce, all packed between two French toast buns drizzled with maple syrup. Woof, Woof!
The Butchers Club Burger, Shop 10, G/F, Rialto Building, 2 Landale Street, Wan Chai, Hong Kong, p. 2528 2083, 灣仔蘭杜街2號麗都大廈10號地舖
Mrs. Pound launches a new menu for a new year
Alongside the refresh of its storefront on Pound Lane, contemporary Asian restaurant Mrs. Pound has unveiled a refreshed a la carte menu. Featuring modern Asian fare, new small plate additions include: Cheeseburger Spring Rolls, Rendang Poutine and Thom Kha Gai Chicken Meatballs. For guests looking for something more, large plates such as Charred Cauliflower with Whipped Feat, Sambal Black pepper Beef and Butter Poached Prawn & Cheese Rice have been added to the menu, along with a Filipino-inspired dessert that blends red coconut jelly, red palm fruit, green palm fruit, coconut fruit, ube, evaporated milk, ube ice cream, coconut ice cream and blueberry.
Mrs. Pound, 6 Pound Lane, Sheung Wan, Hong Kong, p. 3426 3949, 上環磅巷6號地舖
Seasonal and healthy additions to the menu at Zuma
Another restaurant adding new things to the menu this year is Zuma, with the introduction of a selection of healthy dishes and cleansers that incorporate the wonderful flavours of Japan. A vegetarian sushi plate is on offer, along with the Zuma salad that includes baby carrots, beetroot and organic lettuce. Also available is the chili marinated corn fed chicken breast, crispy skin and nashi, which has a homemade sauce made out of fermented jalapenos, along with a selection of new sashimi options and three sugar-free cleansers for guilt-free drinks to accompany.
Zuma, The Landmark, 15 Queen's Road Central, Hong Kong, p. 3657 6388, 中環皇后大道中15號置地廣場
Bakehouse opens in Wan Chai
Pastry Chef and Baker Grégoire Michaud has opened Bakehouse in Wan Chai, creating a stunning selection of baked goods, including naturally leavened loaves of bread and sweet danish pastries. Baked in the on-site Italian oven, products change on a daily basis, depending on the seasonal produce and the chef's inspiration. Guests can also stay and enjoy sweet treats, sandwiches and drinks at the bakery counter or sample some of the breakfast, lunch and afternoon tea options.
Bakehouse, 14 Tai Wong Street East, Wan Chai, Hong Kong, 灣仔大王東街14號地舖
New Japanese restaurant in California Tower
In an elegant space filled with Japanese-inspired art, furniture and tableware, FUMI is the latest restaurant to open in California Tower, Central. With exclusive access to the best seasonal ingredients from Japan, flown daily to Hong Kong, FUMI serves a selection of sushi, sashimi, omakase and kaiseki dishes, along with a range of seasonal menus. The Japanese restaurant highlights unique dishes from different prefectures of Japan, and will welcome a range of celebrity Japanese chefs to present their specialty dishes on occasion.
FUMI, 6/F, California Tower, 30-32 D'Aguilar Street, Central, Hong Kong, 2328 3302, 中環德己立街30-32號加州大廈6樓
Burger Circus + pie = yum!
Starting in January, old-time American diner Burger Circus is debuting a favourite Americana pie. Rotating through favourites such as apple, cherry, chocolate and peach, each month will see a different seasonal flavour hit the menu. Topped with fluffy whipped cream or enjoyed a la mode, these homemade beauties will definitely fill the gap.
Burger Circus, G/F, 22 Hollywood Road, SoHo, Central, Hong Kong, p. 2878 7787, 中環蘇豪荷李活道22號地舖
Join the Luau at Lily & Bloom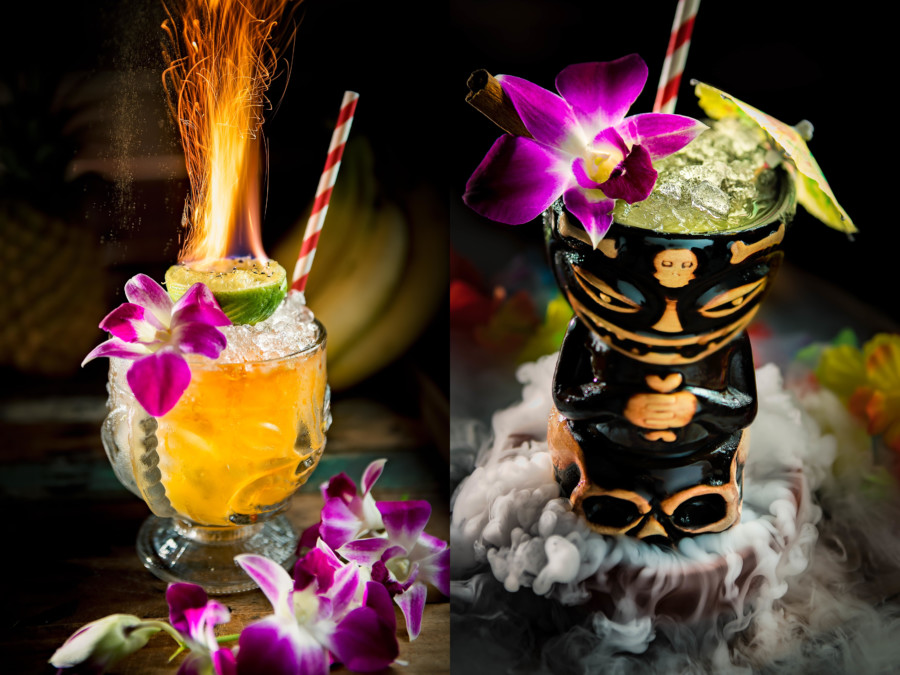 Escape the madness of the city every Monday night from 22 January, 2018 and join in the Luau of Doom at lily & Bloom. Be welcomed with a flower lei before enjoying cocktails like Banana Daiquiris and feasting on food, such as the Pupu Platter. Good times guaranteed at this Hawaiian-themed night.
Lily & Bloom, 5/F & 6/F LKF Tower, 33 Wyndham Street, Central, Hong Kong, p. 2810 6166, 中環蘭桂坊雲咸街33號LKF Tower 5樓及6樓
Hanwoo beef arrives in Hong Kong
Hong Kong now it's first Korean Hanwoo beef restaurant thanks to Mugung Hanwoo Specialist. Guests can enjoy rare beef cuts from Jeju cattle in the heart of SoHo and choose from dishes such as hot pot, Korean BBQ or Hanwoo Steak Tartare. Each dish can be washed down with some delicious soju or makgeoulli imported direct from Korea.
Mugung Hanwoo Beef Specialist, G/F, 33 Staunton Street, Central, Hong Kong, p. 2505 1723, 中環士丹頓街33號地舖
Cha Bei x Marc Jacobs afternoon tea
Lovers of fashion and high tea will need to get themselves over to Macau before 11 March, 2018 to enjoy the Cha Bei x Marc Jacobs afternoon tea at The Promenade Shops, Galaxy Macau. For MOP$328 for two, guests can enjoy a tea set inspired by the colours of the 2018 Marc Jacobs Resort Collection. Indulge in homemade marshmallows, cookie lollies and chiffon cake, or enjoy crabmeat deviled eggs as you sip on a taro latte, tea or coffee.
Cha Bei, Shop 1047, 1/F, Galaxy Macau, Coloane-Taipa, p. 8883 2221, 路氹城「澳門銀河」綜合渡假城1樓1047號舖
Pici opens its second location
Popular homemade pasta joint Pici has opened in Central, serving more tagliatelle, ragu and orecchiette to the people of Hong Kong. A creation of Pirata Group – the team behind the likes of The Optimist, TokyoLima and MEATS – the restaurant joins its sister restaurant in St. Francis Yard as a prime spot for pasta lovers in Hong Kong.
Pici Central, G/F, No. 24-26 Aberdeen Street, Central, Hong Kong, 中環蘇豪鴨巴甸街24-26號地舖
Please Don't Tell (PDT) to open at The Landmark Mandarin Oriental
In its first permanent location outside of New York City, iconic cocktail bar PDT will open at The Landmark Mandarin Oriental in early 2018. Regularly named one of the World's Best Bars, the new bar will follow the tradition of the original, with guests entering through a hidden entrance disguised as a phone booth in MO Bar. The interior will be a playful mix of vintage and modern classics and will be be executed by acclaimed Hong Kong designer Nelson Chow.
Visit PDT at The Landmark Mandarin Oriental, 15 Queen's Road Central, Hong Kong, p. 2132 0188, 中環皇后大道中15號
Aziza Egyptian restaurant opens in Kennedy Town
Food lovers will be happy to know that Egyptian restaurant Aziza has opened in Kennedy Town. Serving a huge selection of affordable dishes from the region, such as hummus, falafel and tagines, all the food at this intimate and homely spot is cooked with extra love.
Read our full review on Aziza here.
Aziza, G/F, Shun Cheong Building, 28 Hau Wo Street, Kennedy Town, Hong Kong, p. 3462 2844, 西環堅尼地城厚和街28號順昌大廈地舖
Mercedes me Store moving to a new location
Popular restaurant, bar and showroom Mercedes me Store has shut its doors and will be moving to a new location in 2018. The concept will reopen in 2018 in a more prominent location in Hong Kong, after almost two years in the Entertainment Building in Central. Stay tuned for more information!
Tickets for Taste of Hong Kong presented by Standard Chartered go on sale
Taste of Hong Kong presented by Standard Chartered will be back for its third edition from 22-25 March, 2018, and tickets have just gone on sale. Featuring a fresh line-up of Hong Kong's most dynamic restaurants, the weekend event is full of good food and music, set against the backdrop of Victoria Harbour. 20 restaurants will be taking part in the fun, including Zuma, Duddell's, Pici and BlackSalt.
Taste of Hong Kong, 23-25 March, 2018, Central Harbourfront, Hong Kong
Dockyard officially opens at Kerry Hotel Hong Kong
An innovative new dining concept in Hung Hom, Dockyard has recently opened at Kerry Hotel Hong Kong. Featuring nine restaurants, the food experience is entirely run on a downloadable App and offers stunning views of Victoria Harbour. Dockyard includes cuisine such as Cantonese, Korean, Indian and SouthEast Asian, and also offers a range of healthy salad and dessert options.
Dockyard, 1/F Kerry Hotel, 38 Hung Luen Road, Hung Hom Bay, Kowloon, Hong Kong, p. 2252 5228, 九龍紅磡灣紅鸞道38號
New live cooking stations at Yamm
Yamm, the popular buffet restaurant at The Mira Hong Kong, has recently been revamped with a new selection of live cooking stations. Guests can now enjoy tasty Chinese BBQ Meats, delicious Asian noodles and Indian specialities direct from the Tandoor oven. Other new additions include a dry-aged beef cabinet, a selection of vegetarian dishes and desserts that include sugarless, gluten-free and vegan options (we can recommend the vegan chocolate pudding with goji berries – yum!)
Yamm, G/F The Mira Hong Kong, 118-130 Nathan Rd, Tsim Sha Tsui, Hong Kong, p. 2315 5111, 香港九龍尖沙咀彌敦道118-130號
Cô Thành adds new dishes to menu
Popular Vietnamese restaurant Cô Thành in Central has added a range of new dishes to its menu that are made with ingredients flown in direct from Vietnam. Guests can choose from Nem nướng, a grilled pork sausage skewers with roasted peanuts, fried shallots, fresh herbs and a tamarind nước mắm glaze; Bánh ướt, a steamed rice noodle sheets dish made with chả lụa and nước chấm dressing; and Cánh gà chiên, fried chicken wings tossed in a nước mắm smoked chili sauce.

Cô Thành, G/F, 2-4 Kau U Fong, Central, Hong Kong, 中環九如坊2-4號地舖
Komune: A new restaurant in Wong Chuk Hang
Set to open in Mid-December within Ovolo Southside in Wong Chuk Hang, the restaurant will serve South American flavours alongside Hong Kong-infused dishes, all made for sharing. With over 30% of the menu vegetarian (yay!) other highlights will include Grilled Tender Octopus & Katsuobushi Surfing on a Bone Marrow and Super Slow Cooked Short Ribs Rubbed with Sichuan Spice. Best of all, the restaurant features a large terrace with view of the lush surrounding landscape.
Read our full review on Komune here
Komune, 64 Wong Chuk Hang Road, Wong Chuk Hang, Hong Kong, p. 3460 8157, 黃竹坑黃竹坑道64號
Cocotte and Neo Cocktail Club have closed their doors
Two places with great heart have closed their doors this past weekend, with both Cocotte and Neo Cocktail Club bidding adieu to Hong Kong. We here at Honeycombers Hong Kong are getting a little sad about the number of great restaurant closures of late (The Kinnet, 3/3rds, Maya and Home to name a few), and we promise we are looking into what the deal is, so stay tuned!
Read our full story on all of the restaurants and bars that have shut down recently here
Champak Restaurant by Atum opens in Mong Kok
Located in the recently opened developed The Forest in Mong Kok, Champak Restaurant by Atum is an Instagram lovers dream. With colourful walls, tiles and plants around every corner, go for the design, and stay for the surprisingly good food. The phad Thai is apparently the most popular dish, but we really liked the watermelon and dragonfruit salad with salted plum powder that came with nuts and lime. AND you have to order the unicorn drink – it's a non negotiable.
Champak Restaurant by Atum, Shop 107-108, 1/F, The Forest, 17 Nelson Street, Mong Kok, Hong Kong, 3468 2558, 旺角奶路臣街17號The Forest 1樓107-108號舖
The BonBonist opens in Pacific Place
Founded by French confectionery expert Olivia Niddam, The BonBonist has opened in Pacific Place, bringing with it a whole tribe of cool characters. From sugar-free and vegan delights to full-blown sweet sensations; we are particularly partial to the Tiramisu for Two.
The BonBonist, Shop 200E, Level 2, Pacific Place, 88 Queensway, Admiralty, Hong Kong, 香港金鐘道88號太古廣場二樓200E
Roomsbar opens at Emperor Cinemas
Founded by Albert Yeung Sau-shing, the entertainment conglomerate Emperor Group has recently opened its first cinema in Hong Kong, with the concession area being looked after by the team at Maximal Concepts. With a retro/vintage feel, Roomsbar has reinvented well-loved movie snacks like hot dogs and nachos adding some luxe ingredients to the mix. Movie-goers can also enjoy hand-crafted cocktails and beers on tap from Roomsbar. Now that really sounds like a Honeycombers hangout!
Roomsbar, 3/F, Entertainment Building, 30 Queen's Road Central, Central, Hong Kong, 香港中環皇后大道中30號娛樂行3
Jamie's Deli opens in Tsim Sha Tsui
The first Jamie's Deli in Asia, British chef Jamie Oliver brings a new outlet to pick up responsibly sourced food in Hong Kong. The restaurant offers both casual dining and takeaway options, where guests can enjoy classic NY-style sandwiches, like Reubens, along with a mixture of salads, pizzas and even a yoghurt bar!
Find out more about Jamie's Deli here.
Jamie's Deli, Shop 412, 4/F, Ocean Centre, Harbour City, Tsim Sha Tsui, Kowloon, Hong Kong, 尖沙咀海港城海洋中心4層412號鋪
XOXO: Ladies night at CÉ LA VI
Every Thursday from 7:30pm, the fabulous team at CÉ LA VI will be serving up one of the classiest ladies nights in town. Enjoy light bites such as Spicy Tuna Rolls from 7:30-9:30pm and then tuck into bubbles from 8:30-10:30pm – sounds perfect!
CÉ LA VI, 25-28/F, California Tower, 32 D'Aguilar Street, Central, Hong Kong, p. 3700 2300, 中環蘭桂坊德己立街30-32號加州大廈25樓
The Woods' Annex by Victoria Chow
We are very excited for the opening of The Woods' Annex by Victoria Chow this month in Central. The intimate spirits library in the heart of SoHo is a place to go to discover exotic varieties and engage in chats with experts from a range of distilleries and the F&B business.
Read more about The Woods' Annex here.
The Woods' Annex, 64 Staunton Street Central, Hong Kong,香港中環士丹頓街64號. By appointment only