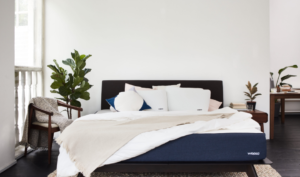 Love a good rest half as much as we do? Join us on the quest for a quality night's sleep…
You've probably heard the news. In 2018 survey by Wakefield Research, Singapore came in second as the most sleep-deprived nation in the world. So when we heard about Woosa, a Singaporean company that promises to give us the perfect night's sleep, we were excited to find out more.
The backstory? This local online mattress label was founded by Tyler Peh and Jon Lim, two Singaporeans who just wanted a good mattress to catch some quality zzzs. After being met with gimmicky marketing and hard selling salespeople, they decided to take matters in their own hands to create the perfect mattress of their own. After over two years of research, they crafted a super comfy 'made in Belgium' mattress using handpicked materials from Europe, including quality latex and memory foam.
How does this mattress stack up against our expectations? Our Head of Events, Brynie McBurney, put this mattress to the test with her husband (and on occasion, with the little ones sneaking in). Here's what she had to say… 
Tell us about your ideal night's sleep.
Oh, I'd say seven to eight hours of blissful zzzs without waking up in-between… and a mattress that fits us perfectly.
Do you usually have any trouble sleeping?
Well, my husband finds it hard to sleep most nights because of his sciatica so he tosses and turns a lot.  And if we're distracted with work, we often tend to wake up during the night and then find it hard to go back to sleep.
Did you feel any different using this mattress?
It certainly slept much better. It also reminded us that we needed a new mattress and our old one was the main reason for our restless sleep. We always blamed it on the air con or the kids but a bad mattress was the real reason
Is the Woosa mattress comfier than your old one?
Absolutely! The Woosa mattress aligned well to our needs. I have to say it has the perfect amount of firmness but it's also soft enough to mould into. That's important to us as we experience issues with sciatica, kids disturbing us etc. Besides, it made us realise we need a new mattress. We've had our old one for five years!
Did you sleep more easily or for longer on the Woosa mattress?
We naturally did because it felt more comfortable. And although my husband's sciatica didn't go away, he felt as though one part of his sleep issues were diminished because the mattress was so comfortable.
What are your thoughts on the service?
The service was brilliant, efficient and speedy. They helped take the old mattress off our hands too.
And so the verdict's out on this one: The Woosa mattress does help improve the quality of sleep! If you're looking for a more comfy mattress or on the hunt to replace your old one, you know where to go…
Plus, the Woosa mattress comes with a 100 nights free trial. No strings attached…
Perks! Use HCWOOSA for $150 off your mattress on Woosa's online store. Valid until 31 September 2019.
This post is in partnership with Woosa.