If dim sums had a ruler, it'd be xiao long bao.
We'll say it – xiao long bao might be the most magical of all dumplings, especially when loaded with shredded ginger and doused in black vinegar.
We love our fair share of dim sum and Chinese food, but we've got an extra special love for xiao long bao. Yes, those off-white dumplings with mind-blowing soup and thin, slightly transparent skin wrapped better than any gift you and I ever got. For everyone who's debated over how they get the damn soup in there, prepare to have your mind blown. Nope, it's not injected with a syringe. The soup stock is turned into Jell-O using gelatin. Once the dumpling skin is rolled out, the jelly-like soup and the meaty filling is plopped on and placed into the steamer basket. And that's how xiao long bao is born. Find the most scrumptious ones in Singapore here…
Best xiao long bao restaurants in Singapore
1. Peach Garden
Oh, the swooshing soup. Sure, Peach Garden is one of the fancier Chinese restaurants in town, but the delightful soupy dumplings are out of this world. Got a mid-week craving? Douse it with XLBs at the daily dim sum brunch promotion. Trust us, it's entirely worth it. Bring a friend – someone will need to roll you back to work.
Peach Garden, multiple locations including Thomson Plaza and Hotel Miramar 
2. Din Tai Fung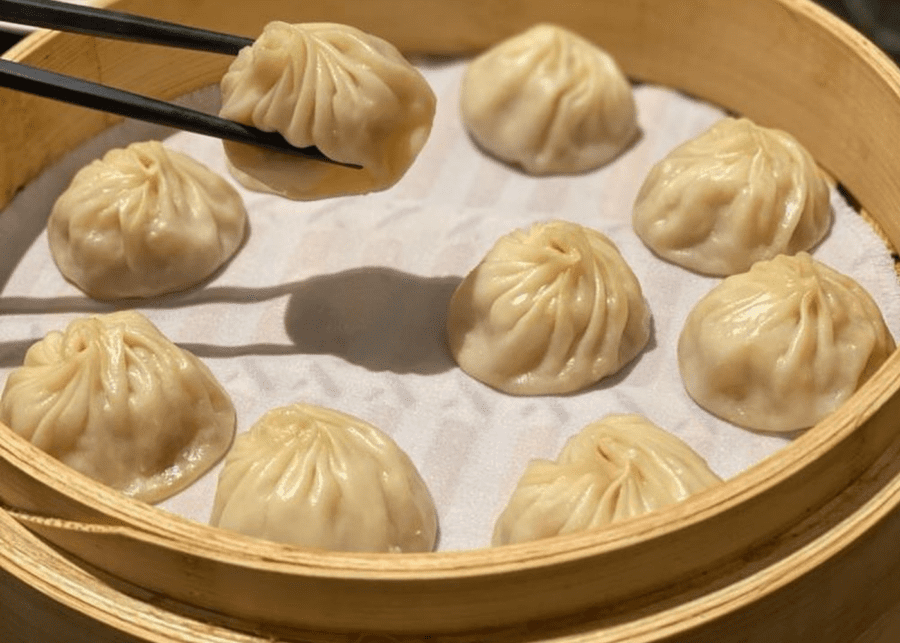 It'd be some kind of sacrilege to talk about xiao long bao in Singapore without raving about Din Tai Fung. Everyone's favourite Michelin-starred Taiwanese restaurant serves perfectly rolled out, wrapped and pinched XLBs around the globe. It's got the art and science down pat and it'll forever be xiao long bao central in our hungry eyes. Tip: keep an eye on its Instagram. The brand likes to stir the pot once in a while when it comes to flavours.
Din Tai Fung, multiple outlets including Wisma Atria and Paragon
3. Crystal Jade La Mian Xiao Long Bao
Our team swears by this place. Why? Many reasons, but it's mainly because the XLBs are extra soupy when you bite down! The mini explosion of warm, delectable soup and the lovely flavours warrant an A-plus. Pro tip: need a healthy side to go with that? Order the garlic broccoli.
Crystal Jade, multiple outlets including Bugis Junction and Holland Village
4. Paradise Dynasty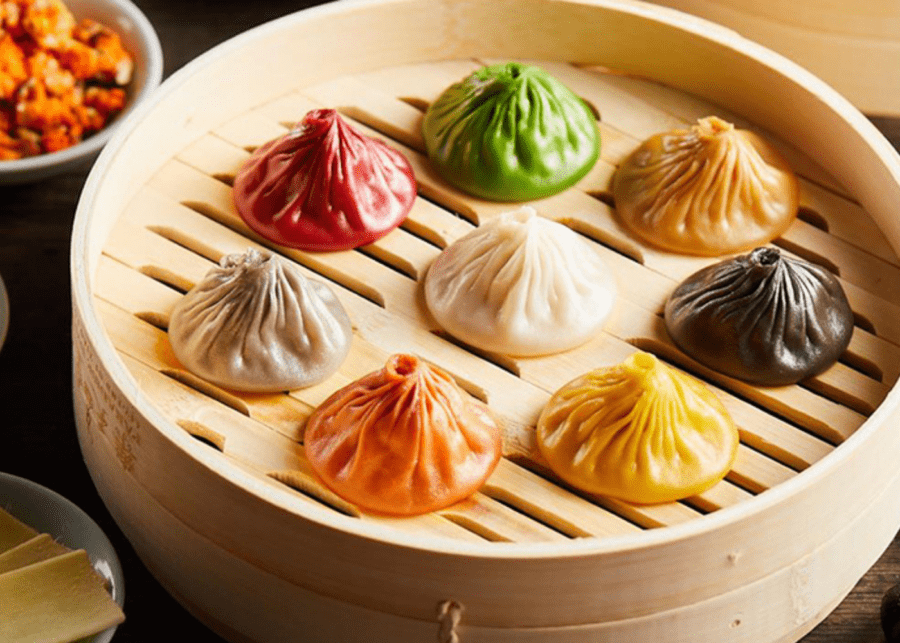 Wanna take your obsession over XLBs to a whole new level? Wear your stretchy pants to Paradise Dynasty. It's so good, we take friends and family visiting from overseas to this place. The traditional off-white soupy dumpling gets a funky splash of colour and it's spiked with wackier flavours – brace yourself for foie gras, black truffle, cheese, crab roe and what not. Pick your jaw off the floor and give them all a go, even if you're a traditionalist. But there's original flavour too, if you wanna stick to your guns.
Paradise Dynasty, multiple outlets including Westgate and Suntec City
5. Zhong Guo La Mian Xiao Long Bao
So, your mild to severe obsession with xiao long bao has you in a soup. Nope, you don't have to only frequent the Din Tai Fungs of the world to cheat on your diet. The Chinatown Complex hawker centre is home to Zhong Guo La Mian Xiao Long Bao. Brewed for a nice 12 hours, the stock is bursting with flavour and we can't get enough! Just because you're broke AF at the end of the month doesn't mean you can't comfort yourself with sinfully delicious xiao long bao by the basket.
Zhong Guo La Mian Xiao Long Bao, #02-135, Chinatown Complex Market and Food Centre, 335 Smith Street, Singapore 050335
6. Swee Choon Dim Sum Restaurant
You can count on Swee Choon, one of the oldest dim sum restaurants on the island, to get xiao long bao right. Firm but not too stiff, these beauties have a broth that'll make you go 'yummm'. That, coupled with a fair amount of filling, makes this our favourite late-night spot for post-party munchies.
Swee Choon Dim Sum Restaurant, 183-193 Jalan Besar, Singapore 208882
7. Dim Sum Haus
The name says it all. Just a stone's throw away from dim sum powerhouse Swee Choon, Dim Sum Haus is the perfect alternative if the former gets too crowded (which is very often). Plus, XLBs here are easy on the wallet. You can get a trio of 'em for less than $5 alongside other dim sum faves like crispy mee sua kueh with Chinese sausage and steamed rice roll with BBQ pork.
Dim Sum Haus, 57 Jalan Besar, Singapore 208809
8. Yechun Xiao Jiang Nan Restaurant
Size matters, especially when it comes to these soupy babies. At Yechun Xiao Jiang Nan Restaurant, you'll need a straw to slurp on all the goodness inside the minced pork and crab roe broth dumping. How big is it? One piece is about the size of a palm! Don't worry, you can order the normal-sized XLBs if that sounds intimidating.
Yechun Xiao Jiang Nan Restaurant, #02-181/182, Marina Square, 6 Raffles Boulevard, Singapore 039594
Now, are you ready to gobble up the best xiao long baos in Singapore, one restaurant at a time?