Photography: Singapore GP
Get a peek into all the adrenaline-charged festivities with tidbits from our Singapore F1 news and highlights.
Another race weekend has come and gone. It's hard to believe that just last week, we were all dressed up in the grandstands cheering our lungs out for our favourite teams. Not to mention partying it up with all the fringe events and concerts galore. For anyone who couldn't make it to the high-octane festivities, we've got your back. Here's our roundup of this year's Singapore F1 news and highlights.
Singapore F1 news: What went down on the tracks
1. George Russell's unfortunate last-lap crash
We had to start this list off with the most heartbreaking thing to happen at this year's Singapore Grand Prix. Fans and F1 team members alike were shattered by the shock of George Russell's catastrophic crash in the last lap. We watched the top four drivers – Carlos Sainz, Lando Norris, George Russell, and Lewis Hamilton – fight tooth and nail in the final 10 laps to clinch the top podium spot.
But in an unfortunate turn of events, we saw the tail end of George's car clip the wall at Turn 10. And that was with less than half a lap to go till the finish line! Sent right into the barriers, it's probably one of the most shocking plot twist we've seen.
2. Godzilla's child makes an appearance
Here's a hilarious bit of news on the Singapore F1. When yellow flags are raised during a race, it typically indicates trouble on the road. That's usually debris, a stalled car, or a horrific accident that impedes the race's proceedings. However, during Friday's practice session, yellow flags were up for another reason. A monitor lizard was seen sauntering across the tracks, leaving drivers stunned as they swerved around it.
You can also hear Max Verstappen having a laugh with his team over the radio. The moment is reminiscent of Max's encounter with another monitor lizard here back in 2016 – he affectionately dubbed that creature Godzilla. The Red Bull team chuckled, joking that "maybe Godzilla had a kid". Unfortunately, we've also heard from the grapevine that based on footage from Fernando Alonso's car, he might have run it over.
3. Carlos Sainz's incredible defence strategy
Caught the race live? You would've heard some very interesting radio communication from Carlos Sainz. The Ferrari driver revealed this strategy where he allowed Lando Norris to stick close to his car "on purpose" was cleverly devised to keep him in the lead position. As the Mercedes drivers inched closer from their third and fourth positions, they became the biggest threat to Carlos's chance at victory.
Using Lando as a "shield", he ensured that the McLaren driver would be able to make use of his drag reduction system (DRS) in order to fend them off. With this tactic, Carlos managed to maintain his lead position. All this, while keeping George Russell and Lewis Hamilton at arm's length. That led to an incredible win, putting a wrench into the Red Bull team's win streak this season.
4. Most expensive potato chips ever
We totally understand being starstruck when you meet your heroes. But for one fan, their nerves got the better of them. After scrambling to whip something out for Ferrari driver Charles Leclerc to sign, the driver ended up scrawling across a packet of potato chips. It now begs the question – would you eat the chips or keep them forever?
5. Yuki Tsunoda's lap two bow out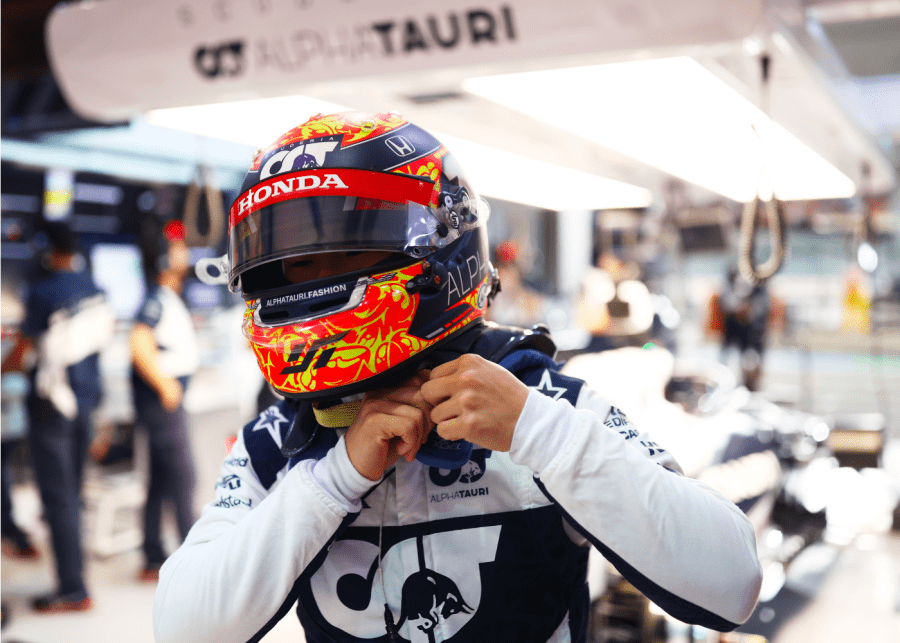 Bad luck seems to continue following Alpha Tauri driver Yuki Tsunoda wherever he goes. After suffering problems with his car during the formation lap in the Italian Grand Prix just a few weeks prior, Yuki faced similar issues again in Singapore. By the second lap, the Alpha Tauri driver was forced to retire. After a dust-up with a Red Bull car, Yuki ended up with a puncture that left him unable to race. This is an unfortunately familiar sight, considering in the 2022 Singapore Grand Prix, Yuki ended up in the barriers halfway through the race.
6. Lewis Hamilton U-turns for a fan
It's tough to get a glimpse of F1 drivers, even if you make the effort to hunt for them around Singapore. It's a guessing game; a painful mix of luck and patience. For one fan, his six-hour wait seems to have paid off. After spotting the fan, Lewis and his entourage make a U-turn along the track to pose for photos.
7. Liam Lawson's impressive first Grand Prix weekend performance
If you weren't already in the Liam Lawson fan club, here are some reasons why you should be. Besides kicking veteran Max Verstappen out of the qualifying rounds on Saturday, the newbie scored his first-ever points. It's a historical moment as this is the first time a rookie has scored any points in the Singapore Grand Prix. And given how mentally and physically demanding our street circuit is, we consider this quite the feat.
We also have to commend his incredible performance on the track. We won't stop talking about his valiant defence against a very aggressive Max Verstappen. Liam, if you're reading this, we're more than happy to support you in Alpha Tauri's Paddock Club next year (wink wink).
8. Red Bull team's cleanest race ever
And we mean that literally. Before the Grand Prix weekend, Max Verstappen and Sergio Perez prepped for the race in a different way at Jewel Changi Airport. Hopping onto motorised cleaning carts, the duo raced on a special indoor track while mopping up the floors. Despite challenges like muddy footprints, dirt, rubbish, and leaves, Max managed to maintain his lead in the head-to-head battle.
9. The shocking double pitstop by Mercedes
We can't be the only ones stunned by the strategic decision from Mercedes who made a second pit stop during the race. For the uninitiated, teams are required to make use of at least two different types of tyres during each race. This means each driver needs to make at least one pit stop. However, due to the disadvantageous nature of pit stops (i.e. losing time and ranking much lower on the leaderboard), it's rare for teams to do a second stop.
After Esteban Ocon's car failure and a virtual safety car deployment, we saw both Mercedes cars execute a flawless double-stack pit stop. Despite losing a few positions in favour of new tyres, both George Russell and Lewis Hamilton climbed up into third and fourth positions in the last half of the race. An impressive feat considering how difficult it is to overtake within the Singapore street circuit.
10. Logan Sargeant's safety car deployment
A delay in his reaction time meant a late brake, causing him to crash into the barrier. This left a whole wing component of his car damaged. He was left to struggle back towards the pit in order to get his car put back together. This led to the deployment of the first safety car of the night, which really kicked up the excitement.
Taking advantage of the safety car rules, almost all teams went for the pit stops. Except for Red Bull who ended up claiming second and fourth position. Despite the minor dust-up, the Williams driver placed 14th. Not a bad achievement for someone who just made their Formula 1 debut.
11. A star-studded affair
It comes as no surprise that you'll catch numerous celebrities out to play on race weekend, which makes for some exciting Singapore F1 news. Award-winning actress Michelle Yeoh was spotted mingling with the likes of JJ Lin, while her fellow Everything Everywhere All at Once co-star Ke Huy Quan was caught snapping a selfie with Deputy PM Lawrence Wong. We also can't forget Korean singer Eric Nam presenting the Pirelli Pole Position Award to Carlos Sainz. Oh, and did you manage to catch a glimpse of Super Junior's Choi Si-won, Pentagon's Kino, and Big Bang's Seungri?
12. Lewis Hamilton's accidental jump start
The beginning of the race is always quite a heated affair, with drivers speeding up to ensure they stay ahead of the pack as much as they can. And this year was no exception. Due to the huge bunch-up of cars, Lewis Hamilton was "forced out" by the time the drivers hit Turn 1. Going off track, he bumped himself up from sixth place to fourth place. While there were no penalties doled out considering Lewis gave his position back to Lando Norris, it certainly made for very early track drama.
And that marks the end of yet another race weekend. See you next year for more Singapore F1 news and highlights!