The scenic Mount Yuelu park.
Beyond Beijing: It's easier than ever to fly to Wuhan, Changsha, Kunming and Fuzhou with Scoot's new direct flights!
China is a beautifully vast country with over 3,000 years of history, and offers endless attractions to visit. For your next adventure in China, veer away from the usual suspects like Beijing or Shanghai and sign up for an unconventional adventure. Pack your bags and check out these four underrated cities in China, with four flights that has been recently launched by Scoot.
Changsha: From lush greens to museum-hopping
Modern and energetic, the capital of Hunan with its magnolia-lined streets has a lot to offer. Its most popular park, Mount Yuelu, is a tranquil spot for a breath of fresh air. You'll love the scenic view of the greenery. You can either trek up or take a cable car ride.
Curious about the ancient scholars? Tour the Yuelu Academy, one of the first ancient academies in China that is now a museum that preserves the history of Chinese education. Don't miss a trip to the largest history and art museum in the city, the Hunan Provincial Museum. With over 180,000 artefacts that were recovered from Han, Shang, Zhou, and other dynasties, you'll be amazed by what you can find!
Delve even deeper into the bygone days with the Mawangdui Han Tombs, where you can see ancient relics and even a 2000-year-old mummy!
If you're travelling with kids, check out the Window of the World theme park for a fun family day out as well as Lieshi Park that has with play areas for the little ones.
Scoot flies five times weekly to Changsha, fares start from $99.
Wuhan: From beer taverns to cherry blossoms
From scenic lakes and parks to a bustling nightlife (think fancy wine bars, Belgian beer taverns and rooftop bars), there's a whole lot to see and do in Wuhan. Cultural relics include the Yellow Crane Tower on Snake Hill in Hubei Province is one of the most recognisable towers on the banks of the Yangtze River at over 50 metres tall.
Keen to dive into more history? Visit the Hubei Provincial Museum to admire the pottery, jade, instruments and other items left behind from ancient times including those uncovered from the tomb of Yi, a king during the Warring States Period.
Spring time in Wuhan is especially picturesque with all the cherry, plum and peach blossoms, so if you're into your cherry blossoms, plan your trip in March!
Scoot flies daily to Wuhan, fares start from $269.
Kunming: From lakeside adventures to caves explorations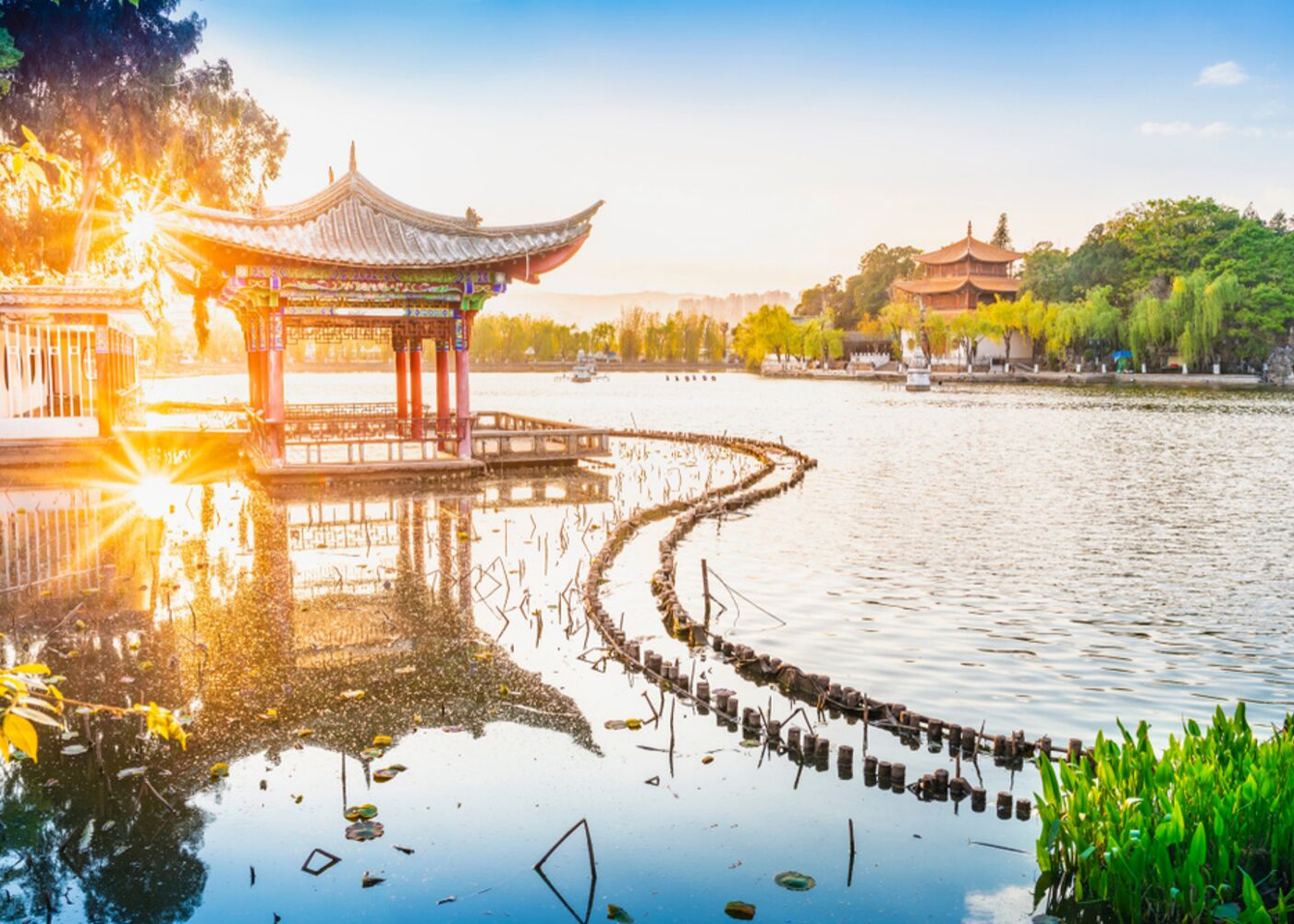 As the capital of Yunnan province, there's tons to see in Kunming. For a dose of nature, hit up the crescent-shaped Dianchi Lake, the largest freshwater one-of-its-kind in the province. Explore the native customs at Yunan Ethnic Village and pick up some souvenirs along the way!
Plus, the banks of the lake also houses the Grand View Park with rock gardens and pavilions for an afternoon stroll or picnic, as well as the White Fish Park with a hill that resembles a fish, of course. Next, journey through the Stone Forest (or Shilin) for a view of spectacular limestone formations from the time of the Ming Dynasty – one of the most iconic attractions of Kunming.
And if you like nature expeditions, don't miss the Museum of Karst Caves, a cluster of caves that house an underground canyon, a bat cave, cascading waterfalls and more. We hear that summer is the best season for this adventure.
For a family-friendly destination, the Flower and Bird Market is a gorgeous place to discover different plant and bird species, alongside handicrafts and ornaments. This is also the perfect place to experience how locals go about their daily lives!
Scoot flies four times weekly to Kunming, fares start from $99.
Fuzhou: From chasing waterfalls to ancient architecture spotting
Fuzhou houses some incredibly well-preserved Ming and Qing Dynasty buildings that you have to see for yourself.
Take a trip to the Three Lanes and Seven Alleys (or Sanding Qixiang) complex for the full experience and try to explore all the 268 houses if you can!
Another must-see is the beautiful waterfall of Qing Yun Shan, a mountain that's just a short drive away from the city where you can find peace in the midst of nature.Want to go further away from the busy city centre? Head to Pingtan Island (or Haitan Island), with white sandy beaches and a shoreline that you wouldn't want to leave.
Remember to save some time for an afternoon of cafe-hopping around the Wushan neighbourhood (lots of hipster finds await!) and popping by the Fuzhou Panda World to take a look at what else but cute pandas!
Scoot flies four times weekly to Fuzhou, fares start from $99.
Psst: Scoot is now in Changi Airport T1
From 22 October 2019, you can board your Scoot flight at T1 after your shopping spree at Jewel Changi Airport. The airline will soon move its operations to T1, and will feature a new central zone for Fast and Seamless Travel (FAST) with automated check-in kiosks and bag drop machines!
Bonus: No more payment processing fees
Scoot has recently announced that they've removed payment processing fees globally, which means greater value for you when booking Scoot flights. Plus, Scoot's latest Got To Go promotion gives you promotional fares to a selection of 26 cities in the network!
Visit flyscoot.com for more information.
This post is in partnership with Scoot.