Achieve legit #hairgoals with three easy steps. Photography: PHS Hairscience
Keep your hair in A-plus shape with a low-maintenance regime that boosts scalp health, enriches hair roots, and leaves your locks looking healthy and glossy.
We get it, sticking to a regime can be tough when there are already 101 things to do throughout the day. Adding another step may be the last thing on your mind but everyone needs to know this: Beautiful hair starts with a healthy scalp, and a little TLC goes a long way. After all, if we can regularly follow good skincare and makeup habits with no questions asked, a simple three-step hair care routine is a walk in the park.
Count on PHS Hairscience to come through with a fool-proof daily scalp and hair care routine that'll give you a head start to certified #hairgoals. The homebred brand is killing it with its winning formula of cutting-edge science, the best of nature, and top expertise in hair and scalp health (backed by an 80-strong team and years of R&D by bio-scientists and trichologists).
But wait, isn't daily hair washing a big no-no?
We're here to bust the myth and say it's not true. If your hair and scalp care products are safe from parabens, minerals and the dreadful benzophenone, daily washing is totally safe. Aside from these key elements, PHS Hairscience's products also contain plant stem cells and a high concentration of botanical essences.
Plus, living in Singapore's harsh (read: cranky) weather conditions means you're more susceptible to dead skin cells, sweat, grime, sebum, product residue and harmful bacteria – all the more reason to get rid of them, stat.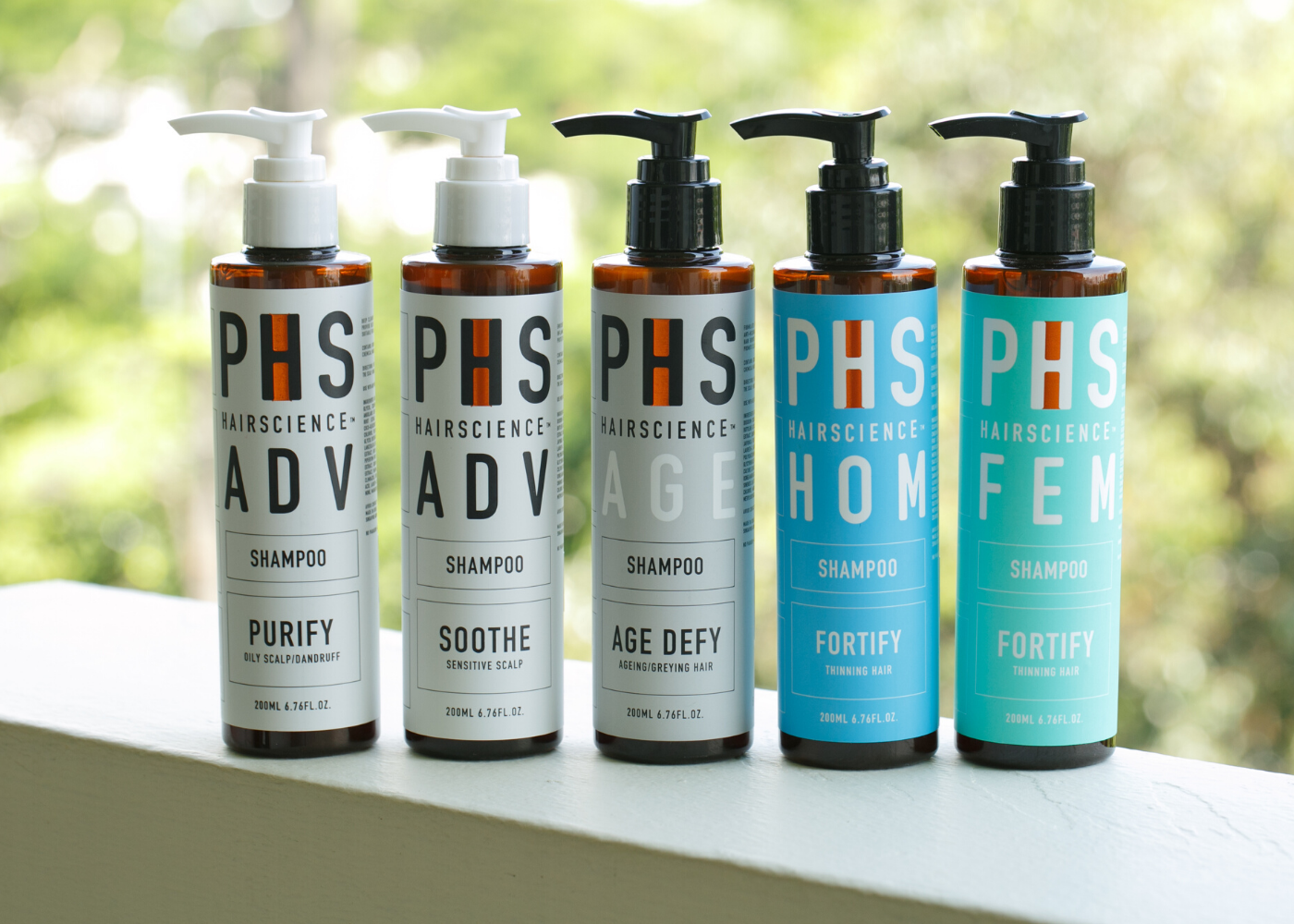 Step 1: Double cleanse like you mean it
Say it louder for the people at the back, scalp care is the new hair care. If double cleansing the scalp is news to you, it's time to stay updated. Squirt some ADV Nutrition Shampoo onto your scalp to remove sebum, dirt and other nasty gunk. This MVP unclogs your hair follicles, improves the scalp's barrier functions (so that moisture levels are restored), and has anti-inflammatory and powerful antioxidants to strengthen its defence against oxidative damage and inflammation. TL;DR: It basically lays a strong foundation for healthy tresses by effectively cleaning your scalp.
Here's where things get interesting – we all love a customised hair care routine and PHS Hairscience delivers with 14 targeted shampoos that treat any kind of hair or scalp concern under the sun. Dealing with mild to severe hair loss and thinning? There are specific shampoos (FEM Fortify Shampoo and FEM Thickening Shampoo) for women and (HOM Fortify Shampoo and HOM Thickening Shampoo) for men. Is dandruff giving you first-hand embarrassment? Gently massage the ADV Purify Shampoo onto your scalp. And how about sensitive scalp, chemically-damaged hair, lifeless locks and untameable frizz, you ask? Yup, there's something for all scalp and hair types. All you have to do is lather, rinse and repeat.
Step 2: Moisturise those locks with conditioner
For those with long hair, now that you've eradicated the gunk, it's conditioner o'clock. Apply a specific conditioner (there are eight to choose from) to lock in moisture, bump up the shine factor or strengthen hair fibres. Skip the scalp and apply it on damp hair, focusing on the ends.
Step 3: Treat 'em right with tonic
Now that you've cleansed and moisturised, the final touch is to go in with a target tonic to treat, maintain and improve healthy hair growth. Again, PHS Hairscience offers customised solutions including the ADV Soothe Tonic for sensitive and dry scalp; ADV Purify Tonic for dandruff and oily scalp, as well as HOM and FEM Fortify anti-hair loss tonics for both genders. Chocked full of vital nutrients, these tonics feed and nourish your scalp to restore perfect health. Section towel-dried hair, then spritz the product directly onto the scalp, give yourself a little massage and let the tonic do its magic.
Perk Alert!
Mark your calendars from 22 to 30 June 2020 for PHS Hairscience's Hot Summer Sale and enjoy up to 40% off selected products. (Do note that it excludes the ADV Elixir, Thickening range, 1000ml products and all bundles).
PHS Hairscience, products available online.
This post is in partnership with PHS Hairscience.