Soak up the Sri Lankan sun by the ocean at this gorgeous private residence
We review two luxe stays: Tanamera Estate, a dreamy Sri Lanka villa and Why House, a cosy boutique hotel for the famjam.
We weren't kidding when we said we'll be going back again and again. That's the thing with Sri Lanka – it's borderline addictive. And why wouldn't it be? All you have to do is hop on a plane, nap for three hours and fifty minutes only to wake up on an island with an otherworldly charm, beaches that last for days and a cuisine that makes us want to have three lunches and two dinners… daily. This time, we wandered back to the southern coast just 20 minutes away from Galle to master the Sri Lanka villa life.
Where to stay
Tanamera Estate
For a private villa by the ocean
A two-hour drive from the capital city of Colombo on a road that's long and lush brought us to Talpe, a quaint hamlet. It's vastly different from our everyday scenes… narrow roads, paddy fields, musical truck horns, stilt fishermen and a seaside stretch of villas.
Bright pink bougainvillea vines arch over the gate of Tanamera Estate – a precursor to the intense dreaminess of this villa. Night or day, a saltwater mist constantly envelops the property.It's unmissable and for a while, we thought we were imagining things. And yes, this villa sits right on the beach with the sound of the ocean perpetually playing in the background, almost lulling you into a relaxed, devil-may-care-I'm-never-going-back-to-reality mood.
A sprawling private residence with a full-time staff and chef can house six adults at a time in three en-suite bedrooms. You'll have to rock-paper-scissors it for one of the two rooms that face the Indian Ocean. Got a debt to call in? This is when you do it. Built like a colonial bungalow, it houses a TV/study room (that you honestly won't need) and a massive sea facing salon that opens into a verandah, perfect for sipping on lemon soda and journaling. The chic decor, plush sofas, four-poster beds as well as the high ceiling, wooden floors, arched doorways – there's a lot of pretty that's bound to distract you in the greatest way.
Outside, the front yard is dotted with tall coconut trees and beyond that is the expanse of ocean, bringing wave after wave of salty breeze, smoky mist and bits of coral. The low parapet makes for the perfect perch at sunset when the scene changes colour. In contrast to the Indian Ocean, a calm pool calls out to you. While it might not be advisable to swim in the ocean, but you've got a whole pool to yourself for optimum tropical marination. Set aside an early morning slot or the golden hour for a leisurely dip. Memorize the dining pavilion by the pool 'cos that's where you'll be eating some of the most delicious meals ever.
We're entirely sure that resident doggo and absolute cutie Brownie will keep you company while you lounge around. He's precious!
Tanamera Estate, Matara Road, Talpe, Sri Lanka, minimum of three nights stay.
Why House
For a cottage stay at a boutique hotel
A five-minute drive from Tanamera Estate, that involves driving over a train track (always exciting), is its sister property Why House. Perfect for the whole famjam, this three-acre properly dotted with cottages, tons of foliage and a proud peacock that prances around early in the morning. Our cabana was stunning and fitted with a bath as massive as the bedroom. The colonial charm finds itself at Why House as well… in a more rustic and lush way. French windows, four poster bed, white walls, dark wood furniture and an ensuite you can dance in – it's easy to feel at home here.
There's a lot going on at the Why House – you can cool off at the swimming pool or sign up for water aerobics and yoga. Or treat yo'self to a relaxing Ayurvedic massage, get schooled in Sri Lankan cuisine and enjoy a cultural dance performance, complete with fire breathers, at dusk.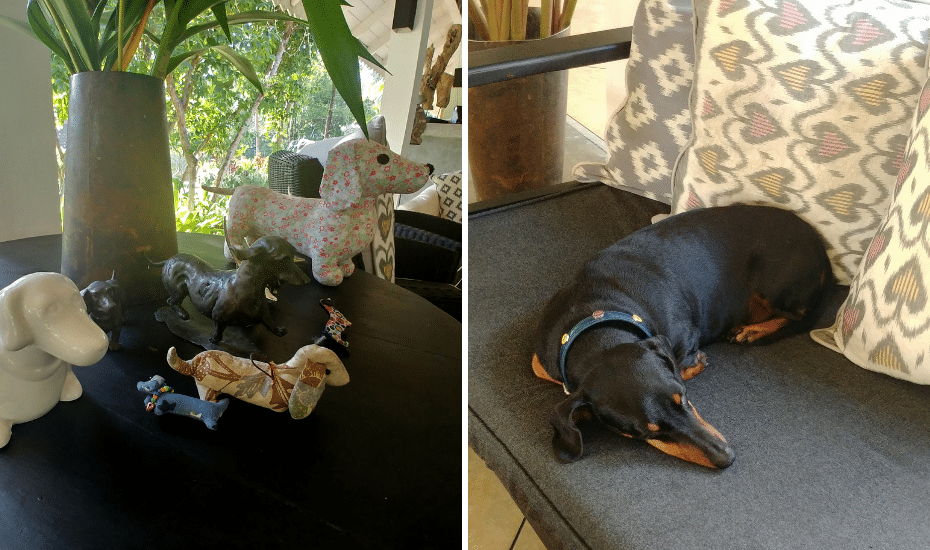 At the centre of the property is an open-sided pavilion where the action happens. It's also where the unofficial mascot Nigella, the dachshund, usually hangs around. You'll find tiny tributes to princess Nigella everywhere – from the tiny figures to a cuddly on your bed.
Pro tip: Even if you aren't an early riser, we suggest you make an exception to catch a glimpse of the peacock that jumps the fence from the paddy field every morning for a stroll at Why House. We bolted out the door when we heard its call only to find it perched atop a towering coconut tree chilling like it's a Saturday. How did it fly so high, we'll never know…
Why House, Mihiripenna, Talpe, Sri Lanka
---
What to eat
Ah, the food. Even if you're a picky eater, chances are a trip to Sri Lanka might turn you into a full-blown foodie. The hoppers, endless array of curries, pol sambol (traditional grated coconut chutney with chilli and onions), parippu (Sri Lankan yellow dal made with coconut milk instead of water) and more – do yourself a massive favour and relish every single minute of it. And if you can, take a break from the food you're used to and dive into the Sri Lankan cuisine like you're on a mission. Why? 'Cos you're bound to miss it the moment you step onto that plane.
---
Where to go
A quick 10-minute car ride from Talpe and you're in the bustling Galle Fort. There's a lot of history here, Galle is a town inside a fortress built in 1588 by the Portuguese and fortified by the Dutch. You can spend a whole day or even two at this UNESCO World Heritage Site, traipsing around charming little lanes filled with boutiques shops, unique hotels, cafes as well as a mosque, a Dutch Reformed church, an Anglican cathedral, a court and a few schools.
Walk atop the old walls of the fort, stock up on semi-precious stones, grab a meal at restored hotels like the Amangalla and explore nooks and corner of the historic sight.
Drive down the coast and you're bound to see the traditional stilt fishermen balancing flamingo-style by the beach. And you can't leave Sri Lanka without hitting up a tea estate. We went around Handunugoda Tea Estate that produces Herman Teas and got schooled in tea. Plus, you can sign up for an early morning bike ride in the rice fields with a local guide, hit up Habaraduwa Turtle Sanctuary and Udawalawe Elephant Orphanage.
---
And the people…
Yeah, the weather is equatorial, food is legit incredible but the Sri Lankan people, their genuine kindness and hospitality is warmer than the tropical sun! As a nation, they've has been through a lot of turmoil – from a colonial rule to a 26-year civil war and the devasting 2004 tsunami – but their resilience, strength and rich culture is a thing of true beauty.