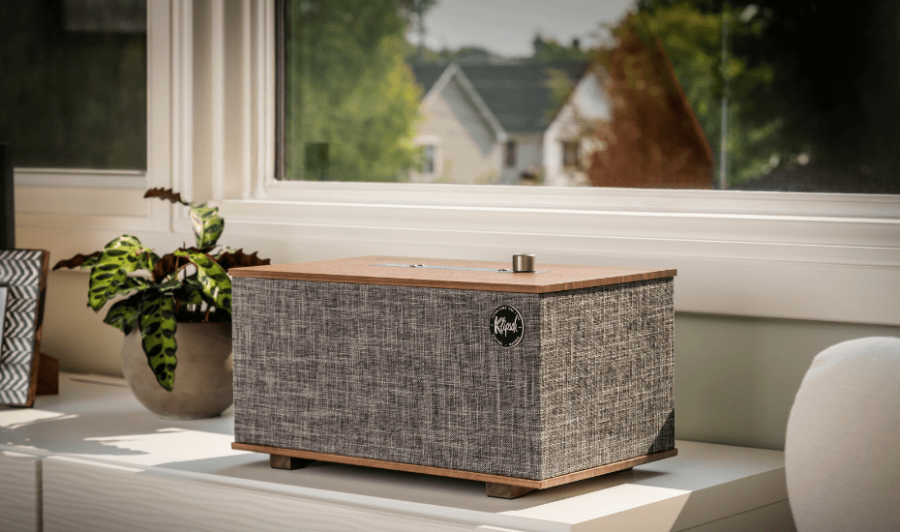 Photography: Klipsch
When iconic American audio brand Klipsch crafts a smart speaker with a Google Assistant and mid-century modern looks, you've got to take notice!
If there's anything we learnt from 2018, it's that a smart home is waaay cooler than a regular home. Have you been systematically pimping our cribs with home tech that's making life much easier? You might want to hit pause and check out this smart speaker from Klipsch.
And then there was Three
The newest release by the American brand, The Three with Google Assistant is a powerful tabletop Bluetooth speaker inbuilt with (no brownie points for guessing, it's in the name) Google's AI. We've tested it out and we likey! 'Cos who doesn't want a little device that can cast movies to the TV, play songs on Spotify, wake you up with the headlines, set reminders and even read out recipes as you cook.
And you can do it all with voice commands. The setup is rather simple – pair devices on the Google Home app and you're good. Got more than one Google Assistant compatible speaker at home? This Klipsch speaker lets you sync them for a multi-room experience too. It also has a built-in chromecast that makes casting music/podcasts from your smartphone, laptop or tablet a one-click process.
What a looker!
The world's been obsessing over all things mid-century modern for the past few years. And The Three with Google Assistant by Klipsch is designed to fit right in. Part of Klipsch's Heritage series, this retro-chic look speaker is crafted with real wood veneer, tactile fabric body and adorable metal switches too. So it won't stick out like a sore thumb or mess with your home's aesthetics. Instead, it adds to the charm!
That sounds good
History lesson – did you know Paul W Klipsch, the founder, was an American audio pioneer? He built the iconic Klipschorn, three-way, a fully horn-loaded loudspeaker that's still in production 65+ years later! This particular wireless speaker sounds great – expect clear and detailed sound and a deep base.
The Three with Google Assitant by Klipsch, available online at TC Acoustic (authorised regional distributor)