Illustration: Julia Azron
#SaveTheDate 18 Oct. Join us for one night of beachside drinks, laidback vibes, live music and one sandy launch party!
So you love the good life as much as we do, huh? You've come to the right place. We've got an endless supply of incredible things to do in Singapore and this October, we're adding a funky bar hop to the mix. Oh, we've got one helluva Friday sundowner planned out for you and friends and this time, we're taking it to sunny Sentosa. Think sunset skies and sandy toes as you sip on tipples, relish bar bites and hit up three bars in one night including an exclusive launch party! Get your tickets here stat!
Sandy tropical vibes are strong with this bar hop! We're taking you to three bars by the beach – Bikini Bar, Coastes and finally the official launch party of Sentosa's new Sand Bar. 'Cos you really don't have to be on a holiday for an epic beach bar hop. Limited spots only so secure yours for a cool $30!
When: Friday, 18 October 2019 from 7 – 9pm
Where: Bikini Bar, Coastes and Sand Bar
Tickets: $30 includes entry to Sand Bar's official launch party with free-flow drinks and bites from 8.20 – 9 pm. Two free drinks and bar bites (one at Bikini Bar and Coastes each). Get your tickets here!
Limited tickets available
What's on the agenda, you ask?
First stop, we'll be dropping by the vibrant Bikini Bar on Siloso Beach where you'll be served a drink of your choice… pick from Asahi beer, red or white wine or even juice. On the menu are delish bar bites like nachos as well as chicken and beef satay.
Of course, there will be beach games and prizes if you're insanely good at them. Prizes include a bucket of beer, food and drink vouchers as well as some fun merch. Gather your crew for a game of pool or beer pong, but don't forget to catch the sunset.
If you love football, you're gonna love playing a friendly futsal game of two vs two hosted by Stranger Soccer. On a regular day, Stranger Soccer offers on-demand football games on the island – you can even choose from 100+ weekly games across 30 odd locations. Just for our bar hop, the good guys at Stranger Soccer are bringing a bite-size version of the game to Bikini Bar.
Special deal: Get your fill of red and white wine for $10 a glass or opt for an Asahi Super Dry for just $7.
Bikini Bar, 50 Siloso Beach Walk, #01-01, Singapore 099000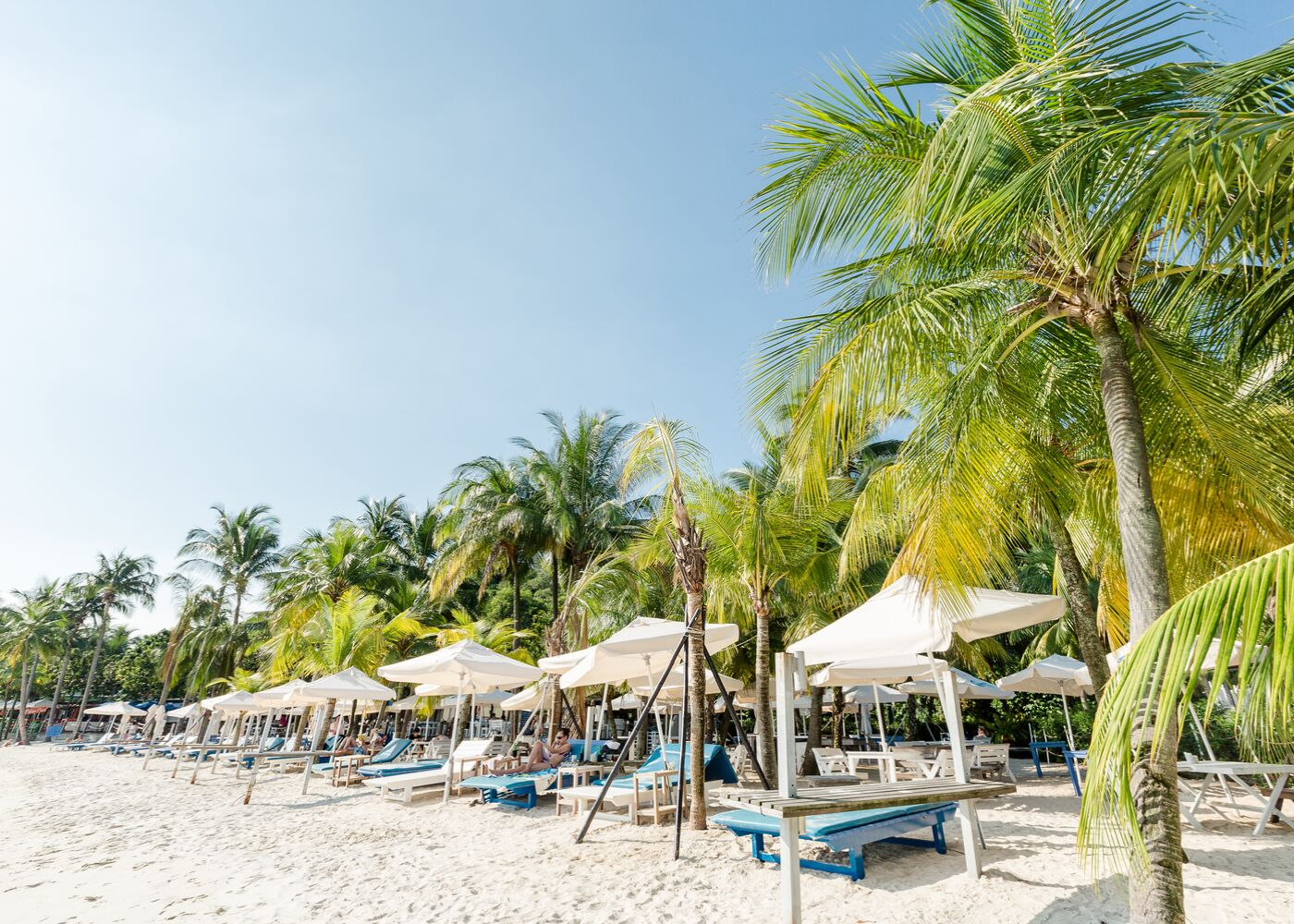 Next…
We'll also stroll down to Coastes to soak up the laidback beach club vibes. Sip on a complimentary drink (pick a beer, wine or soft drink) and savour bites like calamari rings, Coastes signature chicken wings and pizzas. Let the breezy bar transport you to an island far away (even if it is for a little while).
Special deal: Get your fill of red and white wine for $10 a glass or opt for Carlsberg Smooth beer for just $8.
Coastes, 50 Siloso Beach Walk 01-06, Singapore 099000
And finally…
We'll end up at the exclusive launch party of Sand Bar – C Side's (the good guys that run Bikini Bar and Coastes) newest offering. Hit up the official launch party of this dreamy beachside hideaway that's complete with live music, DJ on deck, free-flow drinks and bar bites. That's right –there will be free-flow drinks and unlimited bar bites.
Sand Bar, 52 Siloso Beach Walk, Sentosa. Singapore
Plus: Need a ride to Sentosa? Be one of the first 18 to book your tickets to Honeycombers Bar Hop: Siloso Beach Edition and get a ride to Sentosa. BlueSG, Singapore's first electric car-sharing service, will fetch 18 party-goers from Guoco Tower in Tanjong Pagar at 6.40 pm and drop at Sentosa Beach Station.