What do your bad days look like?
It's not always rainbows and butterflies! Entrepreneurs spill the tea on the unsexy side of managing a business...
If you're thinking about quitting your job to run your own start-up, you might be fantasising about living the dream filled with luxurious holidays, flexible working hours and minions to do all the work while you hit the spa. But here's a reality check. Just like any other job, business owners don't have it easy. Sure, there are days when your hard work bears fruit, but there are also times when you feel like you're hitting a wall. Want an authentic peek into this life? Entrepreneurs in Singapore share the dark side of what they do: their bad days, their daily grind and what they've learnt from this journey. Plus, they set the record straight on the glamourised misconceptions of being your own boss.
"It's not easy. Sometimes, I just want a break. However, I'm reminded of my mission and my purpose of serving others and making a difference in the world – that brings me back on track."
Sophie Leung, 36, Women's core confidence coach
Often, people see on social media beautiful photos of online entrepreneurs working from a beach or sailing on a yacht, enjoying a flexible lifestyle filled with travel, luxurious living and financial independence. That tends to be the perception of what I do. While it's possible to attain, the reality of my journey as an entrepreneur is far from what my friends thought.
It was a path filled with challenges, hard work and deep personal growth. The journey of entrepreneurship helped me work through my fears, insecurities and limiting beliefs as an entrepreneur. To reach the next level of awareness so I can push myself outside my comfort zone to be the leader I aspire to be – and to reach my greater vision of breaking the stigma of mental and emotional well-being across the globe. It pushed me to have bigger goals and visions in making an impact on the community.
"A glamourised misconception about being an entrepreneur is that we're loaded with cash and/or we come from a rich family background."
Joyce Lian, 27, Founder and creative director of Scent Journer
I come from a low-middle working-class family. My mission for Scent Journer is to use the power of scent to empower you to feel good. To reach more people, we constantly reinvest our revenue into new product development and improved formulas. Many people think we pay ourselves well since we're the boss, but we don't draw a salary.
The main goal is for us the grow the company as quickly as possible and see where it can potentially lead us to. What keeps me motivated? My passion for perfumery. It's pure hard work growing the business. It's also untrue that we, as bosses, can take holidays whenever we want. We often find it hard to take a break.
"For most entrepreneurs (especially solo founders), bad days can drastically affect your bottom line."
David Zhang, 26, Founder of Interlunar
While you get to be called "the boss" or "the key decision-maker," not every day is glamorous. Bad days feel… bad. Productivity is at an all-time low. Fires start before the workday begins. You take the blame for others' mistakes. Technology breaks down at inopportune moments. Hot leads turn stale. Overall, motivation and momentum rot and decompose on bad days.
My process to solve a bad day? Step away from work. Pen down negative and possibly intrusive thoughts. Breathe.
While time is a finite resource, it's important to remember to rejuvenate your soul. Once you're refreshed and clear-headed, craft systems to prevent reactive behaviour – strive to always be proactive. Find an accountability buddy to share your pain points. But remember this: as demoralising as bad days are, not all bad days are bad – they can give you a different perspective. Now, it's your time to bounce back.
"There's no such thing as knowing everything? Not true. Dedicated entrepreneurs are always improving. Every month, I challenge myself to learn a new skill."
Radhika Mayani, 42, Founder of Left-handesign
A few common myths about entrepreneurship debunked:
The ability to take risks is necessary: Entrepreneurship is considered a risky venture, but true entrepreneurs tailor their decision-making process to reduce risk.
There's no right time to start your business: If you want to take the plunge, have faith in yourself and your experiences.
You need a business plan: I didn't have one, but if your vision, mission, and goals are defined, it's fine to start a service or product-led company.
You need a huge budget: Bootstrapping is a viable way to start a business, depending on its nature. By using your own personal resources, you'll be more aware of expenses and spend on the growth of the business.
"Most people think that being an entrepreneur equals having a lot more time compared to a 9 to 5 job."
Amrita Dhillon, 35, Founder and baker at Amrita's Artisan Bakeology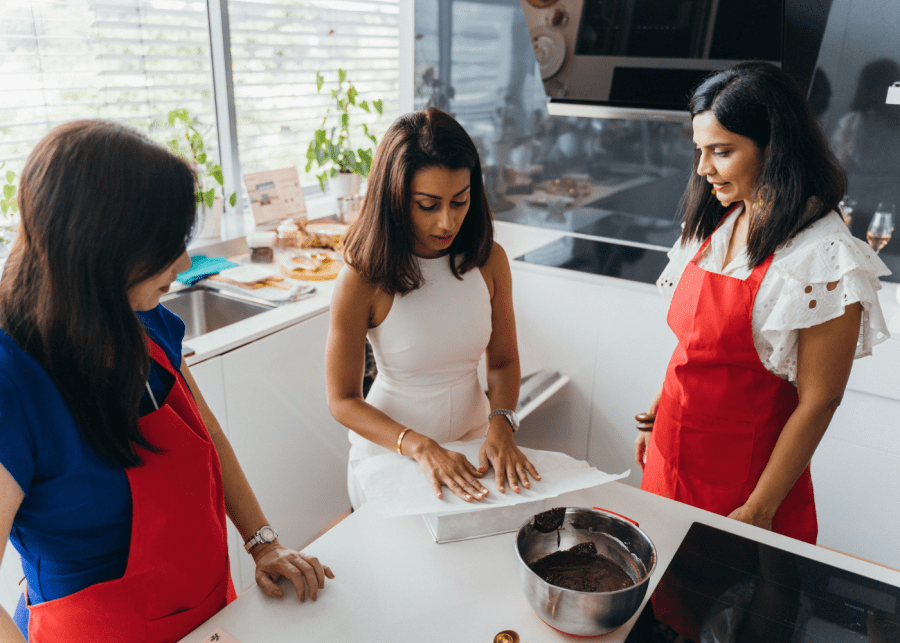 It's true that you have more freedom in some aspects. But it also means that from the moment you're up to the moment you go to bed, work doesn't really stop on some days. There are no fixed working hours. You could be working all day or replying to customers who text you at 2am.
"You never stop working – you give your all and more. You don't get many off days and your mind can never quite 'switch off'."
Serene Seah-Ma, Group CEO of Freia Medical and Freia Aesthetics
We often see the glammed-up "post BTS" outcomes, but the reality is, entrepreneurs have their fair share of bad days. While it's a huge blessing to grow as an organisation, having more people also translates to an equal measure of human resource issues to contend with. Think of every joy or pain amplified 10 or 30 fold depending on the size of your company.
Change is the only constant in life. I've learnt to listen (not just hear) and be that voice of reason when dealing with issues. The good news is that there's so much bandwidth to learn from these not-so-great encounters – the art of negotiation, the discernment to know right or wrong, and the perseverance to do what I love.
"One thing that really helps me is to use the Pomodoro technique: set a timer for 25 minutes and take a 5-minute break."
Karin van Vliet, 39, Distributor of Super Synbiotics Singapore
It's a bad day for me if I get so stuck in my head with all the things I need to do that I lose sight of the bigger picture. Or I'm so focused on the nitty-gritty and spend hours on it, only to realise when I take a step back that detail really doesn't matter.
The benefit of the Pomodoro technique is that it forces me to reevaluate what I'm doing and whether it's worth the time. Often, I realise that getting it done is better than being perfect and I can move on to the next thing. I also love to go for a walk outside when I feel overwhelmed. While it feels counterintuitive to stop working when you're busy, I'm more focused after my walk as I lose the stress and pressure.
"A 'bad day' to me is one in which my productivity looks like confetti: messy, in bits, and needing serious clean-up when I finally have some downtime."
Amanda Lim, 39, Fitness and nutrition coach
As a solopreneur, I wear many hats, and there are days when my neck just hurts from the weight of them all. When one overwhelming day turns into more, it's time to do priority shifting by making a time log. For a few days, I log how I spend time (down to 15-minute increments), from waking to sleeping, and I categorise it into proportion or percentage numbers. If my proportions don't align with my company goals, I revise the following week (reschedule calls, reorganise tasks, even change work venues) to better match my intentions.
"Being an entrepreneur is portrayed as a prestigious career path, but it isn't just about celebrating victories. It also involves dealing with disappointment, stress, and uncertainty."
Leonard Cheong, 39, Founder and designer of Finix Wear 
I've had my fair share of bad days when everything's going wrong. As a solopreneur, I have to overcome these challenges on my own and keep perspective. I remind myself that every successful business goes through its own struggles and that success is a journey, not a destination. I take time for self-care, whether it's through exercise, meditation, or simply taking a break from work.
Having a support system is crucial for me. Whether it's a friend, family member, or mentor, having someone to talk to and bounce ideas off helps me stay motivated and keep a positive outlook. With the right perspective, self-care, and support system, I can overcome even the toughest of bad days.
"Progress happens – although slowly and sometimes through challenges and difficulties. And progress is progress, no matter how small."
Gloria Perez, 41, Spanish language teacher at Your Spanish Hub
Bad days are those in which you lose a client, a potential client doesn't show up for a free trial consultation (when you have everything ready), your bank account doesn't look great, or it's been weeks since you got a new client. When these things happen, it's a mix of fear, disappointment, lack of hope, and exhaustion. Sometimes it feels like it doesn't matter how much energy and time you put in because it doesn't pay off.
It's difficult to overcome this mood. So I focus on what I have instead of what I don't have. I make an effort to not take the smallest things for granted: loyal customers, an engaged community on Facebook, a kind and honest review, more hours of experience in my field, or new contacts on LinkedIn.
"There aren't bad days, more like 'what the heck am I doing?' days. Motivation, like a toddler, can be fickle. When it's high, you're flying. When it's riding low, you sit it out and do something different."
Mangla Sachdev, Founder of Expat Business In A Bag
Glamourised misconceptions of being an entrepreneur: attending launches, schmoozing with the media and sitting in front of your laptop overlooking the pool while looking at the money rolling into your bank account. Plus, all the images of people who say they work two hours a month and earn seven figures!
It can happen for a few people, perhaps. But the work you need to put in at the beginning of your journey will take longer than you might expect. Build an audience and you'll have a successful business. Hang out where your tribe and ideal clients are and reach out to people. Selling isn't a dirty word. It's offering a solution and making someone else's life better, more interesting, healthier, more productive and fun. Change your mindset.
"As a personal fashion stylist, there's pressure to look put together all the time."
Sera Murphy, 37, Personal fashion stylist and owner of The Reoutfitter Shop
The truth is, I spend a lot of time behind the scenes doing laborious work: jumping from a client's house to my studio carrying giant bags of clothes, packing inventory, spending hours on the internet sourcing clothes and going somewhere last-minute. Not to mention two young kids at home. So, being comfortable is key!
Luckily, my clients understand this and a lot of them hire me to help refine their "comfort" or "everyday" outfits. I have no shame in showing up to a client's house in yoga pants or tennis clothes because sometimes that's the only way I get a workout in, which helps my mental health.
My job is to make others feel good about their clothes, and sometimes it's at the expense of how I physically look. As a relatively new entrepreneur, I'm growing more comfortable with that. I genuinely derive my feelings of success through seeing my clients happy versus how I appear on the outside.
"The biggest misconception about being an entrepreneur is that you'll earn big money."
John Lim, 27, Founder of Live Young and Well
In the first five months of running a web development agency, I was earning an average of $1,200 a month. It came to a point where I was eating baked beans for days, three weeks in a row – because it was the cheapest thing I could afford.
The media glamourises the money-making aspect of business and doesn't acknowledge the years of work that go into making a profitable business. But what's important is to work on the right things that'll get you cash in the bank. As I work with aspiring founders today, I realise that many don't think about how they can get the first dollar in the bank. Instead, they spend time tinkering with their product and their website, not paying enough attention to their cash flow cycle.
Ask yourself one question: what will get me cash in the bank by the end of the month? Having this focus will stop you from procrastinating and being a perfectionist. It keeps you centred on an imperfect launch, and a better path to profit. Thinking and tinkering don't make a profit. Doing does.
"Being an entrepreneur is often portrayed as a path to endless freedom. But the reality is different. It's a 24/7 job that requires hard work, dedication and sacrifice."
Dana Wolf, Feng shui and KonMari consultant
Imagine getting up in the morning and being hit with a harsh truth. Instead of leisurely starting your day, the first thought that pops into an entrepreneur's mind is their business. And it doesn't stop there. From financial management to customer acquisition, the responsibilities of running a business are never-ending.
Just when you think the day is done, you go to bed with one final thought: your business. But despite the challenges, we keep pushing forward, driven by passion and determination to succeed. So be prepared for a wild ride. It's not just about having a great idea or creating a cool product; it's about being willing to put in the time and effort to make that idea a reality. If you're lucky, you might just get to enjoy a fancy breakfast once in a while.
Feeling encouraged by this honest look at the life of a business owner? Think you need a little help from a friend? Check out Launchpad, a networking platform that offers connection, business support and community.