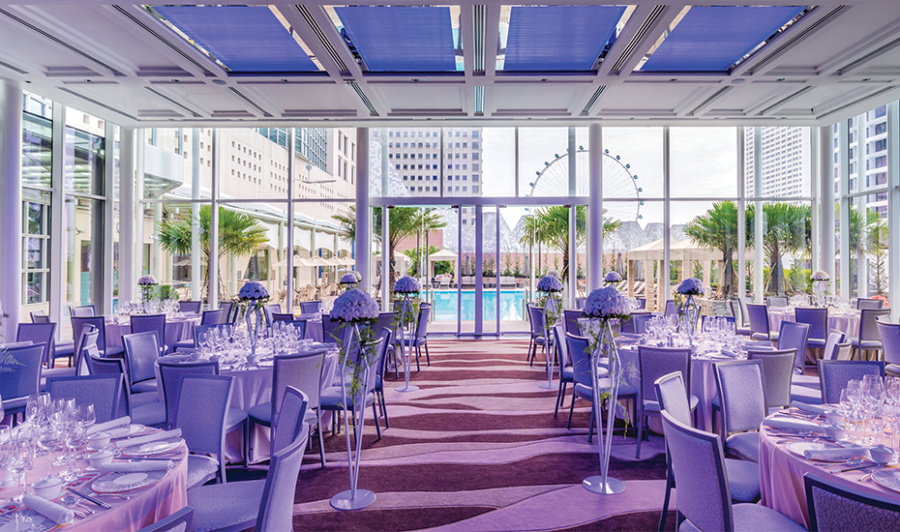 A wedding at the Pavilion means natural light, high ceilings and a backdrop of the Singapore Flyer.
Looking for the perfect spot for an intimate wedding gathering? Conrad Centennial Singapore's newly unveiled Pavilion, a 234sqm glass enclosed venue, is your ideal choice. The hotel's banqueting venue repertoire already boasts the stunning chandelier-bedecked 536sqm Ballroom and private salon rooms, but this recent addition is the ideal spot for intimate occasions. The glass Pavilion caters up to 140 guests banquet-style, or 160 guests theatre-style.
Walk down the aisle in the beautiful Pavilion that features high floor to ceiling glass walls for natural daylight to stream in. And if you're hosting a dinner banquet, you and your guests will be awed by the stunning skyline of the Marina Bay and Singapore Flyer. For those dreaming of a poolside wedding, the Pavilion also overlooks the hotel's outdoor pool.
But it's not just the intimate ambience that's an important factor when choosing a venue. The wedding menus are just as much a game changer. At Conrad Centennial Singapore, your guests can sit down to specially curated menus by Celebrity Chef Ku Keung, the man helming the highly acclaimed award-winning Golden Peony restaurant. With 20 years of culinary experience under his belt, Executive Chinese Chef Ku honed his craft in numerous international hotels and independent restaurants in Hong Kong. Since working his culinary magic at Golden Peony, the Cantonese establishment was recently listed in the Singapore Michelin Guide 2017 and in Singapore's Best Restaurants by Singapore Tatler from 1999 to 2018.
Whether you choose the uniqueness of the Pavilion, the grandeur of the Ballroom or the privacy of the Salons, Conrad Centennial promises elegance and sophistication. The icing on your wedding cake: the personalised and attentive service to ensure that your needs are met.  It's your wedding – and you deserve a day to remember.
Perk Alert!
Pictures can only do so much, so if you're looking to experience the Pavilion (and the rest of the hotel) in person, make an appointment for a site visit and discussion with a wedding specialist. Quote 'Conrad Honeycombers' to take part in a lucky draw, and stand to win one of three afternoon tea sets for two. Call 6432 7159/70 or email [email protected].
This article is sponsored by Conrad Centennial Singapore.